The globe is warming - and so is pressure on companies to disclose climate risks to investors
More companies are reporting their emissions and targets to investors.
IT'S NOT JUST consumers that want companies to consider their environmental impact – investors are increasingly asking about the associated financial risks, analysts say.
A recent analysis by London-headquartered non-governmental organisation CDP, formerly the Carbon Disclosure Project, suggested that more than half of all companies that disclose information to the group identified inherent climate-related risks to their businesses.
Under the criteria of CDP – which examines big names like Amazon, ExxonMobil and Chevron – these risks are considered physical, such as extreme weather and rising temperatures, or transitional, meaning regulatory changes like increased emissions levies. 
According to Steven Tebbe, managing director of CDP Europe, the vast majority – some 88% – of 250 companies with Irish operations last year reported environmental risks with "potentially substantive financial or business impacts".
Tebbe noted that half of those firms surveyed have rolled out targets to reduce emissions.
Globally, he expects more companies to provide potential financial impact figures relating to environmental risks as they become an increasingly important topic for investors and shareholders.
Food trends
Veganism and vegetarianism – which is moving further from the fringes into mainstream diets – is widely associated with the growing interest in environmentalism. For that reason, large-scale food companies like Kerry Group and Glanbia are looking to diversify their portfolio to meet consumer demands.
Food businesses are largely preoccupied by consumer, regulatory and cost-to-capital risks, according to Roland French, a food market analyst at stockbroker Davy.
"The food sector is going through a revolution. There's an understanding that the traditional model for food production is unsustainable," he said. 
According to French, consumer demand for vegan- and vegetarian-friendly products is mostly driven by consumer's concerns for their own health. This is followed by environmental and animal welfare concerns.
"You're seeing much more heightened awareness of what it takes to produce food – whether it's the use of water … the percentage of land use, or whether it's the emissions on a farm from animal proteins, you're definitely seeing it in the literature," he said. 
"If you don't move quick enough you'll get impacted on the revenue line, and then from a public market perspective the value of your business will be written down as a result."
Dublin- and London-listed Glanbia adopted a sustainability policy in 2015, focusing on several broad topics, including their supply chain.
According to a spokesperson, sections of Glanbia's policy document focuses on several "climate risks including the energy and water demands of our operations, and the emissions from our supply chain where dairy production is the focus".
The company is currently setting 2025 targets around carbon emissions reduction, energy and water usage, and aims to support similar targets set out by the farms it works with.
A sustainability report published by Glanbia last month included its 2018 rating by CDP, which scores various criteria from A – the highest possible score – through to F – the lowest. Glandia scored C for its supply chain and B for water usage.
Source: Eamonn Farrell/Photocall Ireland
Planes, trains, automobiles
In the transport sector, the most documented risks are those affecting the aviation industry, particularly 'transitional' concerns like emissions levies.
According to Davy transport analyst Stephen Furlong the "financial implications are quite significant" when it comes to the environment.
Using Ryanair – which adopted an environmental policy last year – as an example, Furlong said the low-cost airline has paid over €540 million in environmental taxes and expects to pay more than €630 million throughout 2019.
In June, the company promised to publish monthly CO2 emission statistics, which was 67kg per passenger last month.
According to Furlong, aviation is the only the transport industry that's covered by the emissions trading scheme, an EU policy that aims to reduce industrial greenhouse gas emissions cost-effectively.
"(Airlines) pay for the carbon credits they use. It's a fluctuating commodity which seems to have gone up quite a lot recently," Furlong said.
"This is costing the airlines a lot of money. On top of that there is an initiative to also try and tax aviation fuel," he added, though there is no sign of the latter being introduced in Ireland yet.
"The implications for all these taxes or proposed taxes is forcing companies to invest in more environmentally friendly products."
In 2018 the International Maritime Organisation brought in a strategy to reduce greenhouse gas emissions in the shipping industry. In practice this means shipping companies like IGC, the group behind Irish Ferries, are having to invest in "scrubbers" – air pollution control devices. 
"It's basically limiting the type of sulfur in the fuel you use in the global shipping industry," Furlong said, adding that these measures will likely bump up the price of oil derivatives and fuel. There will also be a limit on how much sulfur can be used in ship fuel from 1 January 2020.
"That's good, but how many companies are ready for this? Not everyone has invested in new ships or in scrubbers. If you don't have the right equipment you're certainly going to be paying up," Furlongsaid. 
He added that he thinks Ireland is still ahead of the curve in terms of these investments.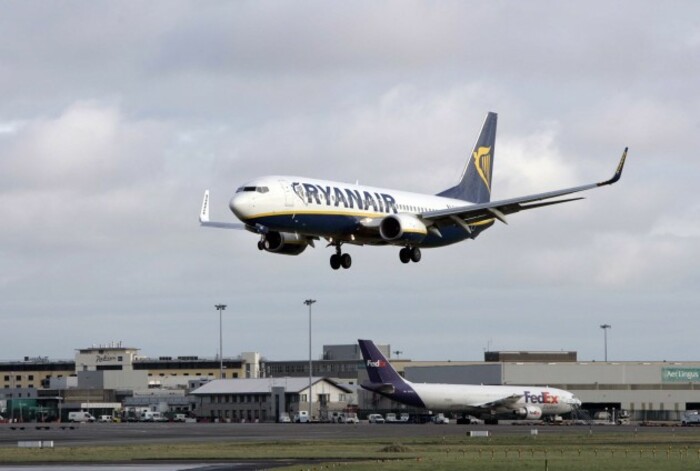 Source: Mark Stedman
Other sectors, like the construction industry, are also becoming more aware of their environmental impact.
Irish building behemoth CRH has implemented a strategy to minimise its impact on the globe and lists the "environment and climate" as a key area of interest for its investors.
The company has reported its sustainability performance since 2004, checking off CO2 emissions, energy usage, air emissions and water usage.
In the global institutional investment market, so-called ESG investment – which stands for environmental, social, government – is becoming a hot topic more broadly.
"If you were cynical about it, you could say for some of the companies, the reason they're presenting these things is because they know investors … are looking at environmentally friendly, socially friendly, governmentally friendly types of companies," Furlong said.
Ultimately the most important thing for investors is the ability to delivery a strong financial performance, balance sheet and capital structure, he said.
That said, Furlong notes that environmental issues have gone "from being not even a question, not even a sentence" in investor presentations to "one of the topics on every company's list".
According to CDP's Tebbe, the non-profit has seen "massive growth and the mainstreaming of environmental disclosure by companies".
The number of companies disclosing environmental information to it jumped from 245 in 2003 to more than 7,000 last year.
"In 2018, disclosing companies combined accounted for over 50% of global market cap. Put simply, disclosure is now a business norm and the direction of travel is clear," Tebbe said.
Get our Daily Briefing with the morning's most important headlines for innovative Irish businesses.