One of Ireland's biggest landlords says its €1,750-monthly homes are 'good value'
Clancy Quay in Dublin city is owned by US property giant Kennedy Wilson.
ONE OF IRELAND'S biggest landlords is aiming to bring a more 'professional outlook' to Ireland's residential property market and get tenants to rent for longer.
That's according to a senior executive at US property giant Kennedy Wilson, which this week officially launched the newest phase of one of its largest residential developments in Dublin, called Clancy Quay, on the southern banks of the River Liffey.
Peter Collins, the chief operating officer of Kennedy Wilson Europe, said that Ireland's rental sector has traditionally been quite fragmented, with many small landlords.
He said that the company is part of a push, alongside other big institutional investors, to try to bring a more professional outlook to the sector.
He also said that the firm is targeting people towards the 'mid-to-upper end of the market'.
The cost to rent a one-bed apartment at the new Clancy Quay development is €1,750 a month, while a two-bed apartment ranges between €1,950 and €2,100.
The development, much of which was built on a former army barracks, includes both houses and apartments. They range in size from one to three bedrooms.
The price is all-inclusive, covering bills such as electricity and broadband, and also covers various facilities located nearby, such as a gym.
There are just over 160 housing units in this phase, in addition to more than 400 housing units already at the site.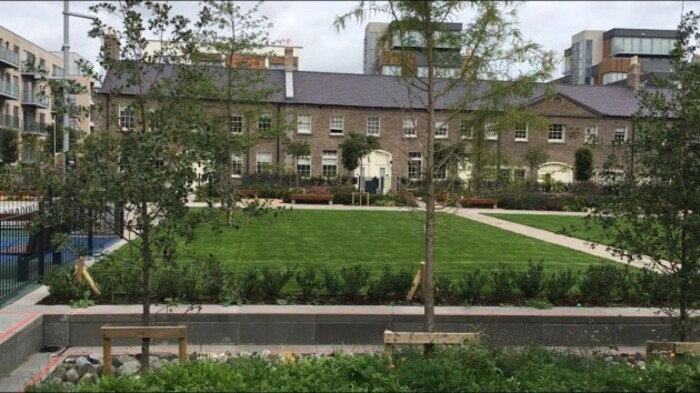 Market shift
Speaking at the launch, Collins said that Ireland is likely at the early stages of a shift in the rental market that will feature more big institutional investors. Kennedy Wilson joins Dublin-listed Ires REIT as one of the two largest corporate landlords in the country.
"It's early days, I think there's less than 10,000 units owned by institutional landlords and that's no different to the UK market, we're at the very early stages of the change from individual landlords to bigger landlords offering a different type of service," he said.
"In countries like the US, this type of facility is the standard. They've never had that type of individual landlord owning one or two units. That's been the dominant pattern in Ireland and institutions have never invested in the rental space.
"That's changing hugely as lifestyles change because people don't necessarily want to have a mortgage when they're 25."
Collins said that the shift to institutional landlords could lead to more long-term renters.
"The standard lease in Ireland gives tenure for six years, but people are worried an individual landlord may want the house back which will affect their tenure. Whereas here we're in the long-term rental business," he said.
"There's no reason we wouldn't want someone to stay for 20 years. Do I think they'll 20 years? I don't think so, but on average people are staying maybe three or four years, and that's gone up in the last couple of years."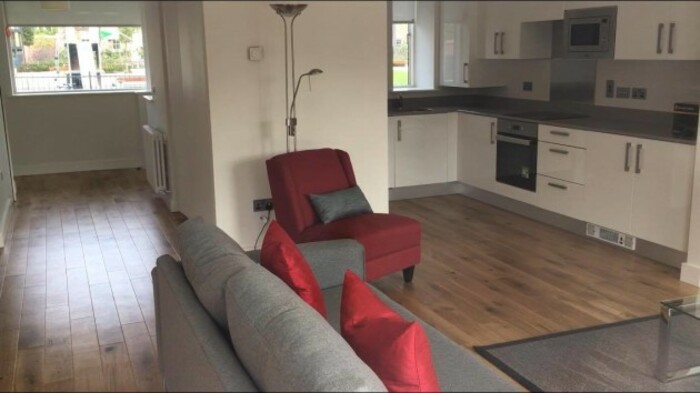 Price
Collins acknowledged that the prices at the development are relatively high, even for the pricey Dublin market. However, he said the fact that rental costs also cover a range of other utilities made the properties "good value for money".
"We have people here from students through to people who have families and I think we're trying to appeal to all those people," he said.
"Kennedy Wilson, in the private rental market, is predominantly aimed at the middle, and I think we offer great value in that space."
He added: "If you have people sharing an apartment, and they're each earning €50,000, their net take-home pay is probably around €60,000 (between them), they're maybe €5,000 a month.
"They're spending €2,000 of that €5,000, so 40%. I think that's affordable, but you are probably appealing to people in that area."
The company is in the middle of building a 'stage three' at Clancy Quay, which will involve hundreds more housing units.
Sign up to our newsletter to receive a regular digest of Fora's top articles delivered to your inbox.