Dublin property moguls have been cleared to overhaul this long-vacant city nightspot
The former Tripod nightclub and other venues on Harcourt Street were acquired by Clancourt Holdings.
A MAJOR IRISH property group has been given the all-clear to convert the site of three former nightclubs in Dublin city centre into a mixed-use restaurant, retail and office development.
A firm connected to the Kenny family, which owns the €250 million property group Clancourt Holdings, has applied for permission to refurbish the former Harcourt Street railway station site in the south inner city.
The property moguls acquired the former music and nightclub venues, which housed the Chocolate Bar, Crawdaddy and Tripod, in Dublin city centre in 2016. The buildings were placed on the market with a guide price of €6 million.
This week, Clancourt lodged plans with Dublin council that outlined a construction management plan for the works that will take place to refurbish the building.
The redevelopment plans were already given final approval by the council last month. The proposed works included the renovation of three areas within the vaulted foundation spaces at ground level for nearly 600 sq m of retail and restaurant space.
Alterations to the front of the building on Hatch Street were also proposed, including a first floor podium level and mezzanine level on the second floor. Upper levels of the development will be used for nearly 1,750 sq m of office space.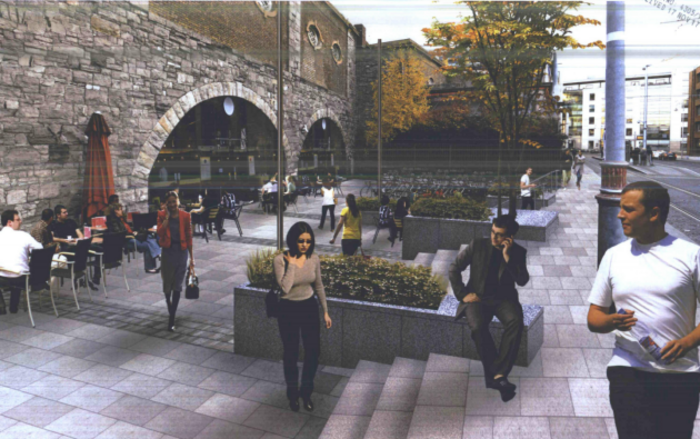 Source: DCC
Clancourt acquired three sites from Electric Picnic founder John Reynolds two years ago. The venues were closed in 2012 and have been vacant since then.
The acquisition of the sites further cemented Clancourt's stronghold on property in the Harcourt Street and Hatch Street area.
Clancourt's plans for the former nightclubs are another step towards the firm's master plan to create an €850 million 'Covent Garden-style district' in Dublin city centre called 'Opera Quarter'.
The property owner has previously lodged a proposal with the local council for the cultural district in the lands around the National Concert Hall.
The Kenny family has also sought to have the area designated as a Strategic Development Regeneration Area.
Sign up to our newsletter to receive a regular digest of Fora's top articles delivered to your inbox.