A new postal service for businesses is aiming to take on An Post
CityPost has launched a new system that it claims will save companies significant sums on mail.
A DUBLIN-BASED company has launched a new mail service aimed at businesses that is looking to break An Post's stranglehold on the market.
Dublin-based CityPost has unveiled its 'iPOST' service, which it said will provide a "one-stop-solution" for businesses, providing services such as free printing, envelopes and processing.
Letters will cost 66c each to send by iPost, which is slightly less than the cost of a standard 72c stamp.
The mail will be delivered by CityPost or An Post, dependent on location. An Post already offers its own mass-mailing system to companies, which CityPost is paying to use.
€1 million investment
CityPost said the service follows an investment "in excess of €1 million" in new technology at the company's facility at Rathcoole in south Dublin.
The company said that individuals "can print and post one or thousands of pieces of correspondence without leaving their desk".
It claimed the iPOST system can save businesses "up to 20% in total postage costs while removing  the need for business to print, stamp and envelope letters."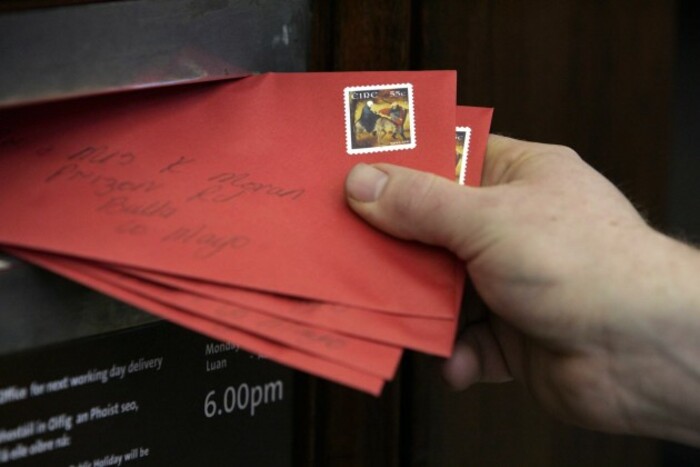 Source: RollingNews.ie
Customers download the software, and as opposed to printing a letter normally which a person then physically puts in an envelope, stamps, and posts, just hit the 'CityPost' button.
The customer's file is sent electronically to the CityPOST sorting office, which will then fold the letter, put it in an envelope, put it in the post and deliver it.
'Even playing field'
A spokesman for the company said: "It means that for large mailouts all you have to do is type the words. You make savings in ink printer cartridges, envelopes and time, it saves your clerical staff being tied up sending letters."
CityPost chief executive Ian Glass said that the future of postal services "is in harnessing technology to provide a more effective and simple service".
"We believe that there is a real opportunity to grow the postal market in Ireland, but this is only possible through innovation," he said.
"iPOST also offers an even playing field for businesses around the country. Every business, regardless of location, can have direct access with the sorting office."
CityPost said that iPOST is the first in a range of digital products that the company plans to release. Based in Dublin, the company employs about 150 people.
read more on