Chupi Sweetman's jewellery business is shining bright, she's just getting started
'We've done well, but we've still got the rest of the world': Meet the woman behind Chupi Jewellery
"WE GOT THE bad meeting room," Chupi Sweetman says, closing the door and sitting with her back to an enormous mirror in a room brimming with decorative boxes. 
Space is tight at Sweetman's Chupi Jewellery business for a reason. Next door, interviews are ongoing as the Dublin-based jewellery company goes about plans to significantly increase its staff in the next five years.
It is not quite as tight as when Sweetman started the company in 2013. Back then she couldn't afford to rent an office and ran everything out of her home, she recalls sitting at a long wooden table. 
"This was our kitchen table at one point," she says, running her hand over the timbers. 
Alongside Brian Durney, Sweetman's husband and the company's chief technology office, the Wicklow-native grew the team to seven members and moved the company into its current home.
While Sweetman might not be working out of the spare room anymore, the office is far from standard strip lighting and cubicle-filled fare. Mid-interview, there is a scratch at the door, a signal to Sweetman to lets in her two rescue dogs, Poppy and Rufus. She scoops one onto her lap as the other patrols the perimeter.
Now, with its luxury gold and diamond jewellery sold in about 67 countries and proving particularly popular in the US and Britain, the space is full with 49 staff. Amid plans to increase that to 80, it is time for an upgrade.  
"I remember renting this office and thinking we were never going to fill 1800 square feet. Now we're looking at 6,000," she says. 
Building a global brand
When her friends were leaving a recession-riddled country in 2013, Sweetman says she saw "potential in Ireland to build a business that could be based here, but be international".
From day one "we built Chupi to be a global brand," she says. "The day we launched we went online as well. We sold one or two things (in) that first week, so it was nothing. Now over half our revenue would come from our digital business."
The company is almost entirely online, with one outlet in Dublin's Powerscourt Townhouse and a New York pop-up on the way.
After Brexit, Sweetman decided to change the business model from wholesale to direct-to-consumer.
"I wasn't going to gamble the lives of my team and our future on whether a giant retailer was going to go bust or not," she says. 
"We've done well. We've built a really beautiful business, but ambition-wise we've still got the whole rest of the world."
As part of its hiring drive, the company has just taken on Laura Swanton as its marketing manager, who spent eight years in the same role at luxury online clothing retailer Net-a-Porter. 
"Though we're a jewellery company, and we make heirlooms, we're actually a very modern business. Over half of the roles we hire for are digital tech and marketing," Sweetman says. 
The company is currently building an app which customers can use to track the progress of a made-to-order piece, its location in Ireland and the stories of the craftspeople at each stage. 
Sweetman's pieces are inspired by wilderness and natural forms like feathers, leaves, twigs and animals, many are set with diamonds and gemstones and all are made in Ireland. 
Starting out, Sweetman reckoned they would just be selling wedding and engagement rings, but one of its biggest sellers is the "right-hand ring", bought by the company's mostly female client base to mark personal occasions.
"One in three of our diamonds women are buying for themselves, which is so exciting," she says. 
Sweetman says her company doesn't think about "sector competitors" because its focus is on experiential shopping, rather than high sales volume.
In the luxury market, when it comes to consumers  "marking a really important moment… When you're thinking, 'what am I doing for my 30th birthday? Am I getting a diamond or am I going on a big trip?'" as Sweetman explains, the choices usually come down to jewellery, travel – and luxury handbags. 
"We're not looking to be Tiffany's. We're looking for someone who wants something different. It's a smaller market, but we're after a bigger share of it."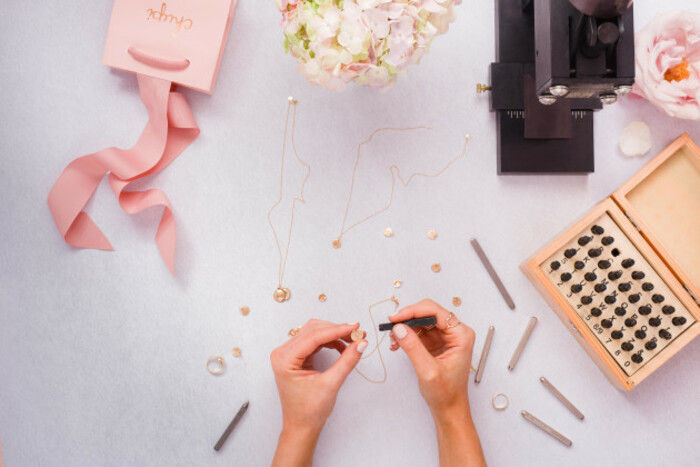 Source: Ben Keenan
'Crazy problem solving'
Sweetman grew up "in the middle of nowhere" in the Wicklow mountains. Alongside her younger brother, she was raised and home-schooled by her mother, the journalist and writer Rosita Sweetman. 
Her father, former World Bank economist John Pell, is based in the UK, where she also spent some of her childhood. 
Sweetman's acumen for business manifested early when she started her own fashion label at 17. "It sounds fancy, but I wanted to pay my way through school and college," she says.
Within three years, she was scouted by Arcadia Group and joined Topshop as a designer.
"I loved the business side of it. My dad's an economist, and with that idea of sales being a barometer of success, I loved working in fast fashion because it's very goal-oriented. You have huge, insane targets to hit and really tight contracts," she says. 
After six years at Topshop, Sweetman decided to take a different route. 
"My favourite description of design is that it is creative problem-solving. I love that idea of design solving a problem that you didn't even know existed. That's what Apple did: No one knew we needed sexier, more beautiful computers," she says. 
That happened to be around the time her husband proposed. "I remember wearing my engagement ring for the first time. I knew that I had something one day my daughter would wear," she says. 
She quit her job, "burned everything to the ground" and the couple set out on their own. "We built the company on absolutely nothing, from that spare room in a rented house," she says.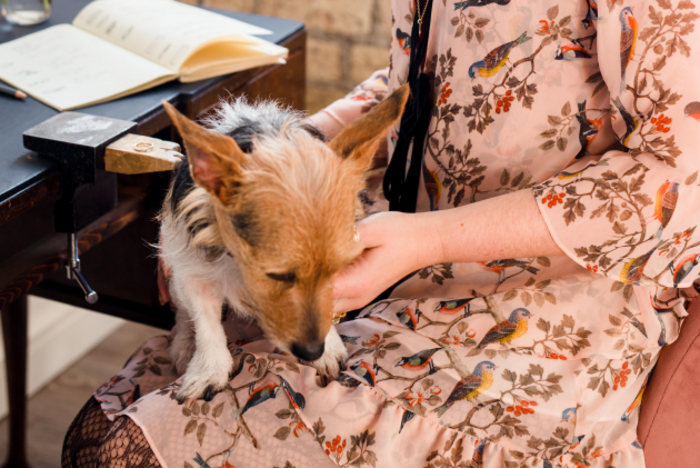 Source: Nathalie Marquez Courtney
Recycled gold and diamonds
The company is debt-free and bootstrapped from day one, which Sweetman says was a strategic decision.
"We could have taken investment at any point. We've had some very nice offers but I felt that we would make more powerful decisions as a business that makes things that makes people happy. If you fund those businesses, you can end up making the wrong decisions. We could have invested in the wrong collection, the wrong product, the wrong direction," she says.
So every time they made something new, they had to prove it, she adds. "It had to sell, it had to deliver. It makes you much smarter about what you do."
A lot of people get caught up in chasing funding, finance, investment, she says, adding that she thinks it can be sometimes more powerful to just start. 
"There are businesses that require huge investment to get them off the ground. But blood, sweat and tears have paved a lot of ways," she says. In recent years, Sweetman has cut her own hours from about 80 a week to about 60. 
After seven years, however, taking on investment might is an option that might be back on the table as the company scales up.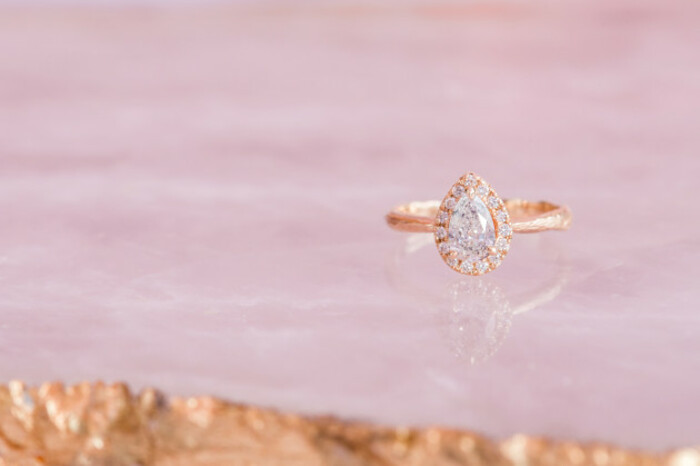 Source: Nathalie Marquez Courtney
The company is also introducing objective key results to scale, per the five year plans Sweetman makes for the company. 
"We want to change what sustainability means to our industry, we want to become one of the number one heirloom ring brands in the world and we want to define what care and kindness look like," she says.
The company already uses recycled gold and ethical diamonds and is moving into recycled diamonds. It is also hiring a head of customer care and a "head of kindness," to drive the user experience. 
"We're in luxury, we want you to enjoy from the moment you send us that first DM on Instagram, to the moment you have the piece you'll be wearing for the rest of your life. If we're asking you to only shop with us once a year, or two or three years, what does that relationship look like?" she asks. 
The company is looking at what it can do that "changes the paradigm". "It's funny, as a business what we're asking our customers to do is shop less," she says.
"Sustainability has a green tag around it, but if you strip it back, what does that look like? What is business growth going to look like in the future?" 
Sweetman notes that sustainability is more about everyone doing their best, rather than one person doing it perfectly. The demand for next-day delivery is there from customers, and the company works on its sustainability in other areas such as the materials it uses.
It will soon launch a foundation to offset its carbon load by working with other charities to plant trees in Ireland and abroad.   
Following the spring pop-up, Sweetman says the company will be looking to set up a permanent base in New York and later potentially in California.
"If we take 1% of the fine jewellery market in the US, that is company changing. I didn't choose the US because it was easy. We chose it was because it was the most exciting and because we already had the biggest amount of revenue coming from there." 
Get our Daily Briefing with the morning's most important headlines for innovative Irish businesses.