ChangeX pockets more money from the same VCs who bankrolled Slack and Tumblr
The social enterprise now has its sights on setting up in the US.
SOCIAL ENTERPRISES DON'T often prick the ears of hard-nosed venture capitalists, but Irish non-profit ChangeX seems to have developed a knack for getting investors' attention.
The organisation today announced an extended seed funding round worth €350,000, which has brought total investment in the enterprise up to €850,000.
ChangeX was launched early last year to provide technology that connects people who want to improve their communities with not-for-profit innovators like CoderDojo and Grow It Yourself who can help them.
Founder Paul O'Hara told Fora the latest funding will be pumped into improving the company's platform, but it will also bankroll an upcoming expansion into the US market.
"We haven't picked our US base yet, but we'll be deciding in the next three weeks. We have a shortlist and have some more research to do and will announce that at the end of May," he said.
"It's not by any means a sign that we've done everything we want to achieve in Ireland. We just want to experiment with how our service would work internationally and how we would do the marketing in an international city."
New investors in the organisation include MyFitnessPal co-founder Mike Lee, whose company was acquired last year by Under Armour for a reported $475 million, and Spectrum Equity's Vic Parker, who sits on the World Wildlife Fund's council.
Returning backers include John O'Farrell, the leading partner at storied VC firm Andreessen Horowitz, who has been at the forefront of repeat investments in billion-dollar startup Slack. Tumblr backer Albert Wenger also invested during both seed rounds.
Notable previous investors include Colm Lyons, who sold his Irish company Realex Payments for €115 million, Storyful founder Mark Little and Ben & Jerry's co-founder Jerry Greenfield.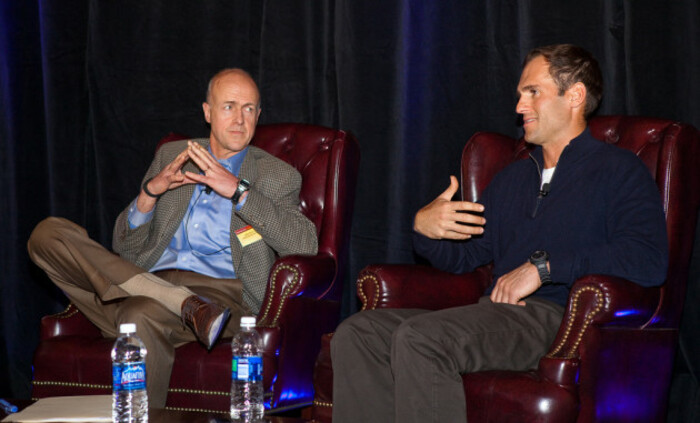 Validating
Even though the company is a social enterprise at its core, O'Hara said ChangeX pitches to investors "like any tech startup".
He believes backers are attracted to ChangeX because of its capacity for global change, adding that the latest injection of funding proves the organisation is on the right track.
"The most important thing we have focused on, which you have to do for investors, is to pitch big. They have no interest investing in some small non-profit here or there. They want to get involved with something … with a view to having a big global impact.
"They're making the judgement with their 'for-profit' hat on and thinking 'can this scale?'. So 

one of the important things from their perspective is can we make this financially sustainable in the short- to medium-term? They know we won't be able to scale this using purely philanthropic finance."
Further afield
Even though ChangeX has just raised its second lot of funding, O'Hara said he is eyeing up "a bigger round late this year or early next" that would allow it to build on the planned US expansion and get its own office outside its current base in Dogpatch Labs.
Before returning to investors however, O'Hara said the plan is to significantly increase its user base before the end of the year.
"There are social entrepreneurs looking to use the software to scale their idea, they are the ones that pay fees. So we want to go from 10 fee-paying social enterprises to 50.
"However, the primary metric we use is the number of people that are taking ideas off the platform and starting them in their own community. Last year we had a total of 280 users doing that and this year we are well ahead.
"Since January, we are at about 300 … and the total goal for the year is 1,000. The better job we do on that side, the more social entrepreneurs will want to bring their idea onto ChangeX because they know that's the place to go if you want to scale."
Correction: We were previously told ChangeX has raised €900,000 to date, however we've since been advised the correct amount is €850,000.
read more on