'It's the evolving nature of capitalism, it can't just be about profit': Meet the man helping scale social entrepreneurship with ChangeX
Alongside Niamh McKenna, Paul O'Hara is pioneering a new tech-driven way to spread social innovations.
A COUPLE OF years back, on the south side of Chicago, a woman named Pearl found herself looking at an old, unloved, derelict lot and thought that there must be a better use for it.
Now it is an urban garden that helps to bring the community together, one that was set up with the help of GIY, a social enterprise which hails from Waterford, with tech giant Microsoft proving the funding.
What brought these three disparate parties together wasn't fate or serendipity, it was ChangeX – a social entrepreneurship platform founded in Ireland. 
The Chicago project is a prime example of the type of idea that Paul O'Hara, ChangeX's chief executive, is working to scale around the world: Take a portfolio of proven social enterprises, match the right ones with the right communities and add in a backer to fund the endeavour. Everything is done online, with ChangeX using tech to bring partnerships together.
It is five years ago in April that ChangeX was first launched by O'Hara and co-founder Niamh McKenna and the mission hasn't wavered since then.
"The problem that we set out to solve at the start was that there are all these great ideas and direction from communities – instead of everyone having to reinvent the wheel, could we make the best ones accessible to others and make it easy for them to be adopted," O'Hara says.
Sitting in a breakout area of Dogpatch labs, the startup incubator housed in Dublin's CHQ that ChangeX calls home, O'Hara is proving the concept. Having raised "in the region of €2 million" to date, ChangeX is looking to raise a further €2.7 million to develop its platform and bring more ideas to communities around the world.
"Technology had to be the enabler. It took us a while but now we are at this point where we have what you could call a functioning change machine, end to end. It's about capitalising on that and taking it to scale," O'Hara says.
ChangeX is already generating revenue, earning money by taking a small portion of the community funds it manages, and is almost at the point of self-sustainability.
The company is held to similar standards as the tech startups with which it shares a home, having already attracted heavyweight backers including blue-chip local investors such as Brian Caulfield who has previously invested alongside the likes of Andreessen Horowitz partner John O'Farrell.
"I think they hold us to the standard that they would any startup. They saw the problem of loads of great ideas being very subscale in the nonprofit sector, the unifying wonder was that if this scales, it's going to have a great impact," he says.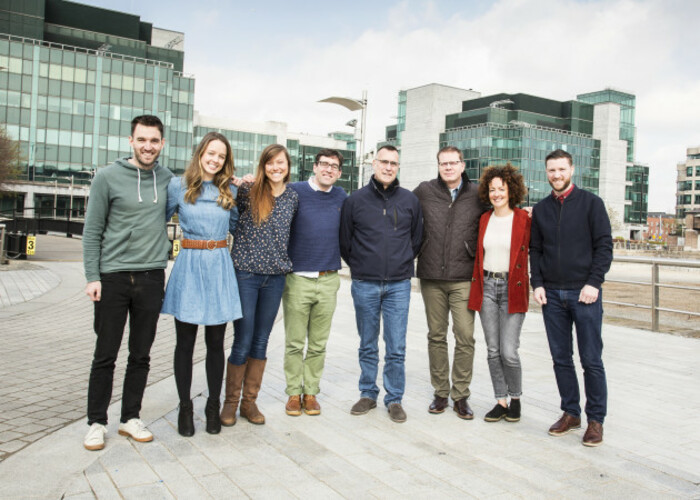 Source: Katie Smith (ChangeX)
While the mission has not changed, that doesn't mean that the organisation didn't have to evolve. 
"I had no idea how hard that was going to be. I was naive getting into it and it is particularly challenging as a nonprofit because it's hard to capitalise. There is an awful lot you have to get right to get a three-sided marketplace working. It has been a challenging few years, but we've been able to make enough breakthroughs along the way," O'Hara says. 
Part of that evolution involved developing a business model that brought together local communities and social innovations who could work together but may not have had much cash with those that do. 
"Companies and foundations approached us, interested in how they could have to scale different ideas. So we kind of stumbled upon a business model that we call impact-as-a-service. The idea was that businesses, or foundations or high net worth individuals, could buy units of impact around ideas or issues that they are passionate about," O'Hara says. 
The focus has since lasered in on companies as ChangeX is now working with the likes of Microsoft, Target and Blue Cross Blue Shield. 
"The role that companies have in the communities that they operate in is being taken more seriously. It's part of the evolving nature of capitalism, it can't just be about profit," O'Hara says. 
Finding the right path
O'Hara attributes some of his social conscience to his father, an accountant who was originally from Arranmore off the coast of Donegal, and some to his mother, a teacher from Castlebar. The eldest of five, O'Hara grew up in Castlebar and initially studied commerce before taking a post-grad in marketing, 
O'Hara started working as a brand manager with Unilever and progressed through the ranks, later working for Cadbury. Despite taking to the world of fast-moving consumer goods (FMCG), O'Hara wasn't quite satisfied marketing chocolate bars. 
"I was around my mid-20s, I just started to become much more aware of social problems here and internationally. It was a bit of a quarter-life crisis, I would say," O'Hara says. 
The "tipping point" was a trip to Zimbabwe, where O'Hara was exposed to extreme poverty for the first time. 
"The privilege we've been born into is crazy when you think about it, compared to the vast majority of the world. It was then and there, I was like – right, I don't know what I'm going to do but I'm going to commit the rest of my life to working on social problems," O'Hara says. 
Sticking with what he knew, that ambition first manifested in an attempt to set up a charitable water brand that would allocate profits to water projects in Africa. While the idea was later replicated by other brands, it didn't work out for him. 
It did, however, lead to O'Hara being introduced to Ashoka, a global network of social entrepreneurs. While they weren't interest in the project, they were interested in O'Hara, who joined the organisation as they were setting up an investment fund for Europe. 
"The way I was kind of thinking about it was that it would be like a two year MBA in how to changed the world, and then I'll head on and do my own thing," O'Hara says. He stuck with it a little longer than that, spending more than eight years with the organisation. 
"It was during that time that I realised that there were all these great ideas that we were investing in, but that were so subscale. The solutions were relevant to other geographies and it was such a waste. People were either reinventing the wheel or had no solution at all," he adds.  
He started trying to experiment with importing and exporting ideas, which worked but didn't prove easy to scale. It was then that he realised that tech would be the big enabler 
Next steps 
And so ChangeX was born, as O'Hara partnered with McKenna, a former accountant with PwC who he had worked with on an event called Change Nation. The duo are now plotting the next stage of ChangeX's development. 
"The product works well, but there's loads of stuff that we want to do," he says.
O'Hara is hoping to secure additional investment to build out the platform's portfolio of ideas on everything from climate action to health and economic development and community cohesion. ChangeX also plans to open offices in London and New York to "be where the big companies are" and secure more partners. 
The Castlebar man admits he always harboured some ambition to start his own business but headed down a path that could be a little less lucrative than some of his startup peers.
The Mayo-native takes the approach that once you hit an income level that can satisfy most of your needs, the correlation between income and happiness falls away. 
"If I can satisfy my basic needs, and have a great impact on the world, that's an ideal scenario. Your time is short, you want to do something meaningful with it. I have three young kids now, so I have to be more mindful of the financial side.  I'm confident that ChangeX can be a sustainable business that can pay people reasonably well and have a great impact," he says.  
Get our Daily Briefing with the morning's most important headlines for innovative Irish businesses.