This Dragons' Den star says Nelson Mandela discovered the secret to good meetings
Chanelle McCoy says leaders can sometimes 'cloud creativity' without realising.
DRAGONS' DEN STAR and entrepreneur Chanelle McCoy has revealed how she learned the secret to good meetings from an interview with Nelson Mandela.
Speaking at the recent All-Ireland Business Summit in Croke Park, McCoy recalled reading an interview with the late South African revolutionary and president in which he explained what makes a good leader.
"(Mandela) used to go with his father to tribal meetings and there were two things that he observed: they always sat in a circle, and Nelson's father, as the leader of the tribe, always spoke last. For me, there was a tip there," she told the conference.
McCoy – who is a director at Galway-based pharma firm Chanelle Medical – said she has had more productive meetings with workers and colleagues by speaking last.
"We have this desire as leaders – because sometimes we're strong characters – that we talk first and we go in and say what we think. Suddenly, you've slightly clouded the creativity you could get out of the team," she said.
"Now I'm the last to speak. It changes the dynamic of the meeting. There are people who are speaking and being more creative than they would've been before."
McCoy appeared at the All-Ireland Business Summit as part of a panel discussion with Donegal GAA champion Brian McEniff of the eponymous hotel group and Supermac's founder Pat McDonagh. All three were named 'business champions' at the summit.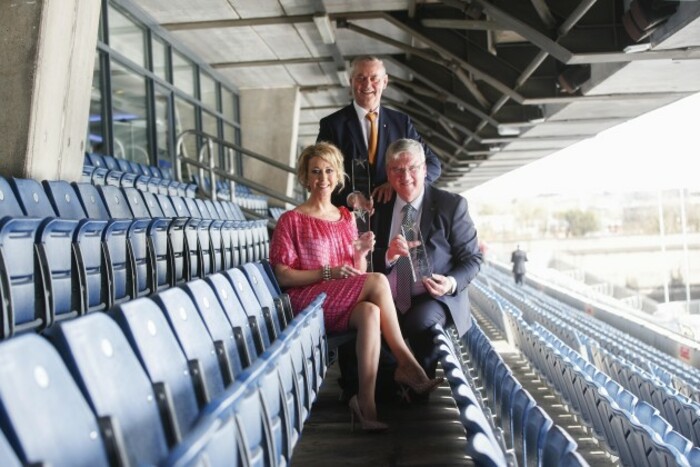 Source: Conor McCabe Photography Ltd
Generic drugs
Some 18 years ago, McCoy joined Loughrea-headquartered Chanelle Medical, a company that was founded by her father, Michael Burke, and initially manufactured just veterinary drugs.
When McCoy came on board, she helped set up a human drugs division that manufactures generic, or 'copycat', medicines.
She explained to the conference how she used cold calling and unsolicited meetings to turn Chanelle Medical into a major player in the tough generics market. Today, the company generates annual sales of around €100 million.
McCoy started by contacting customers in Germany and France to arrange meetings.
"Of course they wouldn't see me because who was this little company in the west of Ireland?" she said.
"I got on a plane anyway and I went over to France and Germany and went to those offices … I sat in reception areas for hours, because I thought if I can just catch (a CEO) leaving the office at the end of the day, I can try and see them tomorrow.
"A lot of them probably saw me out of pity, but it was all about getting in front of the customer … It's perseverance."
Today, Chanelle Medical's veterinary and generic human drugs are sold in 93 markets around the world and the company employs 500 people.
McCoy – who also co-owns a fashion boutique called Mojo and is married to retired jockey AP McCoy – said Chanelle Medical, like many other firms, is struggling with skills shortages and has had to look abroad to fill job vacancies.
She said being headquartered in Loughrea can be a challenge and revealed that after a recent recruitment drive for senior managers, 18 people turned down a job at the company because they didn't want to move from Dublin to the west of Ireland.
Speaking to Fora on the fringes of the All-Ireland Business Summit, McCoy attributed Chanelle Medical's success to the fact that it's still a family-run business.
"Being in the generic industry, you have to be very cost-competitive – it's a very price-sensitive market," she said.
"A company like ours, we are a smaller player. We're in the manufacturing environment. Sometimes, when you're a bit smaller in manufacturing, you can be leaner, your overheads are less and you can be more cost-competitive.
"When you're a family-run business, you can be more flexible. You can be more reactive to the customer, especially in generics. It's a very volatile market."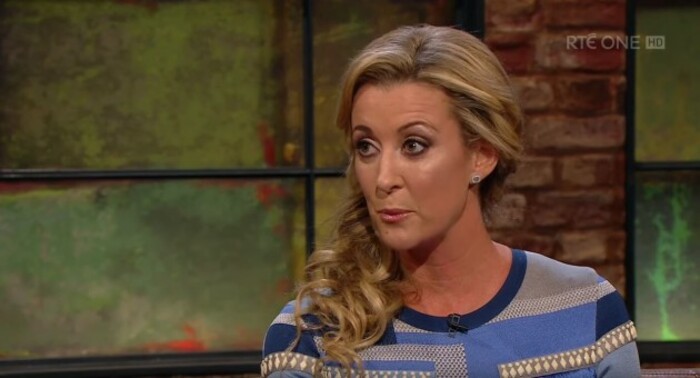 Gender quotas
She said she has agreed to participate in the next season of Dragons' Den – although recording dates haven't been set yet – and will once again follow her simple rule to only invest in companies in industries she understands.
"I wasn't going to invest in a business I knew nothing about. In that situation, you can't add any value, you can't critique it. You're out of your comfort zone in terms of knowledge."
McCoy – who is seen as a champion for female entrepreneurs – told Fora that gender quotas should be explored in Ireland to shake up the male to female ratio in top companies.
"One of the problems in Ireland, 14% of boardroom seats at listed companies are filled by women – versus the EU average, which is 25%, versus Norway which is 47%.
"Norway introduced gender quotas to the workplace years ago, hence why they're up at 47%. I'm not saying we should definitely put in quotas in Ireland, but it should be seriously looked at," she said.
McCoy said leaders should examine whether "there is a pool of women in the workplace who have the ambition to get up into senior-management positions".
"If we're going to go for 30% of women in senior management positions and board positions, then we can't implement a quota until we assess whether there's the pool of people and is there the desire for these pool of women to get up there," she said.
"Quotas are a great way to measure and influence change. That's why I would be very much in favour of a really good assessment done on the merit of putting in quotas.
"I don't really know how else it's going to quite radically change because we are very much behind the curve."
Sign up to our newsletter to receive a regular digest of Fora's top articles delivered to your inbox.