Poll: Are the CEOs of big companies being paid too much?
Trade unionists have called for 'major reforms' in how private firms pay their top execs.
THE UMBRELLA GROUP that represents trade unions in Ireland last week called for "a series of major reforms" in how companies pay their top executives.
The Irish Congress of Trade Unions (ICTU) published a report demanding "greater transparency in how top pay packages are set, action on bonuses, a higher tax rate on incomes over €1 million", among other recommendations.
The study looked at 21 large, private companies, most of which are listed on the Irish Stock Exchange.
It found that between 2009 and 2015 – a period during which most private sector workers saw average weekly earnings increase by just 2% – chief executives saw their basic pay increase by up to 236%.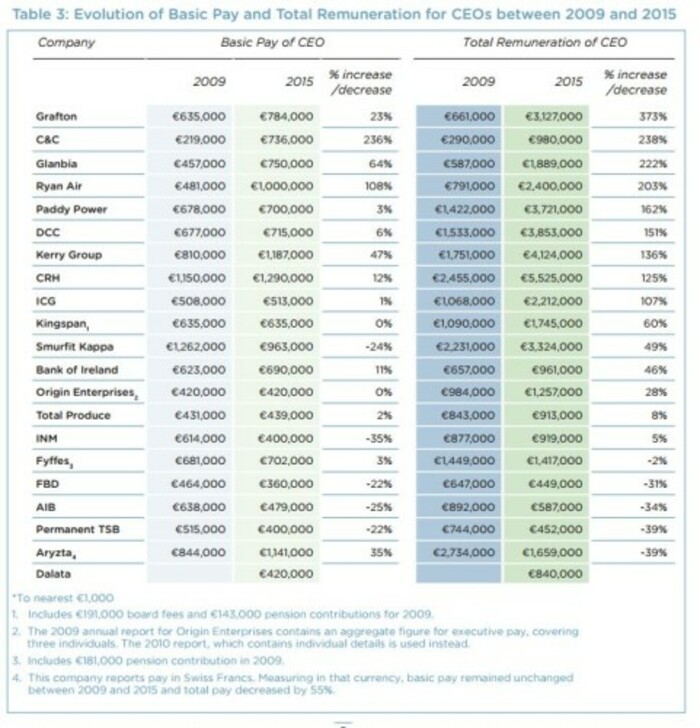 Source: conormc
Click here to view a larger version.
In terms of the difference between average earnings and chief executive pay packages, the "doubling of the ratio (was) not uncommon" over the six-year period.
Nevertheless, many argue that high salaries and share incentives are necessary to attract the top talent in what is an internationally mobile cohort.
In some cases, seemingly eye-watering pay increases only come on the back of significant rises in companies' profits and share prices.
For example, Ryanair chief Michael O'Leary saw his total remuneration increase more than 200% over the six years to €2.4 million.
However, during that same period, the airline went from a net loss of €169 million to a net profit of €887 million by the end of 2015. Meanwhile its sales increased by 92% to €5.6 billion.
With that in mind, we're asking Fora readers this week: Are the CEOs of big companies being paid too much?