A Cork startup is selling $100 biocomputers powered by jellyfish DNA
As part of our weekly Startup Spotlight series, we profile Cell-Free Technology.
THE WAY HE describes it, Thomas Meany got "reluctantly" pushed into the idea of setting up a startup about a year ago.
The physicist, who has a PhD in the field, comes from an academic background, but he got frustrated about how hard it was to see meaningful results from his university work.
"In university you're free to pursue ideas but while doing research, you start to realise it's very tough to make an impact," he tells Fora.
"Impact is difficult to define, but it's about getting people to use what you create, or making what you create useful for other people. Research is actually pretty bad at that.
"The more I tried to create impact, the more I realised the university wasn't the place to do it. So I sort of got reluctantly pulled into the company idea. None of us have MBAs or anything like that, but we sat down and said, 'This is the only way we can do what we want.'"
The firm uses real DNA to program its biocomputers, which are then controlled digitally.
Using a green fluorescent protein made from jellyfish DNA, the startup makes a biological pixel for the biocomputer's display that can be activated by an LED matrix.
Meany calls it the "Raspberry Pi of biology", which is able to show messages or even play basic games like Tetris.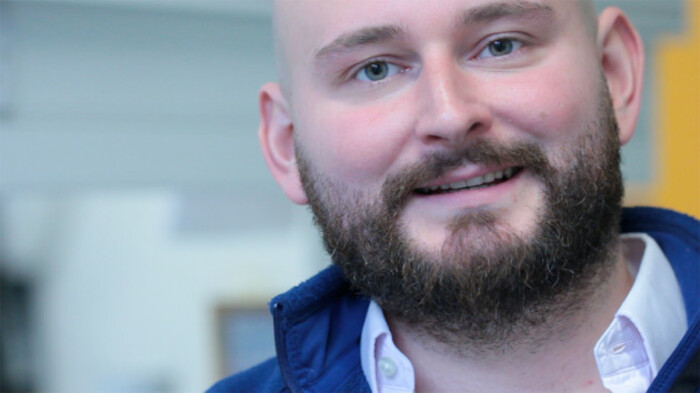 Another aspect of the startup's work, called Biobits, is more complicated and involves collaborating with other scientific researchers.
This service allows third parties to submit DNA sequences, which Meany's startup will analyse using a cell-free method – this is a faster way of analysis since the process is not constrained by the way DNA is made in a real cell.
Meany says analysis using the cell-free method can be used for experimenting with the development of proteins for everything from smells to flavourings, right up to biomedicines.
"The cell-free process, because it's outside of the cell, means you can produce DNA-based circuits and make proteins to test around a hundred times quicker than you could using conventional methods – such as taking DNA, getting it into a cell, growing up a cell and then testing the cells.
"It's early-stage prototyping. We can possibly speed up the process for developing life-saving drugs."
DIY biocomputer
The four-person startup, which is based out of the Environmental Research Institute in University College Cork, was only set up last April, but it has gathered a lot of momentum since then.
Rebel Bio, a biotech accelerator that is part of Sean O'Sullivan's venture fund, took an interest in the early-stage firm's work and has been providing mentoring as it develops.
This week, the startup started shipping its first DIY biocomputer products called Bixels – which cost $100 – to some clients in Canada and China.
The firm is also working on fine-tuning an online system, called Biobits, that will allow it to collaborate with universities and researchers worldwide on cell-free research.
"Our current academic and industrial research users are communicating with us through a purely web browser-based system where they enter a DNA sequence and that can be prototyped using our cellular extracts in our remote lab.
"Because it is such an early-stage prototyping tool, it makes it very useful for people who want to do simple procedures. They just want to spend £100 to £200 to test something and see if it works, and if it does they can spend a couple of thousand down the line."
Future
After securing investment of €250,000 from Sean O'Sullivan's SOSV at the end of last year to bankroll the project, Meany thinks Cell-Free Tech will have a workable model for its web platform later this year.
"We're really focused on the web-based delivery of DNA prototyping – that's the product we want to start pushing.
"We want a demo of it live by August so we can get people interacting and understanding how they can start to design solutions using DNA-based programming languages."
Meany adds that ahead of the August deadline, the firm will probably need to start looking for further funding to top up the money raised to date.
"We're probably still a little bit early for series A and still in the seed phase. We would be looking for a bigger seed round of around a €1 million and will begin hunting for that around June. We would hope to close that before the end of the year.
"A lot of the funding will go towards further automation equipment, to make sure we're able to scale production, and expanding the team."
This article is part of a weekly series featuring Ireland's most promising startups. If you would like to see your company featured email news@fora.ie.
Sign up to our newsletter to receive a regular digest of Fora's top articles delivered to your inbox.