Two Irish firms are winding up after being dragged into a 'perfect storm' by Carillion's collapse
The Kildare-based Sammon group said its financial issues began after the downfall of the UK builder.
A MOVE HAS been made to wind up parts of the Sammon Contracting Group, which claimed it hit financial issues due to the collapse of UK construction giant Carillion.
In April, the High Court appointed an interim examiner to the Irish group and its related companies Sammon Contracting Ireland Ltd, Sammon Contracting Group Ltd and Miceál Sammon Woodcraft Ltd.
The Kildare-based operations employ approximately 200 people directly and many more subcontractors indirectly.
It was hired to construct several schools and the institute for education by a 'special purpose vehicle' (SPV), that included Carillion, known as Inspired Spaces.
The contract included the construction of Tyndall College Campus in Carlow, Eureka Secondary School in Kells in Meath, Loreto College in Wexford and Coláiste Ráithín and St Philomena's National School in Wicklow.
That deal was worth an estimated €87 million to the Kildare firm, which was paid on a monthly basis since works began in 2016. However, Carillion went into compulsory liquidation in January 2018. The Sammon group was owed some €8 million by the UK firm.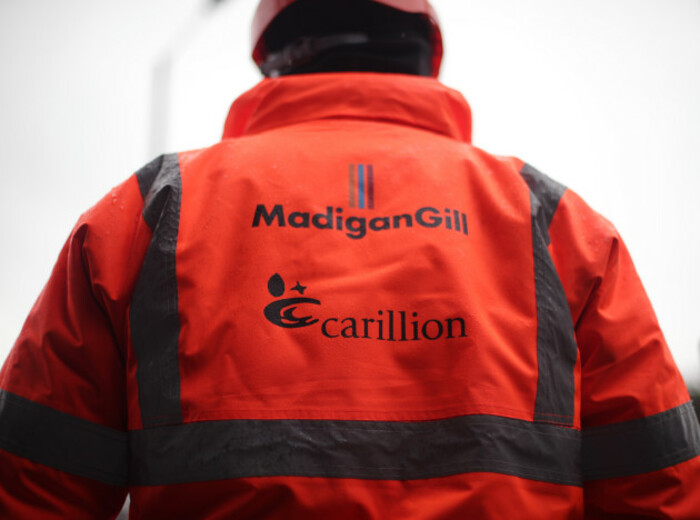 Source: Yui Mok/PA
Today, the High Court has appointed a liquidator to two construction subsidiaries in the Sammon group after the firm was unable to resume work on the school development projects.
The examiner, Michael McAteer, told the court he was no longer able to continue with the examinership process for two companies – Sammon Construction Ireland Ltd and Sammon Contracting Group Ltd.
He said he was unable to formulate proposals for a scheme of arrangement that, if approved by the High Court, would allow the companies to survive.
He added that getting works restarted on the contract, by securing the tender to recommence those works, was the key to ensuring the group's survival and return to profitability.
McAteer said he held talks with key stakeholders including the banks but no decision has been made to award the contract to finish off the schools project.
This delay, he said, has undermined confidence in Sammon and has made it more difficult to attract investment. As a result, Sammon lacks the funds to meet its liabilities to Revenue and he could not continue with the examinership.
Termination notices have also been served to Sammon in relation to two other projects it had been involved with, McAteer added.
When the company applied for an examiner the court heard that Sammon Construction Ireland had a deficit of €11 million as a going concern. However, in the event of it being wound up that deficit increases to €21 million.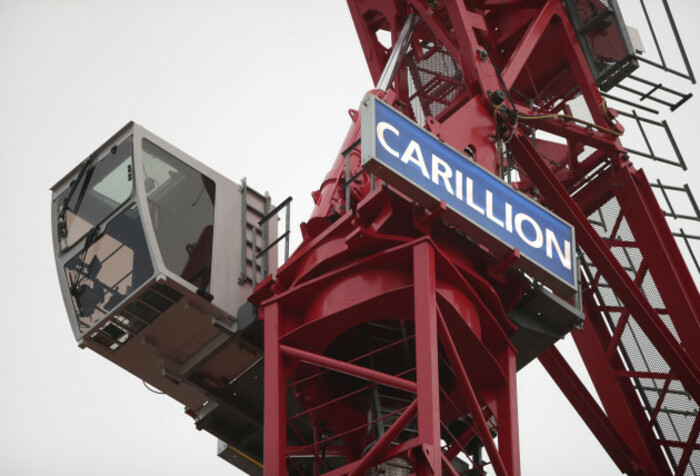 Source: Yui Mok/PA
'Perfect storm'
A statement released by the company outlined it is in a state of uncertainty and that the most appropriate course of action is to seek liquidation.
Sammon group founder and chief executive Miceál Sammon stated that this is a "painful and distressing time" for all those in the business.
"I deeply regret the financial and commercial impact that this development has had on our loyal suppliers and sub-contractors," said Sammon.
He said the collapse of Carillion and suspension of the school building projects "placed us into a perfect storm".
"We have made every effort from the day Carillion collapsed to get the contract restarted, in the interest of our business, our supply chain and the communities for the schools."
Despite the collapse of the two Sammon group firms, McAteer told the High Court that another subsidiary, Miceal Sammon Woodcraft Limited, may be in a position to exit examinership.
The subsidiary manufactures aluminium windows, doors and curtain walling products as well as joinery and fitted furniture products.
Woodcraft previously sold its output to Sammon Contracting exclusively, but the company has secured an agreement to supply a major third-party customer.
Woodcraft is expected to seal other work that will mean the firm can continue to trade despite the liquidation of Sammon Contracting Ireland Limited. McAteer will continue to act as examiner for Woodcraft, which has 22 employees.
Additional reporting by Aodhan O'Faolain and Killian Woods
Correction: A previous version of this piece stated Sammon Construction Ireland Ltd was going into liquidation. The correct name of the firm is Sammon Contracting Ireland Ltd.
Sign up to our newsletter to receive a regular digest of Fora's top articles delivered to your inbox.