Union bosses have written to the government to call out 'clear hypocrisy from a state beneficiary'
The letter relates to a recent Labour Court dispute over redundancy packages offered by Capita.
IRISH TRADE UNION groups have appealed to the Department of Finance to ban any further contracts being issued to multinational outsourcing firm Capita.
In a letter to Minister for Finance Paschal Donohoe, Unite has also called for all existing contracts awarded by state bodies to the international firm to be reviewed.
Capita's Irish operation has been contracted to implement the Eircodes system and currently holds contracts worth nearly €140 million from state entities.
The calls from Unite and the Irish Congress of Trade Unions come following a Labour Court dispute between Capita and a number of workers being let go by the firm's subsidiary, AMT-Sybex.
The Labour Court ruled that Capita should offer a redundancy package worth five and a half weeks' wages per year of service to the staff being let go.
The union has complained that Capita has not complied with the court's recommendation and instead offered two weeks' pay for each year of service – the minimum redundancy terms it has to provide.
As a result, Unite has called on the government to ban state bodies from outsourcing any operations to Capita until the firm complies with the Labour Court's ruling.
A letter delivered to the Department of Finance today as part of a protest organised by the trade union said all existing contracts between state-run entities should also be reviewed.
In the correspondence, Unite regional officer Bernard Daly noted that 95% of all Labour Court recommendations are implemented by employers.
Daly said Capita has "an ongoing and extremely lucrative relationship with the state" but is prepared to "disregard the state's industrial relations machinery".
"The difference between statutory redundancy of two weeks per year of service, and the enhanced redundancy terms of 5.5 weeks per year of service recommended by the Labour Court, would cost Capita less than €500,000 – a tiny fraction of what they have reaped from public contracts."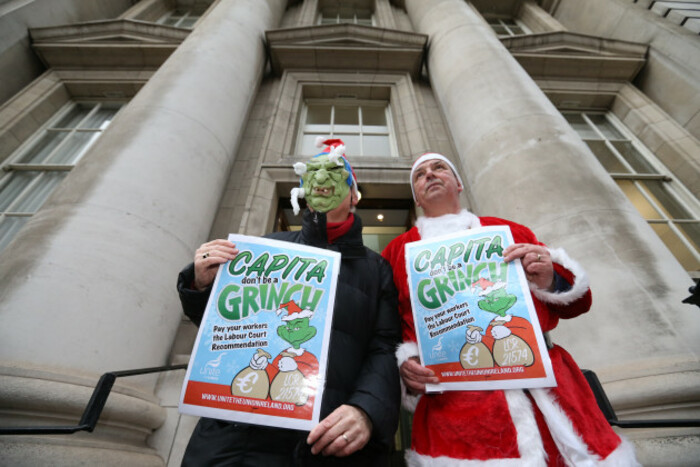 Source: Sam Boal/RollingNews.ie
Daly added that Capita's inference that the employees' choice to be represented by Unite, which it said "was a contributory factor in the dismissal of their appeal", has highlighted the deficiencies in the Ireland's industrial relations legislation.
Backing
The Irish Congress of Trade Unions general secretary Patricia King has also weighed in to back the AMT-Sybex workers affected.
"There is a clear hypocrisy in evidence here," she said. "On the one hand Capita is quite happy to accept and benefit from state contracts, but on the other hand it apparently feels no obligation to comply with a recommendation from the Labour Court.
"This is clearly an issue for government itself. Is it tolerable that a major beneficiary of state contracts – with bodies such as NAMA and the NTMA – can so flagrantly ignore and undermine such a key institution as the Labour Court?"
Sign up to our newsletter to receive a regular digest of Fora's top articles delivered to your inbox.