Grocery delivery startup Buymie is managing a 'huge increase' in demand as people stay home
The company wants to help the government and retailers distribute groceries to vulnerable citizens.
AS THE HARSH reality of the Covid-19 outbreak crisis sets in, online grocery delivery startup Buymie said it has seen a 300% boost in activity as a result of social distancing measures.
Buymie's app, which is used in partnership with supermarket chains like Lidl, allows users to buy their groceries online and have them delivered to their homes.
Chief executive Devan Hughes told Fora that the service saw a considerable spike in demand last week.
Hughes said that the average order on Buymie is a typical grocery basket for a household with fresh food and produce.
"We've definitely seen an increase in demand for things like toilet paper and hand sanitiser as well as canned goods, non-perishables," he added.
In the face of the panic buying, Hughes said that Buymie operates a "capacity model" where it only takes in the number of orders it can handle at a given time.
"We've certainly seen a huge increase in the number of active users on the platform and the number of downloads. We know that there's a lot of demand there that's yet to be served."
Supermarkets and the grocery industry have assured consumers that supply chains are running as normal. Some supermarkets have also dedicated blocks of time in the day for over-65s to do their shopping.
Buymie is operating in Dublin, Kildare and Wicklow with a "couple of hundred" shoppers carrying out the shopping and delivery for customers and it has also put in place a contactless delivery method.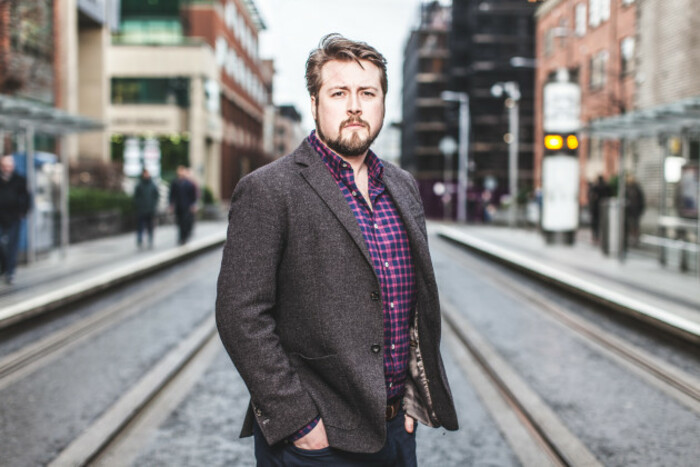 Source: Buymie
Food delivery firms like Deliveroo and Just Eat have also recently implemented measures to limit contact between delivery riders and customers. This typically involves arranging for the delivery to be dropped at or near a doorway rather than handing it directly to the customer.
"With the sharp increase we're seeing now, we're definitely looking at expansion plans to be in a better position to do that (meeting demand). We are looking at funding options, both public as well as private," Hughes said.
He added that the company has no plans to change its fee structures for customers after this recent boom in activity.
Public-private proposal
In the days after the initial surge in cases of Covid-19, Buymie, along with Enterprise Ireland, put forward a proposal to the government for a nationwide 'direct food distribution initiative'.
The public-private initiative would link government and the grocery industry to distribute groceries to vulnerable citizens or people in self-isolation in a bid to reduce community transmission. Buymie's technology and delivery service would be one cog in this effort.
"We're in a position where we don't require new distribution centres, new vans or anything like that. We're able to roll our service out across all of the existing retail infrastructure that sits within every major city," Hughes said.
He added that the initiative could provide temporary work for people that have been put out of jobs due to the virus.
"The way which we proposed to the government is that if we put in place an emergency direct food distribution initiative or a fund, we would be able to bring those people onto the platform," he said.
"They could serve their local communities by providing food distribution to the most vulnerable in our society so people who are in self-isolation as well as the elderly."
Get our Daily Briefing with the morning's most important headlines for innovative Irish businesses.