'We're in a submarine': Covid-19 is hitting business hard. Here's what you can do
There's a lot of uncertainty for the economy right now, but there are some practical steps businesses can take
AS COMPANIES THE world over shut their doors to slow the spread of Covid-19, many businesses will be considering how they will survive through the outbreak and eventually return to business as usual.
The ESRI has estimated that some 350,000 jobs will be lost in Ireland, while the government last week announced more stringent measures to curtail the outbreak, including the closure of "non-essential" businesses and a clampdown on numbers in public gatherings. 
The state also announced support schemes for businesses affected by the outbreak, including a credit guarantee scheme up to €1 million for Covid-19, loans up to €50,000 for micro-enterprises, the SBCI Covid-19 Working Capital Scheme and a €200 million package for rescue and restructuring schemes. 
"The first, most important thing they (businesses) need to understand is what their financial position is," Marcus Purcell, a partner in transaction advisory services at Ernst & Young, said. 
"We would recommend that they start doing a 13-week detailed cash-flow model," he added. 
What that means is looking at your revenues, and if you have shut for the foreseeable, look at whether you have revenues pending or whether you can diversify into other sectors, or for restaurants whether you can do take-away food. 
"Keep it as simple as you can. Don't over-complicate it. Have some metrics and KPIs that you can use within your 13-week cash flow to help you not get overwhelmed by all this," he said. 
Businesses "need to understand what revenue they could potentially collect in a 13-week period. They also absolutely need to look at their cost piece," Purcell said, noting the government announcement of a financial support package to businesses hit by the outbreak. 
"They need to take into account can they now potentially keep people on board (and) whether other organisations such as Revenue and utilities are willing to give them forbearance or payment plans. That might be able to protect them in the short term and give them some breathing space to continue in operation – even though they might be closed."
Those conversations can be tough, he said, but taking control of the situation in this way can potentially improve your outcome.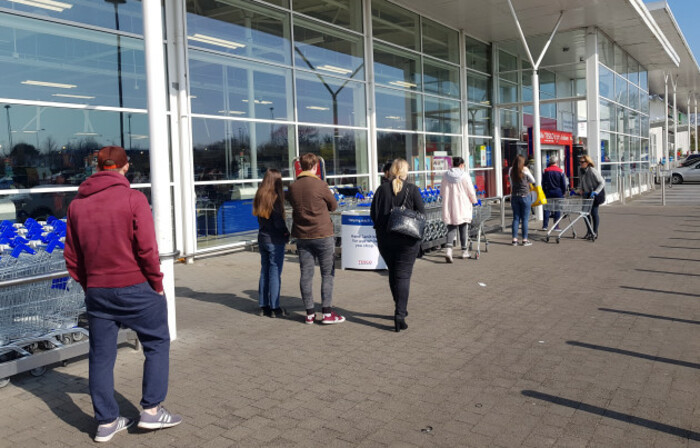 Source: RollingNews.ie
Stress test scenarios
Purcell also stressed the importance of reviewing any debt or outstanding liabilities your business may have. 
"We would recommend they get on the front foot in their communication with the bank. To do that they need to be prepared and understand what is their position," he said, adding that businesses should know what they need going in. 
Some businesses will remain open, and those will need to be conscious of their supply chain and who they are reliant on. 
"What we would also recommend people do is, do three scenarios. You would normally have a base case – the normal case – and then stress test some of the assumptions further down to see what impact that would have," Purcell said, adding that this allows a business to proactively manage some of the challenges of the coming weeks. 
One of the major differences between the outbreak's economic impact and the last recession is government aid, "and people need to understand what that means," Purcell said, adding, "I probably can't stress that enough."
Finally, communication is key, he noted.
"Please don't ignore what the situation is. I think the people who will come out of this in a slightly better place will be the ones who have been proactively managing their communication with various stakeholders – and that includes their staff," he said.
"At some point, you may want to rehire some of these people and you want to look after them as best you can."
In a submarine
The primary challenge for businesses now is continuity planning, according to Patrick Downes, chief executive of the Institute of Management Consultants and Advisers. 
"There are activities you can undertake during this time, in terms of stock-taking and getting up to date with administration and accounts. But they will only take you so far. The oxygen of business is turnover and cash-flow, and once that starts to stop you have a significant problem," Downes said. 
In this case, it's important to be agile, he said, noting the number of alcohol producers that have recently turned their hands to gel sanitiser, and clothing companies who have started making medical scrubs. 
While this is happening, it's important for businesses to examine their overheads and cut anything that "isn't mission-critical".
"Never let a crisis go to waste. It remains to be seen how you can add value in this situation. I suspect a lot of the bigger companies will do it in terms of a pro bono or break-even basis," Downes said, adding that for smaller companies being agile is paramount. 
"Medical supplies are going to be huge, but there will be other opportunities, if you think about the mission-critical applications."
Right now, life as we know it is officially delayed. "What are people going to be consuming in volume at home, outside of social media and broadband? There will be other things they need from a recreational point of view," he said, pointing to gardening and other hobbies that may have "added value in compromised circumstances".
"There are always opportunities. it's a matter of harvesting what can be meaningfully delivered in a reasonably short term," he said. "People need to look at it like a submarine. We're in a submarine for a period whether we like it or not, and it comes down to personal discipline."
Get our Daily Briefing with the morning's most important headlines for innovative Irish businesses.