Irish businesses are paying the highest interest rates in the eurozone
The average rates being charged are almost three times those in some countries.
IRISH SMES ARE paying more than any other country in the eurozone for businesses loans, according to new figures.
Statistics from the European Central Bank show that Irish companies paid an average interest of 5.8% on the loans for amounts under €250,000.
This outstripped any other country in the currency bloc with the next highest being Cyprus, where companies paid an average of 5%, and Portugal, where the mean was just under 5%.
Three times higher
Ireland's average rate of 5.8% was almost three-times higher than the cheapest country, Austria, where companies paid out an average of just 2.2% on small business loans, and France, which had a rate of about 2.4%.
Ireland's borrowing rate was referenced in a Central Bank research bulletin which examined variations in interest rates across Europe.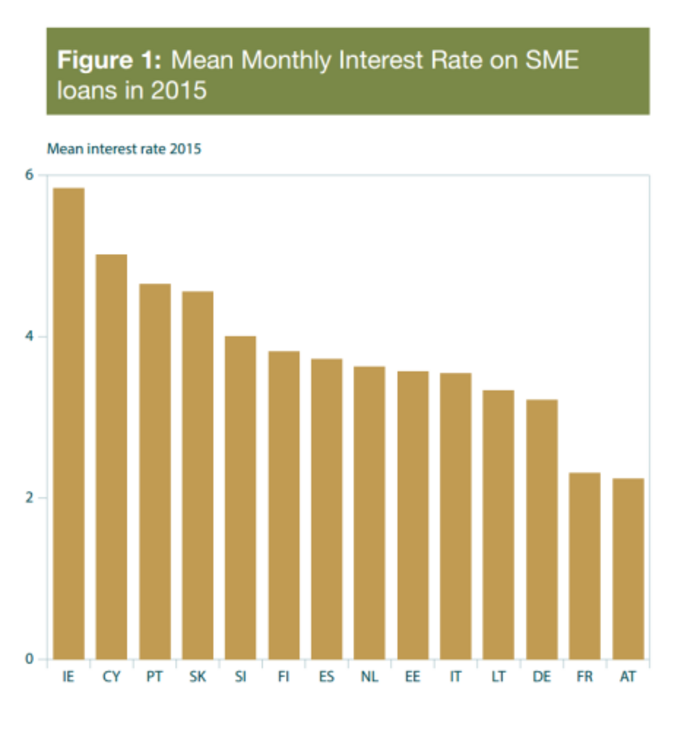 One of the areas examined in the research was 'firm characteristics'. These are factors that relate directly to how individual firms are performing, such as turnover, employee numbers or how long a company has been in business.
The research found that controlling for these characteristics did not explain why there were differences in interest rates.
For example, Ireland did not have significantly higher numbers of younger, riskier companies than other comparable countries that may have resulted in increased borrowing costs. However, it still had higher interest rates on small business loans.
Competition
The bulletin concluded that the variations were more likely to be due to wider economic factors – including the dearth of competition in the banking sector.
[embed id="embed_2"]
The researchers noted "a strong correlation between interest rates and weak competition".
Although individual countries were not mentioned in the note, Ireland's banking sector has long been criticised for a perceived lack of competition, with the domestic lending market dominated by Bank of Ireland and AIB.
The research note also identified a number of other possible reasons for higher interest rates, including the cost efficiency of the banking sector, previous default rates by businesses and the extent to which lenders were protected under domestic laws.
The note said: "In short, it appears that impairments on the supply and demand side of the credit market are likely determinants of high borrowing costs.
"Conversely, measures of the cost of funds, banking sector profitability and cost efficiency, do not appear to have any association with SME interest rates. These findings can act to provide clarity to current debates around the high cost of borrowing in markets such as Ireland."
read more on