Why the Burning Man festival turned its back on profits in a bid to 'go beyond death'
The head of the multimillion-dollar Nevada event talks about giving up its commercial status.
FIVE YEARS AGO, the annual festival of 'radical inclusion' that is Burning Man took its own radical step.
Despite being a business that took in tens of millions each year, the owners decided on an unusual change of tack – to ditch the company status and turn the successful event into a non-profit organisation.
In 2011, the business behind the counter culture-inspired music and arts event, which is held in a temporary city in the Nevada desert, began the process – and three years later it completed the transition.
"The decision to go non-profit was made because of ownership," Burning Man chief executive Marian Goodell told Fora.
"We were owners and didn't really want to be owners. And when we would die, the laws would put our offspring in control. We didn't really want that, we wanted the principles to go beyond our death."
She added that changing the identity of the business behind Burning Man had not been easy.
"It's hard to go from being in a for-profit environment and to be in control of all your decisions because we were our own board. Now we have to have a board that helps oversee us and when it comes to the bigger decisions I have to make, they are slower to be made.
"But the purpose is for the bigger picture for the long-term. We had to do that to look at the future of Burning Man as being more important than the smaller container we were in and keep the principles."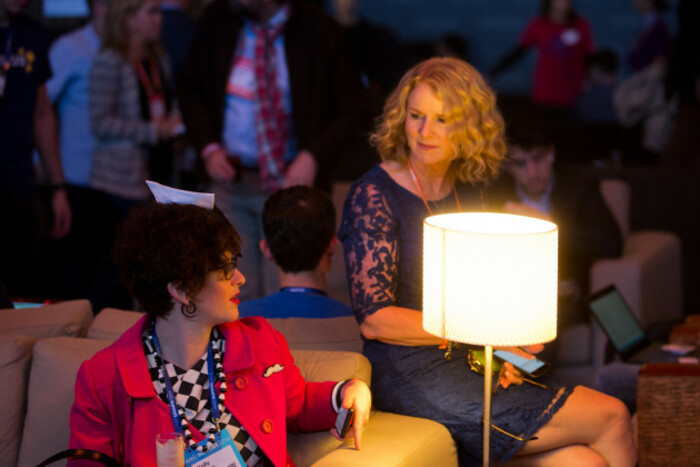 Attracting the techies
The change to non-profit status has been a seismic shift for Burning Man, which is still wrestling to maintain its image as it becomes more mainstream.
While once the festival was renowned for its anything-goes attitude, in recent years the week-long event has become just as recognisable for its celebrity attendees.
Alongside the film stars and musicians, tech leaders such as Google co-founder Larry Page have reportedly joined festivities with his executive team – while Facebook's Mark Zuckerberg is also rumoured to have spent a stint in Black Rock City
Some have reportedly paid private companies up to $10,000 for a 'curated' Burning Man experience in special camps with chefs on hand.
Goodell said the likes of Page and Zuckerberg attend to simply "stimulate creativity and bring about new ideas" and the event still remains true to its principles.
Principles
Those principles are part of what distinguishes the event, its organisers say, and other sister events around the world, from other music or arts festivals.
They include no selling of food or drink, with those who live in the temporary community for the duration of the event encouraged to live by the 'gift economy' model whereby attendees, or 'burners' as they are known, trade goods and services in return for a future favour.
Another hard-and-fast rule is the absence of rubbish bins around the temporary campus – with all materials used on-site ideally winding up in recycling.
"It's a fundamental principle. And that means everything you carry, you bring with you," Goodell said.
"It's crazy at other festivals. I was at Glastonbury a couple of years ago, we were there early on before it got really crazy. I picked up a cup and an Irish guy came over to me to ask me what I was doing and why I was doing it.
"I told him that I was picking up trash, because in my culture I can't step over it. That was the saddest part of when I was at Glastonbury, it was the amount of trash.
"But it's unavoidable when there's commercial effort. People can't bring their water bottles and bring their own plates, it's not going to happen."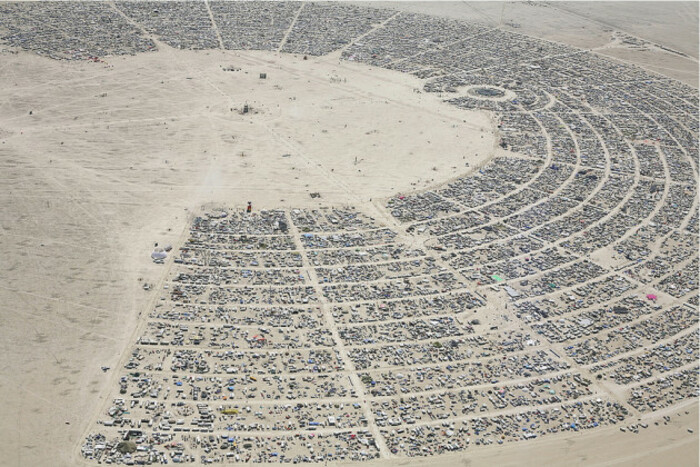 Future of Burning Man
In the Burning Man 2015 annual report, released a few weeks ago, it was revealed that the operation took in $36.9 million last year - the vast majority of which went out again in expenses.
Roughly $25 million went on the main Black Rock City event in Nevada, while the rest of the funds went towards other Burning Man projects worldwide.
Goodell said that one of the main achievements for the year was buying a 3,800-acre property in Nevada, at a cost of $6.5 million, in order to build a year-round base.
Some 13 people made donations to make the purchase possible, which Goodell said showed the non-profit model is working – although she is under no illusions that it will be plain sailing from here on.
"It's still a challenge to be a non-profit. We need philanthropy and that differs from country to country.
"In the US, people have different feelings towards business and they would look at us and say, 'Just make more money on tickets if you need more money.' But we have big ambitions and think that philanthropy is a good way to go, at least in the US."
read more on