'Always listen, take advice and don't be afraid to actually challenge - but in a way that's respectful'
Brian Donaldson, CEO of Maxol, talks electrification and why he values artistic ability.
BRIAN DONALDSON HAS more than 30 years experience in business – but one skill the Maxol chief executive still wishes he had is the ability to draw. 
While Donaldson, pictured with rugby player Jacob Stockdale, might wish he was a bit more artistic, its not something that has held him back as he plots Maxol's expansion plan. Back in April, the business announced plans to invest €100 million over the next few years towards the upgrade of its service station network across the country.
In our weekly question and answer series, we talked to Donaldson about not being afraid to challenge ideas at work and his childhood dream of becoming a pilot. 
Here's what he had to say: 
If you were forced to pick a different career, what do you think you would be doing instead?
When you're a boy you dream about being able to fly your own plane and things like that. But would I be good enough to fly a plane? I'm not sure.
I always had ambitions to have done things like that – either be a pilot, be a racing driver, or something where there is fun and excitement. I'm always a bit of a dreamer.
What's the toughest work-related decision you've ever had to make?
In my time here over the (last) 32 to 33 years, we have had to withdraw from certain markets where we saw limited futures.
One of the difficult decisions we had to take would have been round about 2010/11 in terms of taking the strategic decision to sell off our home heat division within the group.
We didn't see a sustainable future in that particular business. That was a tough decision because there was about 100 people in Northern Ireland in Maxol Direct at that time.
What would you like to own that you don't currently possess?
I've always enjoyed retail and fashion; I like clothes, I like cars. If someone was to say look, you can have your pick, I'd quite like a Porsche Panamera. 
What's the next big thing in your industry?
On foot of the government's climate action plan it's no surprise that the big change in our sector is mobility and the move towards electrification and electric vehicles.
That's one thing that we as a business now have to be tooling up for, so that we can provide electric charging services for customers.
(In food service) we've (also) got to make sure we're delivering the best quality of coffee, the best supply chain and the best food safety standards and the allergens and all of our ingredients are fit for purpose.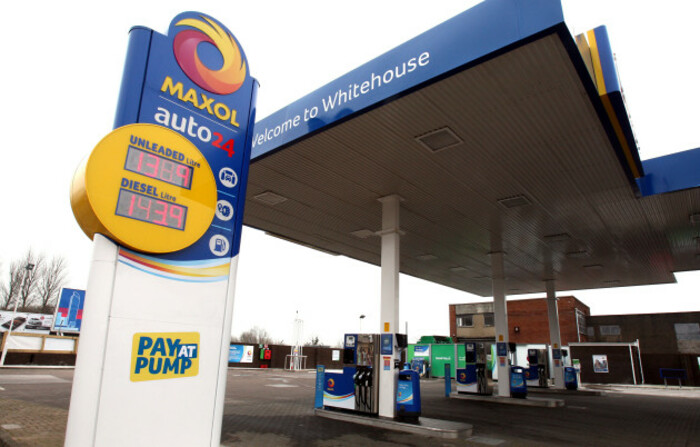 Source: Paul Faith
What's the biggest risk you've ever taken?
To make that leap of putting forward our own brand now, in terms of our own shop, was a risk in itself in terms of how would that be accepted.
Thankfully now that we have rolled it out to almost 75% of the network it's something that we should have done a number of years earlier.
In fact it really hasn't been the risk that we perceived it to be at the outset. That was a big decision – from moving away from a recognised brand in food convenience to creating our own brand which has largely been known for fuel and moving that into the convenience sector.
What's the one work skill you wish you had?
I could certainly navigate my way around most computers – but one of the skills I think I would like is to be that little bit more artistic at times.
A picture will tell a thousand words. It's one of the skills I sadly didn't really have at school. I was probably bottom of the class in art or any artistic skills.
I think in this day and age, if you can draw, you can tell the story much easier than putting it into a thousand words. 
What hobbies do you pursue when you're out of the office?
Outside of the office I do enjoy gardening – people may find that a little strange.
Coming from a rural farming background, I always had to work on my grandparents farm. That was always a good way of bringing me up, from the point of view that nothing in life is free and you have to work hard.
I've always had the green fingers, I always love going out and cutting the bushes, cutting the grass, and creating a nice garden environment. Outside of that, I was also brought up on a golf course for many, many years when I was a little boy – so my favourite hobby would still be golf.
If there was one person in the world you could hire for your board, who would it be and why?
The first one is the original co-founder of Whole Foods, a guy called John Mackey. I think he was way ahead of his time in terms of looking at organic, traceability, natural products and I think he created a business model that was way ahead of anybody else in the market.
The other guy I was thinking of is Evan Spiegel, who is the co-founder of Snapchat. Two very different skill (sets).
What's the one piece of advice you would give to someone starting out in your industry?
Work hard. Always listen, take advice – and don't be afraid to actually challenge, but challenge in a way that is respectful.
Challenge with good insight and sufficient evidence based facts to support your argument.
That's the way business will continue to grow – we've got to continue to challenge the ways that we do things. We've got to do things better, more efficiently and we've got to make sure that we continue to push forward through innovation.
It's always about creating the opportunity for a different way of doing things. 
What bad work (or business) habit have you had to kick?
One of the things that I've found in my time is that we're absolutely addicted to emails. I think it's still very important that people communicate by voice and by face to face contact.
That's something I've been trying to get a better balance on – if I can get away with making a call rather than sending an email, I'll try to make the phone call. 
What's the oddest item in your office?
My wife came into the office the other day and said 'Brian you have a photograph of yourself on the wall from a newspaper. Why would you want to put that on the wall?'. 
I think she felt I was becoming egotistical. I wasn't, but it was quite simply because the PR company decided to frame it so I put it on the wall. Some people find that strange. 
Get our Daily Briefing with the morning's most important headlines for innovative Irish businesses.
read more on