'We can't take our foot off the gas' - in a Brexit lull, Ireland can't afford to relax
A no-deal is less likely, but the economic storm clouds are still gathering
WITH BRITAIN MIRED in pre-Brexit purgatory in the run-up to an election, Irish businesses could be forgiven for taking a breather. 
That would be a mistake, according to Simon Barry, Ulster Bank's chief economist. 
Speaking at a British Irish Chamber of Commerce seminar yesterday on business post-Brexit, Barry said that while the Irish economy is doing "really, really well", there are important risks and "we need to avoid taking our foot off the gas".
"(Brexit) will potentially cost the economy, maybe one to three years of normal economic growth," Barry said, adding that while the country might not fall into an outright recession there will still be a shock.
"The focus on whether growth has a positive or negative sign is completely missing the point. The way to think about any economic scenario or any economic shock is the extent to which the economy is thrown off course," he added. 
However, Barry also pointed out that in preparing for a hard Brexit, Irish companies have started noticing opportunities in other markets, such as Germany.
Both Germany and Ireland would face higher import costs from the UK and lower ones from each other. "There are genuine opportunities out there," Barry said, adding that "it can feel like a pain", but "people in some cases are regarding Brexit in this way as a strategic opportunity". 
Dublin is less exposed to Brexit risks than the rest of the country, with the bonus of the city potentially picking up "quite a bit of extra FDI" as UK-based firms start to look for somewhere to relocate in the EU. 
Citing recent IDA figures, Barry noted that the current running total of investments brought to Ireland because of Brexit risks stands at 70. That amounts to about 5,000 jobs, he added. 
"There is a bit of an irony there in that the harder the Brexit, the greater the opportunity in some pockets of the economy depending on how things unfold," he said.
A sharp drop in sterling in late 2015, just as the referendum result kicked in, saw spending from British visitors to Ireland go from strong growth to rapid contraction. 
"That flip was Brexit in motion," Barry said.
Even though spend from UK visitors has been declining since then, overall tourism spend has continued to rise from other countries. 
"That speaks to one potential mitigant when thinking about Brexit. All else being equal we would potentially not expect Brexit to have nearly as much of an impact on other major economies which are important for us in Ireland," he said. 
That's starting to change a little recently. Spend from European visitors has started to soften in the past few months – and here at home, consumers are spending less than a consistent rise in salaries would suggest.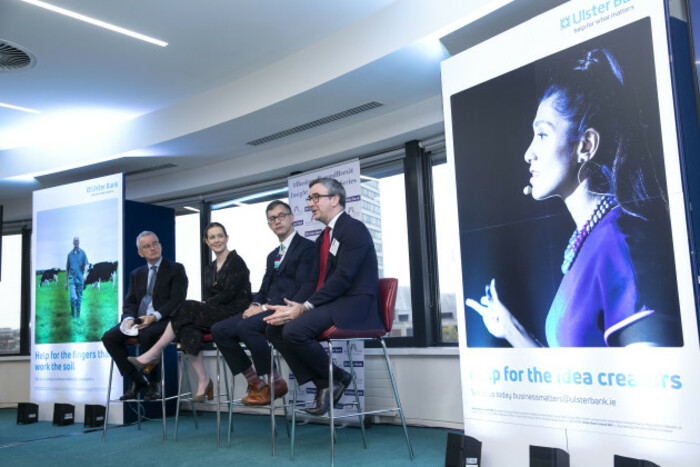 Source: SON Photographic Ltd
Recent reports have suggested that the probability of a no-deal Brexit is dropping with UK prime minister Boris Johnson on course to win a December general election. 
However, speaking at the event Katie Daughen, the head of Brexit policy at the British Irish Chamber of Commerce, said that there is still plenty to be done before an orderly exit. 
"We are in a very uncertain piece. We have a basis from which to work, but the outcome of the election and what happens after is still very much in play," she said. 
"For businesses, there are a number of cliff edges still to be aware (of). There is still the potential for no deal at the end of January. That is the default outcome until the withdrawal agreement is ratified by both sides," Daughen added. 
'The approach you can't take'
Businesses have been, and are still, dealing with major uncertainty around the outcome of Britain's vote to leave the EU, but preparations continue. 
Littlewoods Ireland, which is among the country's biggest online department stores and reports back to a UK parent company, has been Brexit planning for three years. This has been ramped up in the last 18 months, John Goodwin, the finance director of Littlewoods Ireland, said at the event. 
"The key risk for us was always about keeping the shop open," Goodwin said. 
[embed id="embed_2"]
The company has been focusing on streamlining returns between Ireland and the UK as free returns is a big part of its offering.
As many of its brands import stock from outside the EU, a major challenge for the company will be the cost of paying double duties in a post-Brexit world. 
With some research, Goodwin said the company found out that many of its products come under the low-value goods threshold, so anything under €150 is duty-free. 
"There's an awful lot of scaremongering out there. Educating your customers is very important," he said. 
But some businesses are still not ready for Brexit, he added. "There are household brands out there, that if Brexit went live on March 31, 2019, they would have ceased shipping into Ireland," he said. 
A "wait and see" attitude among Irish companies is a concern for Enterprise Ireland, according to Jonathan McMillan, manager of the Brexit unit at the state body, who estimated that about 20% to 30% of SMEs are taking this approach. 
"That's absolutely, we all agree, the approach that you can't take," he said. 
He added that there's a concern around how prepared UK partners are – even if Irish companies are taking necessary measures. But he added that there may also be an opportunity there for Irish businesses to "show that we're ahead of the game, that we can take a lead in it and take an active role". 
Enterprise Ireland has long been stressing the need for diversification – but this includes diversification within the UK itself, McMillan said. Very few of his clients have more than a 3 or 5% share of their market in the UK and most have plenty of room to grow in Ireland's closest neighbor. 
"There's there's real opportunities there in various sectors and geographies," he said. 
Get our Daily Briefing with the morning's most important headlines for innovative Irish businesses.