'If it wasn't Brexit, it would be something else'
Agriculture minister Michael Creed said food producers are always reacting to some challenge.
THE MINISTER FOR Agriculture, Food and the Marine has said the UK will remain a major importer of Irish food whether there is a hard, soft or "red, white and blue" Brexit.
Speaking at the launch of Bord Bia's export performance review for 2016, Michael Creed stressed that while Ireland will look for new markets to ship food and drink products to, "we're not turning our backs at all on the UK".
"Far from it," he said. "In fact, the opposite has been the case in terms of intensification of our market understanding.
"Hard or soft – or as (British prime minister) Theresa May said, the best red, white and blue Brexit possible, whatever it is – the fundamental doesn't change that the UK will be a big importer of food. That's where the opportunity is for us."
Referring to his meetings with May, as well as with the heads of supermarkets Tesco and Sainsbury's, Creed said the UK consumer "isn't overnight going to switch to beef of questionable origin or safety or nutrition or 'traceability', which are increasingly the things that gives us an edge in the market place".
He added "if it wasn't Brexit, it would be something else" that would pose as a risk to Ireland's farmers and food producers.
"(Agriculture) is an industry that has always shown its capacity to read new challenges," he said, referring to 2001 outbreak of food and mouth disease and other such disasters.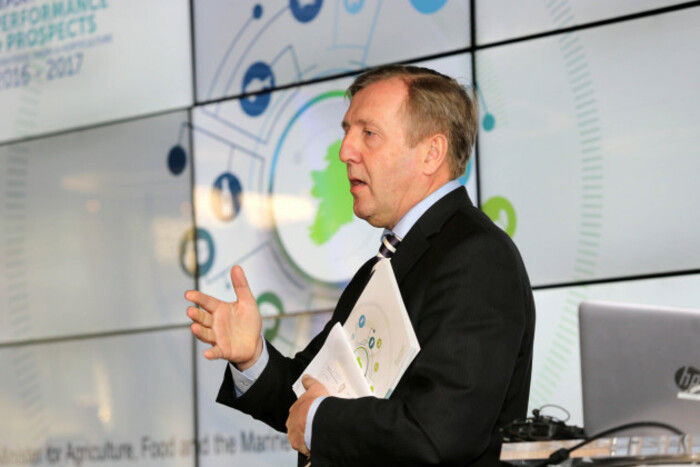 Source: Gary O' Neill/Bord Bia
Strong position
Bord Bia's director of markets, Padraig Brennan, echoed the minister's comments, noting that the UK market is "only 60% self-sufficient in food product".
"It is going to need to import food into the long-term," he said. "Ireland has built a strong position in that market.
"The key for us now it what can we do to maintain that position and further copper-fasten the relationships that we have in that market so that when we do come to a situation where new trading relations emerge, whatever it may be, we're in a position to be seen as one of the preferred suppliers to the UK market."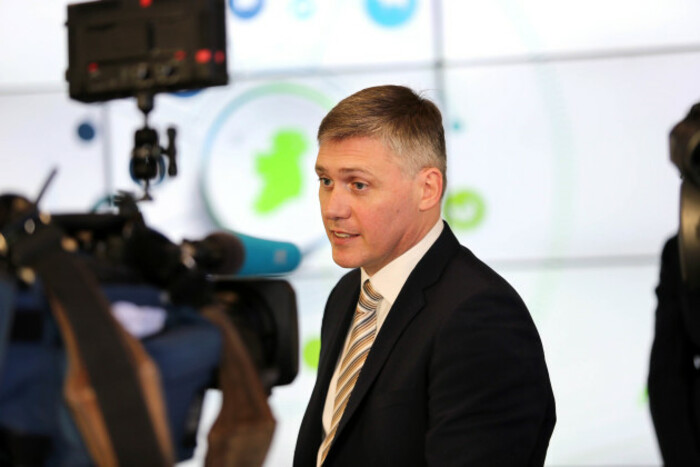 Source: Gary O' Neill/Bord Bia
According to data from Bord Bia, Britain remained the main importer of Irish food and drink produce last year, accounting for 37% of all exports.
However, the share of total exports going to the UK dropped by four percentage points compared to the same 12-month period in 2015.
The value of exports to Britain also declined in 2016, by 8% to €4.1 billion, which Bord Bia attributed to a weaker sterling making Irish products comparably expensive.
Diversify markets
Bord Bia estimated that the fall in sterling in the wake of the Brexit vote, as well as currency fluctuations against the dollar, cost Irish food and drink exporters €570 million last year.
Meanwhile, the volume of Irish cattle supplies for export in 2017 is expected to increase by 6%, which will "present challenges", Brennan said, as roughly half of all beef exports go to the UK.
He said these figures indicate that Ireland needs to diversify the countries it trades with.
Growth in exports to non-EU markets was led by North America, according to Bord Bia's report, which showed a rise of about €200 million to more than €1.1 billion.
The report said that exports to China were "35% higher driven by increased dairy and pig meat and, to a lesser extent, seafood exports".
Creed said China was "market we would like to make progress in 2017″ and that his department and government agencies have continued to engage with their counterparts in Beijing.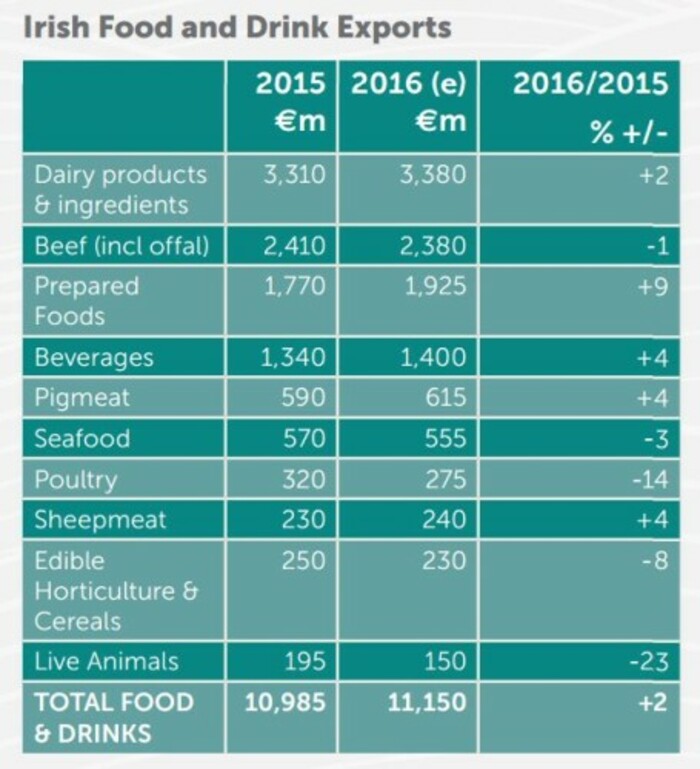 Click here to view a larger version.
He said other areas of opportunity this year include regions that are oil-dependent, such as Nigeria, where he suggested a rise in oil prices could trigger an increase in demand for Irish seafood.
Beverage exports increased by 4% to €1.4 billion last year, according to Bord Bia. Sales were led by the whiskey trade- "the fastest growing spirits brand in the world," Brennan said – with craft beer also enjoying success.
Overall, the value of Irish food and drinks exports increased by 2% last year to just over €11 billion.
read more on