Irish board appointments are still dominated by a 'who you know' culture
And the Institute of Directors in Ireland has said there is limited appetite for change.
BOARDROOM APPOINTMENTS AT Irish organisations remain dominated by a 'who you know' culture, according to a new survey.
A study by the Institute of Directors in Ireland (IOD) has shown that more than two-thirds of appointees to Irish boards are acquainted with three or more board members before they get a director's job.
The research also showed that unconscious bias is limiting any chance of addressing gender disparity at board level.
Speaking about the results of the survey, IOD chief executive Maura Quinn said the transparent nature of state board appointments showed diversity is being taken into account, but the private sector in Ireland is "lagging behind".
"Board members tend to appoint directors in their own likeness and so the 'who you know', informal approach, through personal contacts and networks, means that there is little opportunity to achieve meaningful diversity in the boardroom," she said.
According to the survey of 302 IOD members, men are more than twice as likely to be appointed to a board through a direct approach rather than an independent process.
The report also highlighted that ethnic diversity is also another issue facing Irish boards. The research noted that there is a "clear absence of racial and ethnic diversity" in Irish boardrooms and there is a "limited appetite for change".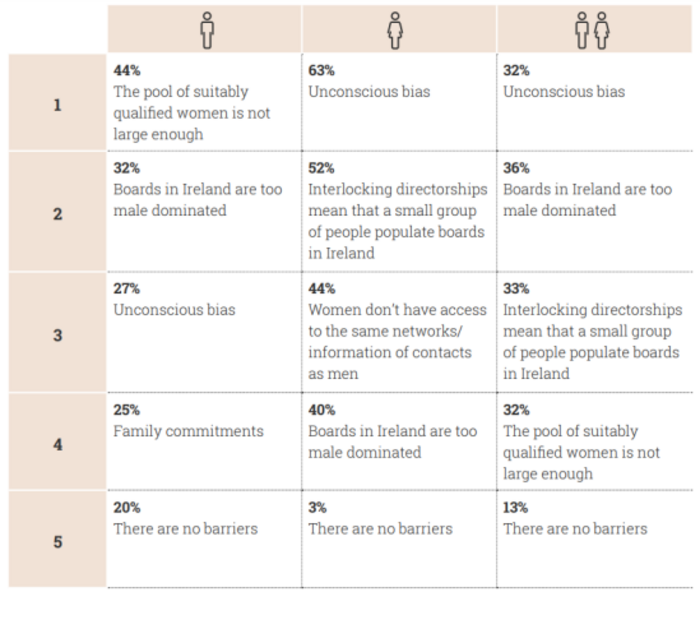 Click here for a larger version
Diversity
Based on the results of the survey, gender diversity is widely recognised a key factor when recruiting new board members.
However, Quinn noted that although directors have shown support for the benefits of diversity, limited formal action has been taken to address the issue.
"Without formal diversity policies in place or a transparent and open appointment process, it will be difficult to move beyond the status quo," she said.
Quinn added that the old-fashioned nature of boards in Ireland has also fostered "groupthink" at Irish companies.
Nearly two-thirds of those surveyed noted that 30% or less of their board members were women, while more than a quarter said that the female boardroom representation was less than 10%.
Close to half of the men surveyed said that there weren't enough suitably qualified women to work at the boardroom level, while a fifth of men think there are no barriers for women becoming directors at all.
Sign up to our newsletter to receive a regular digest of Fora's top articles delivered to your inbox.