The boardroom meeting as you know it is dying - and the table is getting the chop too
Dublin designer Darragh Breathnach has reimagined the age-old piece of office furniture.
AS EXECUTIVES SHED their suits for t-shirts and favour 'catch ups' over formal meetings, there has also been a sea change in office interior design.
That's according to Darragh Breathnach, director of Dublin firm Design Urbanism Architecture, otherwise known as DUA Studio.
The company's commercial portfolio includes designs for a health food shop, an underground restaurant and a coffee stand.
Breathnach also reimagined the humble boardroom table for construction certification firm I3PT when he redid its Carrickmines office.
"I first got involved with (I3PT) about two years ago and have seen it grow," he told Fora. "The way they worked together was changing so they didn't need to have a big boardroom space."
Breathnach decided to divvy up the office into 45-degree angles "to create more of a dynamic flow in the space and to disguise the kitchen space and private office".
Triangular space
That left him with a small triangular area to put the meeting room — which gave him the idea to make a special table for it.
The 'modular boardroom table', which is shortlisted in the 2016 Irish Design Awards, is made up for six triangle pieces that can be moved around to cater for group breakout sessions or put together for larger meetings.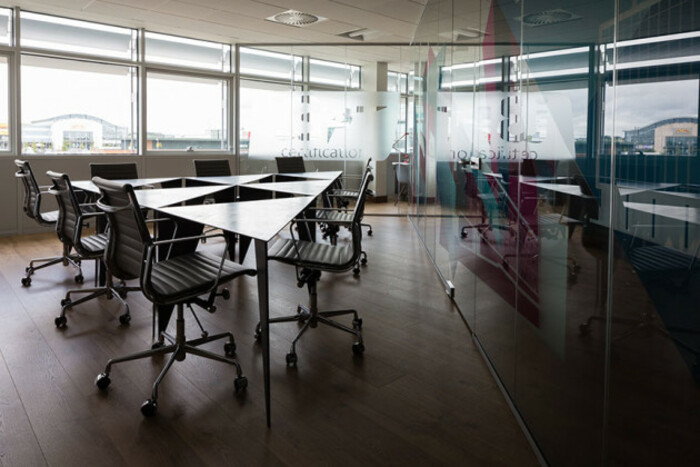 Source: Aisling McCoy/DUA
Breathnach chose to work with hot-rolled steel, which he said is "not very regularly used as a table support, but it has got a beautiful pattern that's similar to timber".
Apart from its pleasing aesthetic, he chose to work with the material, which is usually used to make beams and cross sections in building structures, because "the company is very heavily involved in the construction industry so a lot of their clients would be architects", so it makes for an interesting conversation point too.
The heat process and the way the steel is rolled creates "lots of hues of blues and blacks and greys. It has got its own ID code and adds to the character. Each (individual triangle), even though they're similar, would look different."
[embed id="embed_2"]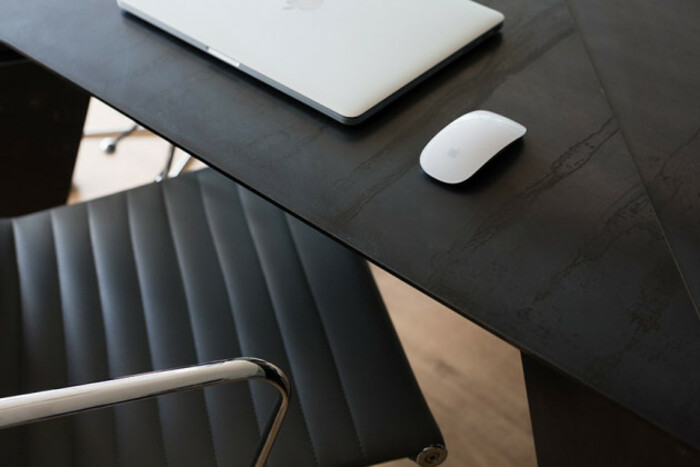 Source: Aisling McCoy/DUA
Workplace culture
The shape of the table also indicates the seismic change in workplace culture.
"I think there's a shift in the way offices are being designed these days," he said. "There's a lot more collaborative working and a lot more of a sense of a team behind the office as opposed to a boss.
"Boardrooms are not really being used as much any more from what I can see and we didn't want to have a big boardroom table that was never used," he added. "I think it's more about breakout spaces where groups of three, six and eight, kind of more like 'meeting rooms.'"
Breathnach collects ideas for his office designs by spending time watching how employees work and "surveying what works and what doesn't work".
"I'm essentially a problem solver so I have to get to the root of the problem as opposed to designing nice furniture. I want to let the design come from the way the company works."
Darragh Breathnach's modular boardroom table is shortlisted in the Institute of Designers in Ireland's 2016 Design Awards, which features Fora as media partner. The awards will be announced tomorrow night.