Blanchardstown centre vacancies are at near-recession levels after its €945m sale
The shopping centre changed hands last June in Ireland's biggest-ever single property deal.
THE NUMBER OF unoccupied shops at Blanchardstown Shopping Centre – which sold last year in Ireland's biggest single property deal – have reached the highest levels since the depths of the recession.
In the final three months of 2016, there was just one unoccupied unit at Blanchardstown Shopping Centre, according to quarterly figures compiled by property agents Lisney.
However a Fora analysis has confirmed that there are now nine unoccupied stores in the centre – with technology retailer Compu B announcing the closure of its store in the centre this week.
The vacancy rate is the highest for the shopping centre since the first half of 2012, when there were 12 unoccupied lots in the centre, based on Lisney's data. Retail spending evaporated at the time as unemployment peaked above 15%.
It is believed the Blanchardstown centre's high vacancy rate during the recession was caused by the centre's policy of not facilitating short-term leases for 'pop-up' stores – an approach other Irish shopping centres had used to keep retail activity going.
Out of the nine presently unoccupied units, one lot previously occupied by an electrical retailer already has a new tenant – with Lifestyle Sports opening a secondary store in the main shopping centre to supplement its existing shop in the nearby retail park.
Neither shopping centre management nor the centre's commercial property agent BNP Paribas responded to Fora's requests for comment when asked about leases for the eight remaining vacant lots.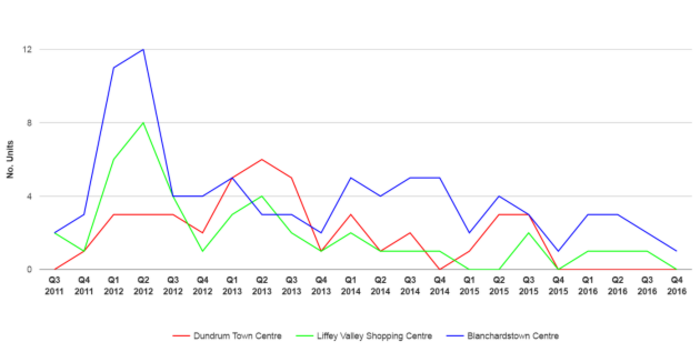 Source: Lisney
Click here for a larger version
Last year Green Property sold the shopping centre to US private equity firm Blackstone in a deal worth €945 million – the most expensive single property transaction ever completed in Ireland.
Meanwhile, as the level of unoccupied units in Blanchardstown Shopping Centre increases, prime retail centres across Dublin have been at near-capacity as rents and the economy trend upwards.
Commercial property agency Savills noted last year that "since large-scale retail development is still some way off", retailers can expect further rent increases in the coming years.
Savills Ireland director of research John McCartney highlighted that rents in some prime shopping locations have risen by more than a third over the last three years.
Rising rents
One high-profile store to exit the Blanchardstown centre in recent weeks was fashion chain French Connection.
Fora understands that its closure was caused by a hike in rent by centre management, although the firm had no one available for comment at the time of publication.
A number of current Blanchardstown Shopping Centre tenants have expressed their concern at the number of recent closures in the centre. Many also said that they were worried about rents rising in the centre.
One tenant, speaking on condition of anonymity, said their rent has risen "significantly" since Blackstone took control of the centre. They added they were considering a move away from Blanchardstown.
[embed id="embed_2"]
"The new owners seem to have a merciless way of dealing with tenants – there is no leeway with them, they just want their money.
"Just when you get out of recession, rents go up to an unrealistic level. They need to understand that margins aren't great and we are struggling to keep our head above water and raising rents is making it impossible."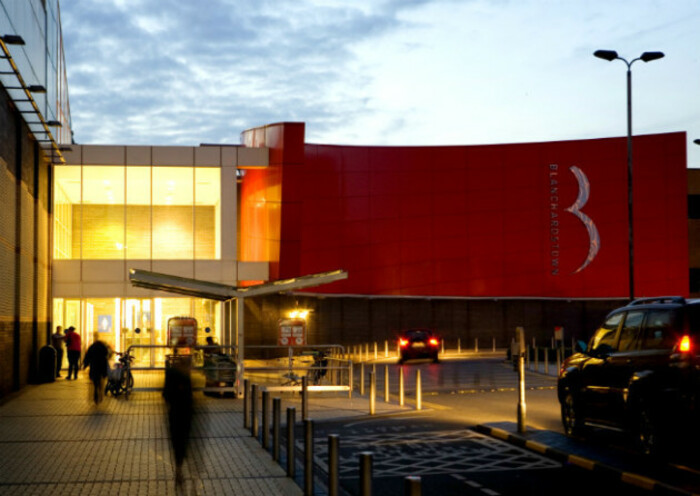 Source: Csea
Tenants' association
Another tenant told Fora that a number of retailers in the shopping centre are considering forming a tenants' association.
The organisation, they said, would present itself as a united front to the new owners in a bid to help address rising rents at the centre.
A third retailer said they have not noticed a drop in footfall at the centre and are reassured that the same centre management had been retained to liaise with tenants.
However, they added that they were concerned about the "faceless new owners".
"We're scared to say we had a good Valentine's Day just in case the management puts up rents."