'It's tough turning away customers - we can't be all things to all people'
Gerard Forde of Bizimply talks about self-starters and competing with big multinationals.
GERARD FORDE WORKED in the restaurant sector for years before switching over to the software that helps keep the industry running.
Forde is the co-founder and chief product officer of Bizimply, which provides management software for the hospitality and retail trade. He previously served as CEO, a role that's now filled by Conor Shaw.
The company is six years old, employs a team of 20 people and has about 5,000 customers globally, including the Guinness Storehouse, Compu B and Insomnia. 
In our weekly question-and-answer series, we talk to Forde about leading by example, his favourite place to eat on Thomas Street and 'doing the right thing.'
Here's what he had to say: 
If you weren't doing your current job, what do you think you would be doing instead?
Before Bizimply, we had a business called Nude, which was a coffee chain here in Dublin.  It was a fantastic business, we had it for about 10 years.
Eventually we moved on and set up this software company, but I always miss the restaurant business. I miss the fun and the buzz of running restaurants, so I think eventually I'll go back.  
What's your favourite spot for a working lunch or coffee to meet clients?
Our office is based up in Thomas Street, so there's a great bunch of different restaurants,  but my favourite is the restaurant in the National College of Art and Design.
If you go down the stairs there, it's a lovely little restaurant. There's a different menu every day, great staff and obviously it's in a university, so it's really good value.
What's the toughest work-related decision you've ever had to make?
The toughest decision is turning away customers. We build software for managing retail and hospitality businesses, but we get so many potential customers that want us to sell into other industries.
It's always these amazing opportunities and you have to pick the right ones. We can't be all things to all people; we very much focus on a niche. 
What's the next big thing in your industry?
I think there's going to be huge focus on better people management. Staff turnover is very, very high in the industry, and it's increasingly difficult to get staff.
So how can you use technology to help there? In everything from better communication to better engagement with your staff, using software to better manage your staff is a huge change.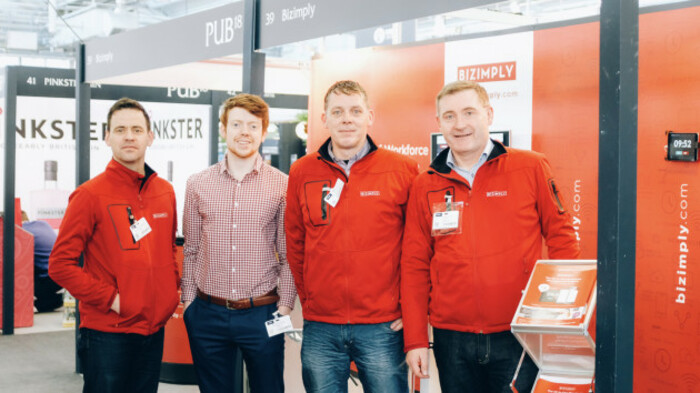 Source: Bizimply
What's your favourite job interview question to ask and why?
The one question we always ask ourselves is, are they going to be a self-starter? We like to hire people who move fast, take risks, are independent and get things done.
We look for those qualities in the team we hire.
If there was one person in the world you could hire for your board, who would it be and why?
If we could have one person it would be Howard Schultz. He was the CEO of Starbucks. He took it from a small independent coffee shop, to one of the most successful coffee businesses in the world.
He runs an incredible business, but also he created an incredible culture of bringing in the best, taking great care of their staff and setting new standards. He's an incredible leader in the industry. He'd be someone I'd have on the board – also we'd love to get his business.
What's the biggest problem you've had to deal with in your business so far and how did you overcome it?
We compete with lots of very large multinational businesses, and we are a relatively small business. So it's trying to build a great product with a small team.
How do we overcome it? By moving fast and by focusing on the customer's requirements.
What have you found is the best way to motivate staff?
I think to lead by example. If you work hard and bring a great attitude to work everyday, the people that surround you will benefit from it, will learn from it and will feel a part of it.
Also, great communication within the company. Everyone knows the clear direction of where we plan to be in the future and what our goals and ambitions are.
[embed id="embed_3"]
Who is your business hero?
My business hero would be Ray Nolan. He was the founder of Hostelworld, he was also involved in Storyful and now he has a new company called xSellco. He's always given us wonderful advice ever since we set up the business.
He's been a great mentor for us in the company for the last three years – and he's also been probably one of the most successful Irish business people in the world of software.
What's the best piece of advice you ever received, and who did it come from?
Our chairman, Brendan O'Sullivan. His advice has always been, "Are we doing things right or are we doing the right things?"
He asks us to ask ourselves, for everything you're doing, even though you may be doing it right, is it the right thing to do?
Get our NEW Daily Briefing with the morning's most important headlines for innovative Irish businesses.