BioSimulytics is creating software to enhance how pharma firms develop drugs
In our weekly Startup Scout series, Fora picks out the most promising companies emerging from Ireland.
Founders: Niall English, Christian Burnham, Pralok Samanta and Peter Doyle
Elevator pitch: a platform for calculating molecular structure in drug development
Status: Won UCD's startup of the year, raising a seed round
THERE'S A COMMON belief in business that you should be able to pitch your company's mission in just a few quick lines that everyone can understand.
It's a handy approach for rapid-fire investor pitches and networking events but when you're developing a novel new technique for drug development, that's easier said than done.
UCD-based startup BioSimulytics found this out when it was making its pitch at the final event of the university's VentureLaunch accelerator programme.
"On the night it was tricky in five minutes," Peter Doyle, commercial lead at the startup, said of putting its product into layman's terms.
It paid off though with the startup taking home the gong of UCD startup of the year and a cash prize of €32,000.
BioSimulytics, which was born out of the school of chemical and bioprocess engineering, is building a software platform for the pharmaceutical and biotech industries that assists with the development of drugs.
In this process, drugs are developed in their solid or crystal state but these molecules can take different shapes. The crystal needs to be consistent, otherwise it can alter the outcome of a drug.
"To bring (a drug) into a form that can be sold and consumed by a patient, a lot of drugs have to be crystallised in their solid-state," Doyle said.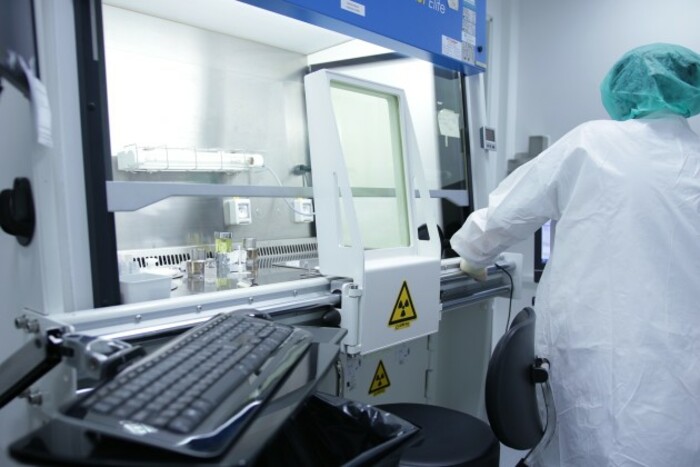 "The molecule, in essence, has to be crystallised. That's a critical part of the process."
BioSimulytics' platform helps scientists run calculations on molecules much quicker.
"The problem that we're addressing is that the actual finding of the right crystal structure of the molecule is an extremely tricky puzzle to solve because there are so many potential permutations of what the crystal structure will be."
Doyle uses the example of H2O. In its crystal form of ice, it can have 18 different stable structures.
"It's still ice, it's still to our eyes the same but at a molecular level, it's a different form and it has different properties", he explained.
Drug development
As a result, in drug development, using the correct crystal structure needs to be spot on and manufacturers have to get this right. If not, the consequences can be stark.
"The problem for the pharma and biotech companies is, what is the most stable form of our drug when it gets into the marketplace and when it gets into a patient's body? Will it be exactly as we want it to be? Or will it change?"
An error in the structure of the drug that hits the market could lead to a product recall with patients being put at risk. Meanwhile, the drug maker suffers significant costs and reputational damage.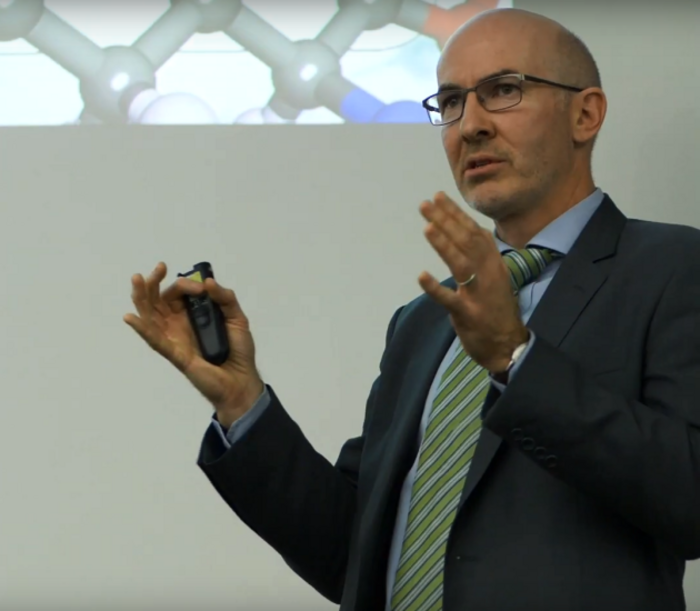 Source: YouTube/UCDInnovation
Existing processes are usually manual and often very time-consuming for drug scientists. It's a meticulous procedure but there's always a level of uncertainty.
"We have an opportunity with software to run calculations on any molecule and determine the full range of the crystal structure that the molecules will form and rank them by the most stable one.
"In essence we give a much more certain answer to the drug companies."
Doyle is keen to point out that the software platform does not intend to replace the existing processes, but rather complement and expedite them.
"Right now they're finding the answer in the dark. They're very skilled at finding answers but they don't know really if they've found all the right answers and they're not sure what might happen beyond their process."
Doyle said the software-powered approach could cut the time of some of these processes by 50%.
Funding
Doyle is joined in the venture by Niall English, Christian Burnham and Pralok Samanta who developed the idea into this platform.
The UCD startup of the year prize is recognition and validation that BioSimulytics is on to something, Doyle said, but now the work really begins.
The company plans to raise a seed round of €400,000 by the summer as it talks with potential customers and launch trials of the platform that will provide BioSimulytics a foot in the door with drug makers.
"We have significant funding need now to commercialise the technology."
Get our Daily Briefing with the morning's most important headlines for innovative Irish businesses.