Bill Gates confesses: 'I memorised license plates to keep track of employees'
Microsoft's founder reveals his intense work ethic on Desert Island Discs.
WORLD'S RICHEST MAN Bill Gates has opened up about his intense approach to work in a revealing interview.
The Microsoft founder and philanthropist appeared BBC Radio 4′s Desert Island Discs on Sunday and talked most notably about his relationship with Steve Jobs, why it's important to give back, and of course revealed his desert island playlist.
Gates told presenter Kirsty Young that he was always acutely aware about his intense attitude to work and how it could be a negative trait.
"I had to be a little careful not to try and apply my standards to how hard (others) worked. I knew everybody's licence plate so I could look out the parking lot and see, you know, when people come in. Eventually I had to loosen up as the company got to a reasonable size," he said.
"I've always thought that being intense about things is a young, fun, energetic way to go about things. I hope in the decades ahead as we're trying to do these ambitious goals that I keep that kind of intensity. I can't answer why I am a little more intense than other people. I'm no more intense than Steve Jobs, I'll say that."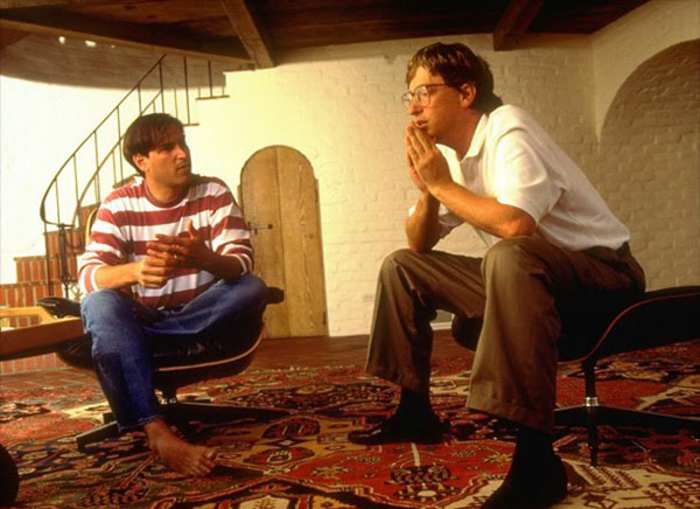 Gates's relationship with Steve Jobs
During the interview, Gates spoke on numerous occasions about his "good friend" and Apple co-founder Steve Jobs. He said that although their relationship was bred out of an intense reliance on one another, it eventually became more "mellow".
"In the early years, the intensity had always been about the project, and so then (when) Steve got sick, it was far more mellow in terms of talking about our lives and our kids," he said.
Gates said he and Jobs also had a lot in common musically and he dedicated one of his tracks to the late Apple co-founder.
"Steve was really into music and he loved the Beatles and so did I. And he actually mentioned the song, Two of Us, saying that was kind of like this journey we'd been on where we'd been competing and working together, but only we understood how intense and what memories came out of that."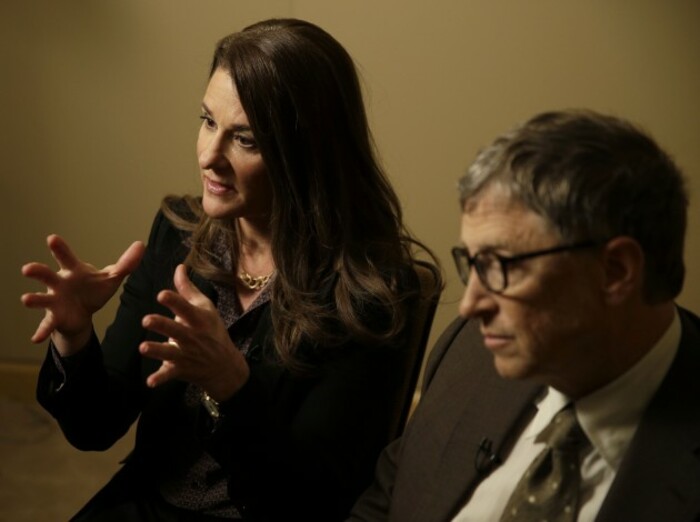 Source: AP/Press Association Images
Why it's important to give back
In 2000 Gates took a step back from his work at Microsoft and with the help of his wife Melinda established the Bill & Melinda Gates Foundation.
Gates said he gets his charitable side from his parents who were involved in the birth-control organisation Planned Parenthood and taught him how to be "engaged in giving back".
"I mean, you're not going to spend it on yourself. And we think only a small portion should go to our kids, so that they can have their own careers and make their own way," he said.
"And so that leaves most of it for Melinda and I to work on how should it be spent for the most needy in the world. After a trip to Africa, we really started learning about disease… We were stunned to realise that for each $1,000 we gave, if we did it the right way, we could save a life."
Gates's Desert Island selection
David Bowie and Queen – Under Pressure

Willie Nelson – Blue Skies

Ed Sheeran – Sing

Jimi Hendrix – Are You Experienced

U2 – One

The Beatles – Two of Us

How Can Love Survive – Sound of Music

My Shot – Hamilton
Book:

The Better Angels of Our Nature, by Steven Pinker.

Luxury item:

After initially requesting an internet connection, he asked for a selection of DVDs with all the world's great lectures.
Desert Island Discs has been a staple of the BBC radio service since 1942, inviting guests to share eight tracks, a book and a luxury item that they would take with them to a desert island.