Microsoft has surrendered the title of the country's biggest company
The majority of the country's 10 largest businesses are not Irish.
COMPUTER GIANT MICROSOFT has relinquished the title of Ireland's biggest company to building materials group CRH.
According to The Irish Times Top 1000 Companies 2016 list, the Dublin-based firm is the largest in the country by turnover after its revenue jumped by one-quarter to €23.6 billion.
Microsoft, which dethroned CRH last year, the only time that CRH did not top the list since its inception in 2002, slipped to second. The materials firm was formed in 1970 through a merger of Irish Cement and Roadstone.
Power-management company Eaton Corp, which relocated to Dublin in 2012, took third spot with a turnover of more than €18 billion.
Google took fourth position while Medtronic, which last year acquired Dublin-domiciled surgical supplies group Covidien in a high profile €50 billion 'inversion' deal, is fifth. DCC, Allergan, Ingersoll-Rand, Dell Ireland and Apple Ireland rounded out the top ten.
Native companies
The figures also show Ireland's continuing reliance on foreign firms. Just two indigenous Irish businesses, CRH and conglomerate DCC, made the top 10, while the rest were either founded in the US or are offshoots of US businesses.
All figures relate to the companies' most recently available accounts.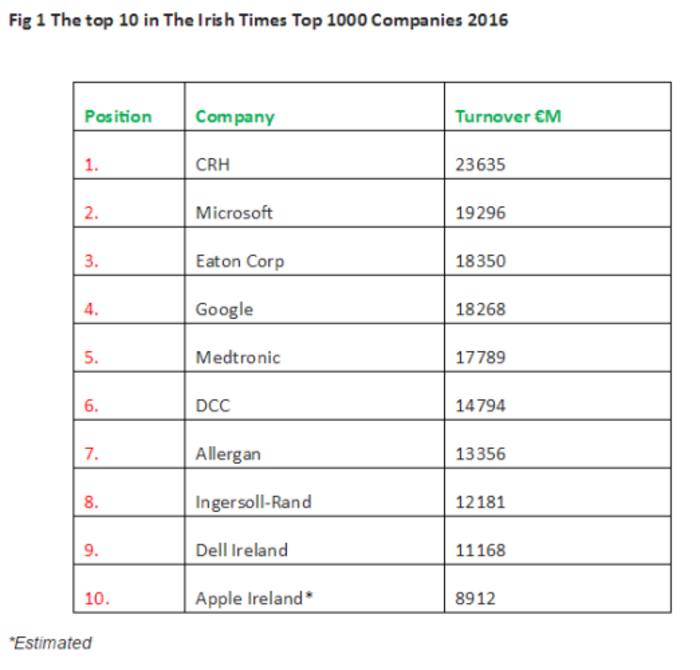 Source: Irish Times Top 1,000 Companies
A construction resurgence
Irish Times top 1000 companies editor Fiona Reddan said that Irish firms got a boost from recovering demand and favourable exchange rates.
She said that the combined profits of the 1000 companies rose by 25% to to €28 billion, up considerably from the figure of €22.4 billion reported in last year's survey.
"This figure is likely to be considerably higher given that several major companies such as Apple, Intel and IBM do not disclose financial statements for their Irish operations," she said.
"Of our top-10 companies, only Allergan reported a loss. The other nine reported an impressive €8.2 billion in profits in one year alone."
Reddan added that CRH's improved performance reflected a general rise in the fortunes of the construction sector as other big-name firms such as Grafton Group and Kingspan reported double-digit growth.
[embed id="embed_2"]
Profits
Many of the largest companies were also the most profitable ones. Pharma giant Medtronic, which is headquartered in Ireland but bases most of its operations abroad, reported over €3 billion in profits, the most of any single business.
It was followed by the Central Bank, which reported profits of €2.2 billion, AIB, Eaton Corp and Bank of Ireland.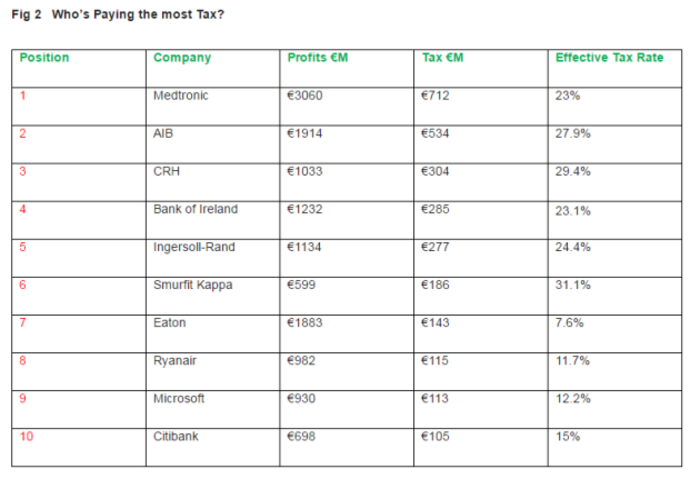 Source: Irish Times top 1,000
Medtronic paid the most tax of any single organisation, €712 million, which gave it an effective tax rate of 23%. However, the figures come with the caveat that not all of the tax may have been paid in Ireland.
AIB, CRH and Bank of Ireland paid out the next highest amounts in tax, €534 million, €304 million and €285 million respectively.
Revenue recently revealed four-fifths of its windfall corporate tax receipts last year came from multinationals, with only the remaining 20% coming from indigenous firms.