'Beyond our wildest dreams': Axial3D is looking to make a splash in global healthcare
By using 3D-printed anatomical models, the business is helping hospitals to plan operations.
Belfast medtech firm Axial3D is targeting seven figure revenues and a big US play after opening a Florida office in September.
The company, which makes high-precision 3D-printed anatomical models for pre-operative planning, raised a €2.64 million funding round, lead by Imprimatur Capital Fund Management and Techstart Ventures, in July last year,
"We're broadening our customer base in Europe. We're proactively looking for a partner in the Middle East, and we have signed a partner already in South Africa." Roger Johnston, the company's chief executive, said.
The company makes high-precision 3D-printed anatomical models, using data gathered from CT, MRI and PET scans. In the US, some 25 hospitals are already using the technology.
Stateside, the expansion has been "beyond our wildest dreams," he said, adding that "we have multiplied our sales pipeline by one thousand per cent over the last four months."
Aside from its Orlando, Florida office, it also has sales representatives in Detroit, Dallas and Los Angeles.
When it acquires more contracts and customers, the company will start to hire into more sales roles in the US. It's also looking at bringing in a salesperson for Canada. 
As the company accelerates its US growth, it may "well look to bring on another round of funding to accelerate that success further," Johnston said. 
"Even we didn't understand quite the potential of this offering. We think it's something that we can be pretty proud of, that we have invented something that potentially has such an impact on global health care," he added. 
Axial3D currently trades in Ireland with the HSE, in Germany, Sweden and is in partner talks in Spain and looking at France.  
"I think for us, partners are the way to go. In the US and UK, we have our own offices. In these other countries, we'll look to partners who are already in those markets so we're basically piggybacking on their market penetration."
The company is also looking to open a Dublin office because, "post-Brexit we will want an EU base," he added. This is set to happen in the next year-half.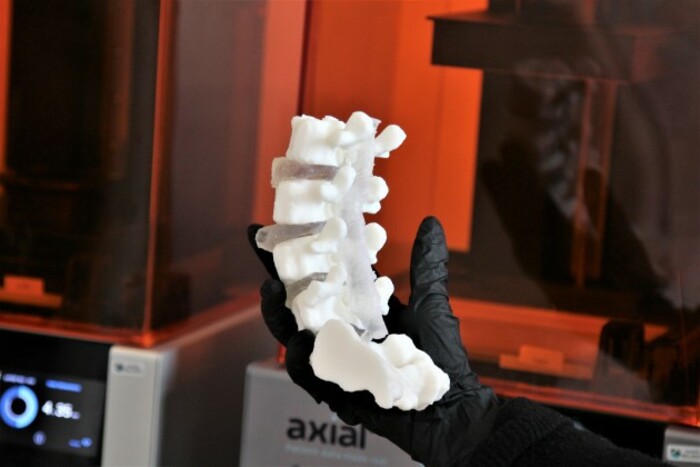 Source: Axial3D
'A step change'
The product allows medical professionals to "drag-and-drop" a CT or MRI scan from a patient in the company's cloud-based portal, which is on Amazon's public Cloud. 
"We process it automatically, turn it into a printable file. That file then is directed to either the hospital or to our own printers or a partner printer. The model then just arrives in a package on the doctor's desk," Johnston said. 
Currently, Axial3D has few direct competitors in the sector. 
"A number of the really early innovator hospitals, such as Mayo Clinic, are producing these models themselves – but they have to do it in a very expert and labour intensive way – they're a great showcase for why 3D models can help," Johnston said. 
Other companies help users to produce models but Johnston said that don't automate using AI and still require a lot of human intervention.
"We're the first AI, cloud-based version of a solution in this category," he said.
"I think the biggest thing is that these models will be used in at least 10% of all surgical procedures. It will become, quickly, a mainstream, imaging technology – just like X-Rays were back in the day, or CT, MRI or Ultrasound. This is just the next generation of imaging technology that will give a step change in insights for doctors and surgeons."
A new vertical
Right now, the company specialises in orthopaedics, cardiac surgery and trauma. As it diversifies, it will be moving into neurosurgery and renal surgery. It employs 27 people. 
"We'll keep broadening the number of surgical areas that we provide models for. Each area has specific tweaks to our AI algorithms that are specific to the anatomy of whatever the surgical procedure is," Johnston said. 
The company has recently opened into a new but connected market, in personal injury litigation support, for victims of workplace or traffic accidents, who would be "using the models with their medical experts" in court, he said. 
"That's probably a new vertical market," he added. 
Get our Daily Briefing with the morning's most important headlines for innovative Irish businesses.