Aviation bigwigs are tipped to bring home Ireland's biggest salaries next year
Recruiter Brightwater predicts that bosses at leasing companies will earn up to €600,000 in 2018.
TOP BRASS AT aviation leasing firms are tipped to bring home some of the highest base salaries in Ireland next year, according to a new survey.
A report by recruitment group Brightwater has found that chief executives at aviation lessors are expected to rake in base salaries of between €270,000 and €600,000 in 2018, an extra €20,000 on what they made this year.
Ireland is widely considered a leader in global aircraft leasing, with the majority of the world's biggest lessors headquartered here.
A CEO in the banking sector is predicted to command the second-highest salary of between €220,000 and €550,000, according to the survey of 3,500 employers and job seekers.
Brightwater's 'salary survey' was broken down into Dublin and regional data and looked at various roles in 15 sectors including IT, engineering and the pharmaceutical industries.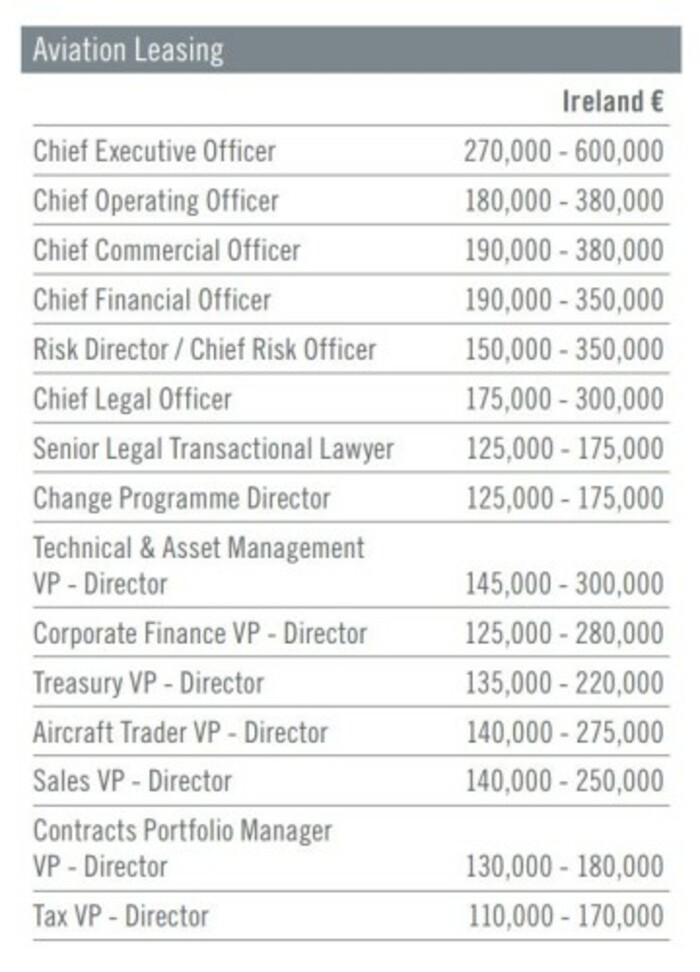 Click here to view a larger version
Dublin divide
Unsurprisingly, salaries for workers in Ireland's largest city are expected to outpace the rest of the country in almost every role.
A research and development director at a pharma firm can expect a salary of up to €180,000 in Dublin and €120,000 in other parts of the country.
Chief technical officers are tipped to take home between €120,000 and €200,000 if they work in Dublin. Outside the capital, that figure is reduced to between €110,000 and €180,000.
The same Dublin-regional divide was reported for less senior jobs. A sales manager in the IT sector will command a salary of up to €90,000 in the capital, but a person doing the same job elsewhere should expect to €20,000 less in 2018.
Similar to the figures for upper management roles, Brightwater's survey showed that people in junior positions are expected to see an overall increase to base salaries.
For example, the top salary a customer service 'team leader' can expect to earn has increased from €40,000 to €45,000.
The average social media manager – a relatively new role – is tipped to earn up to €60,000 in 2018, €5,000 more than last year.
Commenting on today's survey, Brightwater's managing director Barbara McGrath said that while base salary is obviously still important, "the trend has definitely shifted to the total reward package", which includes perks such as bonuses, employee benefit programmes and flexible working.
She said the recruitment firm has noted "the growing significance of improved bonus structures across most sectors, re-emergence and popularity of long-term incentive bonus plans, which typically are applicable for senior leadership".
Separately, Brightwater announced today that it is looking to recruit 35 new staff. It currently employs 95 people at its Dublin, Cork and Belfast offices.
Sign up to our newsletter to receive a regular digest of Fora's top articles delivered to your inbox.