Mr Cook goes to Dublin: The tech boss on Apple's 'unshakeable commitment' to Ireland
The chief executive addressed the "pretty big elephant" in the room of the global tax system.
ON MONDAY, AS Apple chief executive Tim Cook arrived in Dublin to accept an award from IDA Ireland to mark the iPhone maker's 40 years in Ireland, he spoke of Apple's "unshakeable commitment" to Ireland. 
On stage at the National Concert Hall, the tech boss regaled his audience with tales of Steve Jobs opening its Cork base in 1980 and his first visit to Cork in the late '90s when Apple was near death's door and closing the base was a possibility.
Fortunes have shifted quite a bit since then for the Cupertino company, with its devices now in millions of people's pockets and a market cap over $1 trillion.
Cook was in town to collect the IDA's first 'special recognition award' on behalf of Apple, which has long been one of the brightest lights in Ireland's foreign direct investment strategy.
In 1980, Apple opened its plant in Hollyhill, Cork, at the time employing 60 people. Apple now employs more than 6,000 in Cork and elsewhere in the country.
During an election campaign, the event served to highlight the jobs that foreign direct investment has brought to Ireland and is something that the government will be keen to reiterate.
At the same time, multinational investment in Ireland has been on the end of criticism over tax policy and how much giant companies pay in Ireland. In 2016 the European Commission found that Apple had underpaid taxes in Ireland of more than €13 billion and ordered that it must be paid.
That money has been collected and sits in escrow while Ireland and Apple contest the ruling through the European courts, arguing that the US company received no favourable treatment and was taxed above-board. 
Taoiseach Leo Varadkar, who spoke earlier in the event, defended Ireland's FDI pedigree while the election date of 8 February looms heavily.
"Those who criticise FDI and those who criticise multinational companies who invest in Ireland, employ so many people and pay so much in tax, need to understand and tell us how they will replace that amount of money that comes in that effectively pays for our entire education system," Varadkar remarked.
'Pretty big elephant'
Following his keynote speech and while in conversation with IDA chief executive Martin Shanahan, Cook addressed the "pretty big elephant" in the room regarding the EU tax finding and the ongoing dispute.
"The situation is that the commission has a different perspective on who we should pay (taxes) to," he said.
"We have paid them per the law. We follow the law and paid them accordingly."
He added that taxing multinationals is "very complex" given their dispersed operations when manufacturing could be in one corner of the globe while sales are in another and R&D is somewhere else.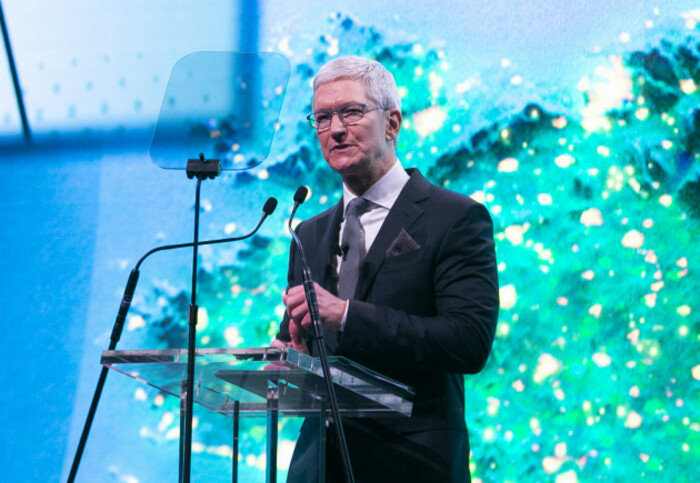 Source: Sam Boal
"I think reasonable people can have different points of view, I think the place for that to happen is at a worldwide level because you can bet that each country is going to have different points of view," Cook said.
"We believe that law should not be retrofitted, that the law is the law and the law can change going forward but it shouldn't change backwards. That is at the heart of the case, if you just make it very simple."
Cook repeated a familiar refrain on global tax by major companies – urging a unified global approach to tax policy coordinated by the Organisation for Economic Co-operation and Development (OECD).
[embed id="embed_2"]
Before that happens, other countries have looked at digital services taxes, most notably France, which has irked the US.
Cook also used his speaking time to cover matters like diversity, education and privacy.
On the latter point, Apple and Cook have been vocal about privacy and security and the importance of technologies like encryption.
Apple currently finds itself embroiled in another debate with US law enforcement, which is trying to unlock the phone of a suspect shooter in an attack on a naval air station in Florida last month.
The company has refused to weaken the encryption on its devices and services across the board but authorities want an exception made for extreme cases.
It's not the first time, and likely won't be the last, that Cook has found himself in this tricky situation but he has remained consistent on that front.
Speaking to the Dublin audience, he said that while he praises regulation like GDPR, policy is still catching up.
"I don't think it's nearly where it should be today. I think more regulation is needed in this area … it's become apparent that companies will not self-police in this area."
Get our Daily Briefing with the morning's most important headlines for innovative Irish businesses.