Two years after its launch, Apple Pay has finally arrived in Ireland
Android launched a similar payment service for its devices three months ago.
OVER TWO YEARS after it was first launched, Apple Pay is now available in Ireland.
The cash-free payment system allows users to pay for goods by tapping their phone on a reader, much like they would using a contactless card.
Apple Pay in Ireland is currently available for customers of KBC Bank and Ulster Bank and there is no charge per transaction on the service.
A user's card number is not stored on the device and are therefore not transferred when a payment is made. Instead, a Device Account Number is encrypted and stored.
The only time debit or credit card details are seen by Apple is when they are entered into a phone.
It's much like generating a new voucher for every transaction you make. Each one is for a specific transaction you make and the token cannot be traced back to the buyer.
You can also use Apple Pay to pay for goods and services in apps on your device. Users can begin using Apple Pay through the Wallet app on their Apple device.
It is available on an iPhone 6 or later, iPhone SE, iPad Pro, iPad Air 2, iPad mini 3 or later and an Apple Watch paired to an iPhone 5 or later.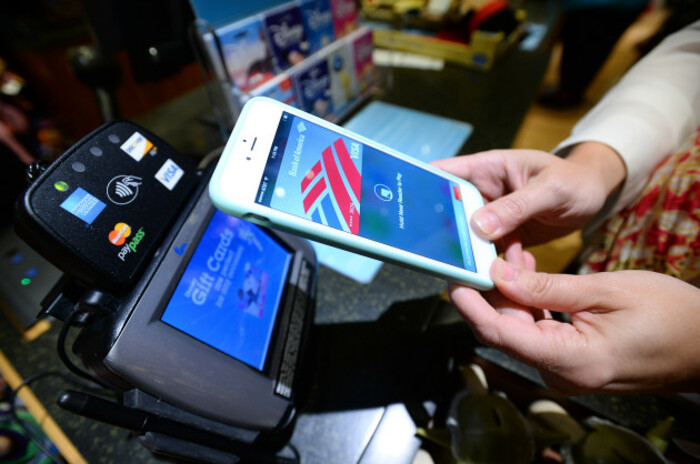 Source: Jordan Strauss
A similar service for Android smartphones is already available to Irish users since December 2016.
Customers of KBC or AIB with Android devices can sign up to Android Pay, which lets them use their phones like a contactless bank card. Like the Apple Pay system, it does not share credit or debit card numbers with a store.
Android Pay can also be used in a number of apps, such as Adverts.ie, Deliveroo and Uber.
Adoption
Last year, Irish consumers were shown to be active adopters of mobile-payments technology as the share of people using the systems dramatically increased.
A survey by Visa showed that the share of European customers who regularly used their smartphones or wearables to make payments has tripled since 2015 to 54%.
Ireland was ahead of the average, as nearly four-fifths of respondents in the Republic said they had used their mobile to manage their money or make transactions.
However, the country was still behind Turkey and several Nordic countries, where nearly nine in 10 people used mobile payments.
Reporting by Rónán Duffy and Peter Bodkin.