Apple doubles down on Ireland as it moves iTunes business to Cork
The tech giant is set to merge part of its Irish and Luxembourg operations.
TECH GIANT APPLE has reportedly completed a merger of its Luxembourg-based company with Apple Distribution International, which is located in Cork.
The move will result in a lot of operations overseen by the Luxembourg division of Apple shifted to its Cork headquarters, including the notable iTunes music service.
Earlier this year, Apple was granted planning permission to build on at its site in Hollyhill, Cork and announced plans to hire up to 1,000 more staff for its Irish operation.
A statement sent to developers by Apple said that the company's Cork offices will soon be in charge of iTunes and the relocation of services will be complete in early 2017.
"Apple has been operating in Ireland since 1980 and now employs nearly 6,000 people. As we continue to expand our operations in Cork, we are moving our iTunes business there and will support content stores for more than 100 countries from our campus at Hollyhill."
The iTunes branch of Apple has been managed by its Luxembourg office since 2004, however, in recent months the office has closed.
Tax fallout
Last month, the European Commission ordered the Irish government to recover illegal state aid given to Apple. It is claimed that Ireland gave the tech company €13 billion over the span of a decade.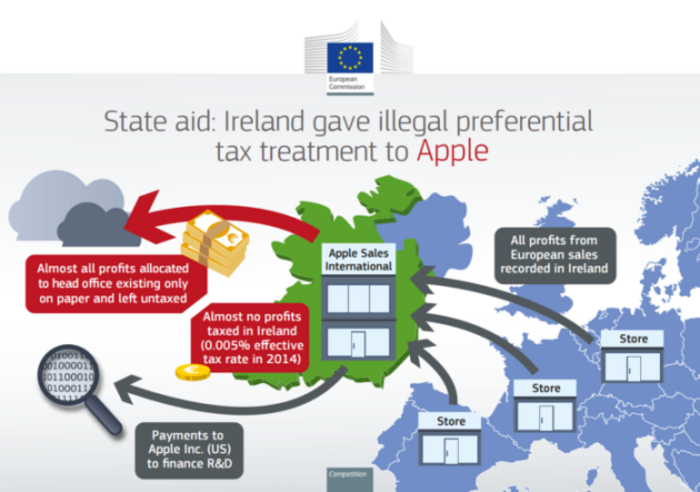 Source: European Commission
It was claimed that Ireland allowed the company to pay a tax rate of only 1% on its European profits that were routed through its Irish operation in 2003, with that figure dropping as low as 0.005% by 2014.
In 2011, the Cork-based Apple Sales International recorded a profit of €16 billion. Less than €50 million from this was allocated to the Irish branch, with the remainder assigned to the head office, which paid zero taxes.
The Irish government has decided to appeal the decision handed down by the European Commission.
read more on