Sugar, plastics and vegan demands: Lir Chocolate's boss on the coalface of confectionery
Ann Murray talks about segueing from food to beauty and back again.
ANN MURRAY TRAVELS a lot for work – but today she's taking a rather unglamorous route through Dublin Airport.
Through a maze of back doors, grey concrete walls and a brief stint in the ID office, we get our visitor passes and emerge in Terminal 2 beside a gift shop clamouring with Irish memorabilia. 
Murray circles a display of Guinness chocolates approvingly. Lir Chocolates, the confectionery maker she has fronted since 2016, is partnered with Diageo to make bars infused with the black stuff as well as a Bailey's cream liqueur range.
The drinks giant is just one of Lir's big-ticket clients – it also makes own-label chocolate for retailers like Marks and Spencer.
The Meath-headquartered company was founded in 1987 by Connie Doody and former senator Mary White. In 2007 it was merged with UK firm Zetar, which was bought by German company Zertus in 2012. 
In 2017, the company refreshed the Lir brand, updating the packaging and launching a new 'Discovery' collection "designed for foodies", says Murray.  
Before Lir, she worked in UK beauty and personal care giant PZ Cussons as UK managing director and later as CEO of Soap and Glory – that was after a few years at food giants Kerry Group and Green Isle. 
She puts this varied career down to "being the right person in the right place at the right time" rather than any concrete plan. 
"I'd love to tell you it was more on purpose. I was very lucky to meet some great people throughout my career who mentored me and encouraged me to strive for more," she says. 
It's a Wednesday afternoon when Fora meets Murray to take a tour of a new display of the company's chocolates in Dublin Airport. On show are Lir's newly introduced smaller pouches designed for customers looking for a nibble to satisfy their sweet tooth.
"We realised that people coming through the airport aren't always looking for a big gift," she says, waving an arm over a shimmering array of truffles filled with salted caramel, milk chocolate, marc de champagne and dark chocolate.
The display is only about two weeks old, but it's starting to show an uptick in sales, Murray says. 
"We had to bust a gut to get it out."
Confectionery meets beauty
Growing up in Cavan in a family of 10 children – including eight boys – Murray says her parents instilled a sense of equality at home, which she reckons prepared her for the often cutthroat and male-dominated world of business in later life.
With several years in senior roles in the beauty sector under her belt, she applied for the top job at Lir Chocolates – even when she didn't tick all the boxes – in the hope of applying that knowledge to a new industry.
It was an easy transition. Murray had no prior manufacturing experience so it was a "very steep learning curve". But she found a common thread between the beauty and confectionery industries: a focus on consumers.
"I think I brought that appreciation for a consumer, not just purely a customer. We're a small company. It's very easy to get focused on a customer like the DAA, Musgraves, Tesco, rather than thinking it's great when (stockists) buy us – but that we need to get on the shelf so that (consumers) will buy us," she says. 
Accordingly, she steps back to let some airport passers-by eye the boxes of Bailey's-infused chocolates. Another customer loads a stack of boxes into a basket. Murray goes back to comparing beauty with sweets.
"Beauty, despite its image, is quite a disciplined industry. It's very well policed from a marketing perspective. If you make a claim, you have to be able to stand by it. If you have a provenance, you have to be able to stand by it," she says. The same goes for food products.
Just like the fashion and beauty industry, confectionery is cyclical. Lir has three major events per year: Christmas, Easter and Valentine's Day. This is when the company "magics up", with the workforce roughly doubling from about 150 to about 320 with seasonal staff.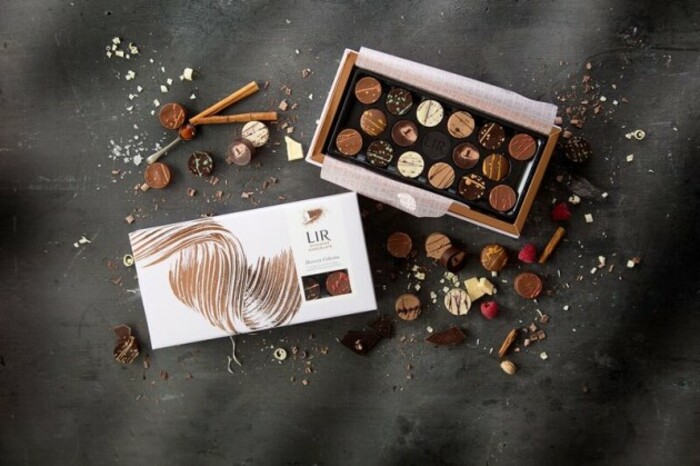 Source: Lir Chocolate
Changing consumer trends 
In some ways, Murray has come full circle in her career having cut her teeth at food companies, though she thinks the market has become much more professional in the intervening years.
"It was much more arts-and-crafts when I started out."
The buying behaviour of consumers has also changed.
"Sugar is obviously one of the key areas that people look at – and plastics and sustainability."
But according to Murray, when it comes to chocolate, people want to treat themselves and don't want to compromise.
That's why Lir made small changes to keep up with consumer demands. For example, it bumped its milk chocolate from 34% cocoa to 40%, with less sugar, and rolled out mini truffles instead of larger ones.
"It's not what I would call obvious stuff. But for the concerned consumer, we have taken what I consider appropriate action in terms of allowing them to decide what they want to consume," Murray says. 
Plastics is also a "huge" area of concern for the company, and it's in the process of introducing more recyclable packaging.
But when it comes to another popular trend, veganism, Murray is less concerned. 
She pauses. "Veganism. Everybody's favourite topic."
It's an important trend and one to be aware of, she says, but doesn't feature high on the list of priorities.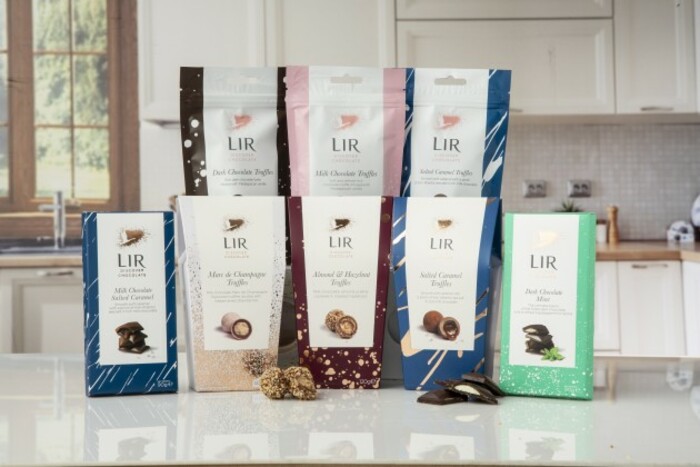 Source: Harry Weir photography
Brexit-ready
Looking to the future, Murray says she expects Lir's sales to grow by up to 15% this year – even with Brexit looming.
"When the Brexit vote happened we realised an awful lot of our business is UK focused," she says, which prompted the company to seek business from other markets. It's currently trading well in Italy, Germany and eastern Europe. 
"The UK will always be an important market. We will find some way of doing this," Murray says. 
Export growth has been a key area of focus for the last three years. This year, the company hopes to reduce its dependency on Britain by 10% and has made sure it has the resources to deal with customs clearances and any potential tariffs.
"We've landed new own-label business in the UK, which would indicate that UK retailers believe that Brexit impact is going to be mitigated on confectionery," she says. 
"After that, it's fingers crossed – but anybody who thinks that Brexit won't have an impact is a fool." 
Get our Daily Briefing with the morning's most important headlines for innovative Irish businesses.