How Amber is pushing materials science further into the green and sustainable age
The Trinity-based research centre works with heavy-hitters in electronics and healthcare.
AMBER HAS REASON to celebrate. In June, the research centre at Trinity College Dublin signed off on its second phase, which will see it through the next six years.
For many of the researchers and staff at the centre, which works with several other universities and third-level institutions, the successful inauguration of 'Amber 2′ is a vote of confidence in its work over the previous six years.
Amber, whose name is derived from 'advanced materials and bio-engineering research', is a research centre focused on materials science.
It has a broad reach that takes in different industries and disciplines from communications to medical devices and renewable energy to manufacturing.
Amber builds a bridge between raw research and companies, be they multinationals or indigenous firms, looking for the next innovation that will inform their future business.
This next phase will lead to 350 new research positions between now and 2025 and is being led by €40 million in funding from Science Foundation Ireland – it is expected to raise equivalent funds from industry and other non-exchequer sources.
According to Lorraine Byrne, executive director of Amber, between 2013 and 2019, research at the centre yielded a swathe of results.
"In the course of Amber 1, in our fundamental research platform, we generated over 2,000 research papers. We collaborated across the world, both in terms of the European Union programmes but also with the US," she says.
Dotted up and down its halls on the campus of Trinity, surrounded by equipment like microscopes and gear wrapped in tinfoil for conductivity, researchers are working with complex nanomaterials that are just a few atoms thick.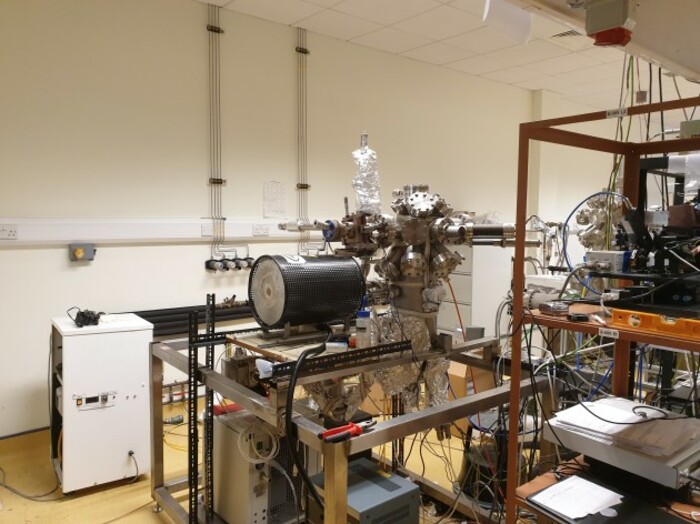 Source: Fora
One of its most recent works involved Nokia Bell Labs on the development of slim batteries that store almost double the energy of existing batteries.
It's a key component of making batteries last longer and more sustainable as well as fitting them inside different kinds of devices.
On the Amber side of things, the research was led by Jonathan Coleman and Valeria Nicolosi.
Nicolosi has also been experimenting with ways of printing slim battery components that could fit into products like wearables.
Research and development on battery life has not been as swift as developments in other areas of electronics, making it a vital area for researchers to find breakthroughs.
Green wave
The game plan for the next six years will see Amber's researchers and collaborators continue much of its current work and plug gaps in research to ultimately transform ideas into sustainable products for industry.
In the age of Extinction Rebellion protests, Green New Deals and the Irish government's own Climate Action Plan, sustainability is firmly on the agenda.
Attitudes have changed greatly, with 'being green' emerging as a key driver for research and demand from companies reflecting that.
Mick Morris, director of Amber, tells Fora that sustainability is often at the core of its research now, zeroing in on processes and solutions for tackling climate change or informing the circular economy.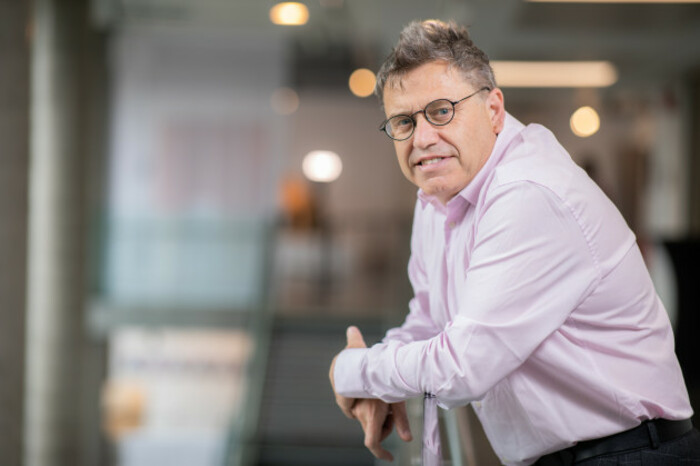 Source: Naoise Culhane
Chief among these efforts is seeking alternative materials to synthetic polymers, re-examining the way we harvest and store energy and reducing waste.
Ireland, for example, has become a hotbed for data centre development but these massive information processing units churn through a lot of energy and generate heat that needs to be cooled.
Amber's research involves finding ways, much like the battery research, of making computing run more efficiently.
"Cooling takes a certain amount of energy because water is pumped through the devices," Morris explains.
"If we can for instance change cooling from a fluid-based cooling system to an air-based system, it would save significant amounts of energy. That's in the short-term."
Longer term solutions could involve paring back the amount of energy that a silicon chip uses.
"The (other) thing that we're looking at is how data centres can be integrated into a more efficient, more synergistic system," he says, such as where water or heat from data centres is converted into energy or re-distributed to the grid.
Another effort is around the materials that are used in devices and products used every day.
Logitech is one of the dozens of Amber collaborators. The Swiss company makes hardware equipment and accessories for computers such as mice, keyboards and speakers.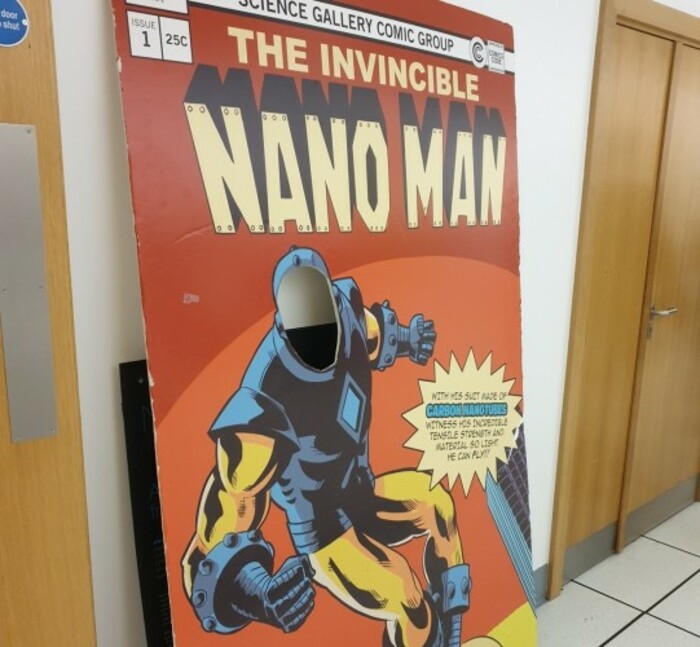 "They're heavy consumers of polymers, petroleum-derived and fossil fuel-derived polymers," Morris says.
"We're working with Logitech on how some of those materials might be replaced by more sustainable materials so materials derived from natural sources rather than petroleum.
"We offset the use of petrol and also look at how they can be recovered and reused within processes."
Future health
Amber's wide remit spreads into the world of medical devices and implants, a complicated and highly regulated space with long lead times.
Researchers are trying to replace materials used in implants, such as in knees and hips, and improve the processes for implanting and recovery.
"At the moment the way they're replaced is, they drill a hole in your hip and a hole in your thigh," Morris says.
"They bang in a component into your thigh, which grips by tension and they pop in a plastic cup arrangement so they've got a universal joint. It's made of a lump of metal and that does bring its own problems."
Long-term, metal implants can cause stress fractures and can lead to hip failures.
Amber researchers are collaborating with Johnson & Johnson's DePuy Synthes to help the medical device giant move away from metal into polymers and is experimenting with ways to mimic bones that "repair the damage rather replace the damage".
Some of this technology is currently being demonstrated in animals but it could be some time before it's available for human use on a wide scale.
It's the reality of research in healthcare. It takes a long time to bring to market.
"We're a bit away from human trials. For a number of reasons, one the technology is very new and the second thing is that this will be very personalised medicine," Morris explains.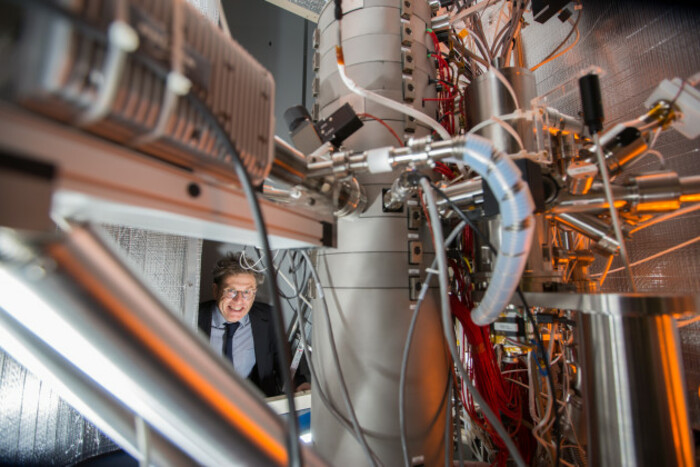 Source: Naoise Culhane
Healthcare and life sciences make up a large part of Amber's research with some notable work that has been commercialised or spun out.
One such company is Surgacoll, which is developing materials to assist the human body's tissue healing capacities.
The company was co-founded by Fergal O'Brien, deputy director of Amber, and is based on his research into bone and cartilage repair.
O'Brien is also a professor of bioengineering and regenerative medicine at the Royal College of Surgeons in Ireland and is head of the tissue engineering research group.
Surgacoll has developed scaffolding-like structures, which are made using collagen.
"When they're implanted in the body, they soak up the body's own cells," O'Brien explains.
"The composition of the material, the functionality of the material, is then designed in such a way that it provokes those cells to feel like they're in a normal, natural environment and begin to over-produce certain proteins or to begin to repair that damaged tissue."
It's research that "clearly takes time", he adds, with Surgacoll's work beginning over a decade ago – the first patients were horses at UCD's school of veterinary.
"Once we began to get positive data from that, that helped the company raise more investment and then look at the larger human trial."
Two of the researchers' solutions have received regulatory approval and are being used in human patients.
"What we're now doing is looking at new indications. We're looking at heart and nerves and the spinal cord or we're trying to enhance the regenerative capacity of the existing materials so that they can heal even bigger defects."
Amber 2 will mark the next chapter of O'Brien's work that will potentially influence future medical procedures and treatments.
This will involve more cross communication and collaboration between different disciplines within Amber, such as with Jonathan Coleman, the nanomaterials researcher involved in the Nokia Bell Labs battery project.
"This is the kind of work that never would have happened if it wasn't for Amber," O'Brien says.
"There was no reason for me to be working with Johnny if we weren't working in the same centre. That concept of people of different backgrounds working together, that's where disruptive innovation is likely to come from."
Business case
Amber works with 40 different companies. These companies collaborate with researchers on defining a problem that needs to be solved and finding a solution.
Byrne, the executive director, heads up much of the business end of things at Amber. She is responsible for industry engagement and working with the centre's funding sources.
"It's mostly companies that will come to us. It would be very rare that we would cold call a company," she says.
Given the strong links with industry, it's fairly common for Amber researchers to ultimately work for the centre's partner companies.
"About 35% of our researchers go to industry as their first destination," Byrne says.
"A lot of that is because of the fact that post-doctoral researchers are working with industry, they get that industry experience, how companies think and how they run projects."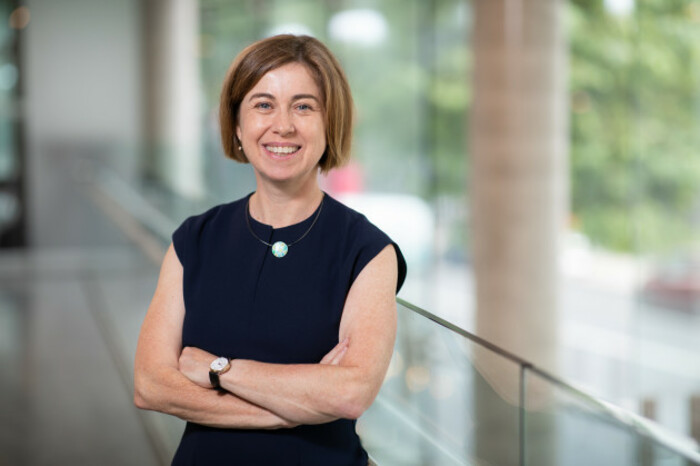 Source: Naoise Culhane
While Amber is based in Trinity, and a majority of its work is housed there, it also works with institutions like RCSI, University College Cork and NUI Galway.
Upon conclusion of a research project, the intellectual property is held by the university involved and licensed out to industry.
"Companies also fully fund projects and that will cover the cost of the licence as well but they would take that licence and commercialise it," Byrne adds.
Meanwhile, she says, the centre encourages spin-outs as much as possible.
Some of these spin-outs include SelfSense, which is creating a dental care product for treating people that grind their teeth, and Papelli, which is developing more efficient anti-reflective surfaces that prevent smearing.
Licensing, intellectual property and revenue is not a driver for Amber itself, Morris adds.
"We don't expect to get a significant impact in terms of revenue and the university doesn't either. (One of our) jobs is to start a spin-out and we don't want to take profit out of them.
"Our focus is really transferring our intellectual property out, whether that goes into spin-outs or companies. We're largely agnostic. As long as the technology is getting out there and helping the economy and the country, we're really happy."
Get our Daily Briefing with the morning's most important headlines for innovative Irish businesses.