Medical services giant Affidea is opening its fourth walk-in clinic in Kildare
The new ExpressCare location in Naas forms part of an ongoing €25 million investment plan.
MEDICAL SERVICES GIANT Affidea will open a walk-in clinic in Kildare later this year as part of an ongoing €25 million investment plan.
The Naas facility will be the company's fourth ExpressCare clinic in the country. It recently announced the opening of a location in Santry and operates existing branches in Tallaght and Cork.
Affidea's ExpressCare clinics treat minor injuries and illnesses like fractures and sprains, animal bites, infections and rashes. The company also provides medical scanning centres in 12 locations on the island of Ireland.
Headquartered in the Netherlands, Affidea operates over 250 clinics in 16 countries and markets the ExpressCare clinics and diagnostics services as a quicker alternative to often crowded accident and emergency rooms in hospitals.
"A lot of people who go into A&E for minor injuries don't need to be there. They're only going there because they need to get an X-ray or get stitched up," Affidea Ireland CEO Barry Downes told Fora.
"What we're providing here is immediate, walk-in diagnostics. You can see a doctor, get X-rayed or get your splint put on … We've set up all these existing pathways to ensure that we're compressing the timeline for the full treatment of care."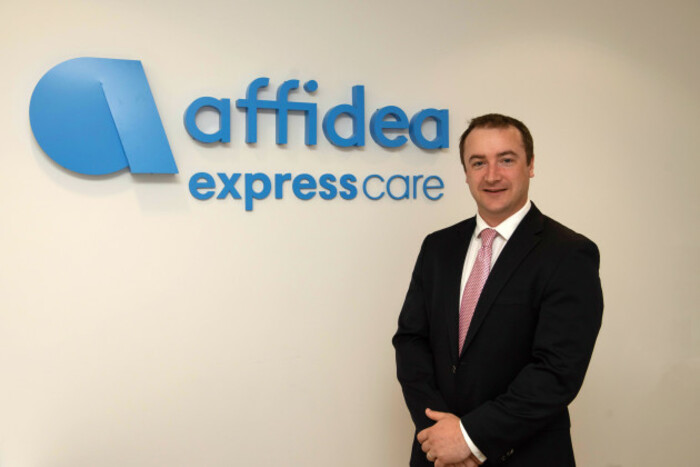 Source: Affidea
Last year, Affidea treated just over 200,000 patients in Ireland, which Downes expects to grow this year with the opening of the Naas and Santry ExpressCare clinics.
As well as providing scanning centres and walk-in clinics, the company operates laboratories and cancer care facilities at a European level. It also provides data sets to artificial intelligence developers and equipment manufacturers such as General Electric and Siemens.
Downes said the company has "very ambitious growth plans" for the Irish market, although he's keeping his cards to close to his chest when it comes to divulging new ExpressCare or scanning centre locations.
"At any one point in time, I'd have a number of different projects on my desk," he said.
"We're constantly looking at future avenues for growth … Access to diagnostics is badly needed in a lot of areas across the country."
Staff shortage
Downes said one of the biggest challenges facing Affidea, and Ireland's wider healthcare sector, is a shortage of radiographers – who specialise in diagnosing conditions using MRI, X-ray, ultrasound and other technologies.
Though Irish universities produce radiographers – 39 graduated here last year – many train at UK institutions and face delays if they wish to register with the Republic's health regulator, CORU, according to Downes.
[embed id="embed_2"]
"If you're Irish and you trained in the UK and then come back to work in Ireland, it takes them up to four months to vet your qualifications from your university," he said.
Downes said the current system is "archaic and is having a significant impact on the ability to provide diagnostic imaging staff".
"There could be a lot more capacity put into the existing Irish system if there were more radiographers," he said.
"It means there's nobody there to take the image. (Without sufficient radiographers) it's like having a fleet of planes with no pilots."
In response to Downes's comments, a CORU spokeswoman told Fora that many radiographers with international qualifications have their degrees recognised and are registered in "less than six months but others do not submit the required documentation to allow for the assessment of their qualification".
Under an EU directive, CORU has four months to decide whether or not to recognise an applicant's qualification and "extends this approach to non-EU applicants on a policy basis".
The spokeswoman said any additional time taken to consider an application benefits the applicant, the health service and the public "in ensuring health professionals have the necessary knowledge, skill and competence to provide essential services".
Get our NEW Daily Briefing with the morning's most important headlines for innovative Irish businesses.