Aer Lingus has been accused of trying to 'overhaul and decimate' long-standing staff deals
But the Irish carrier strongly denies it's trying to oust workers in its Dublin guest relations unit.
AER LINGUS CUSTOMER complaints staff are heading to the Workplace Relations Commission (WRC) as part of an effort to stop the airline from moving their jobs to the US.
The move follows the IAG-owned carrier telling workers in November that it planned to shutter its guest relations unit in Dublin and open a new 'global guest relations service centre' in America to handle complaints about luggage, delays and other matters.
According to documents shared with Fora, the jobs shift is scheduled to be completed by the end of this month.
The near-30 guest relations staff were invited to compete for three remaining roles in Dublin, apply for other positions within the company or transfer to the airline's "redeployment pool" where they could be reassigned as cabin crew members.
Staff have complained about the manner in which the airline has handled the situation and accused Aer Lingus of conducting an outsourcing campaign, something the airline has denied.
One worker, who spoke to Fora on the condition of anonymity, said staff are concerned that Aer Lingus is moving jobs to America as part of a campaign to "overhaul and decimate" legacy contracts with long-serving staff.
She claimed that in order to apply for new jobs, the workers – some of whom have been employed by the company for 30 years – were required to forfeit their existing contracts.
Trade union organiser Neil McGowan of Siptu, which represents 16 of the workers, said the grievances couldn't be resolved at local level and the matter was referred to the WRC. A conciliation hearing between workers and airline management will take place today.
McGowan said Siptu is fighting to keep all of the jobs in Dublin.
However Aer Lingus strongly rejected any suggestion that it was trying to outsource jobs or force workers onto unfavourable deals.
A spokesman said: "Aer Lingus can confirm that these employees have not been requested to forfeit legacy contracts in order to take on new roles, nor is it our policy to seek to change employees' contract types in such a situation.
"Aer Lingus is not outsourcing the jobs in question. The roles are being moved to Aer Lingus' operations in the USA. The airline already directly employs a large number of staff in the USA."
November meeting
Aer Lingus chief operating officer Mike Rutter announced the closure of the Dublin guest relations department at a meeting in November.
Workers claimed they were told the meeting was part of a business update and that there would be no need to bring trade union representation.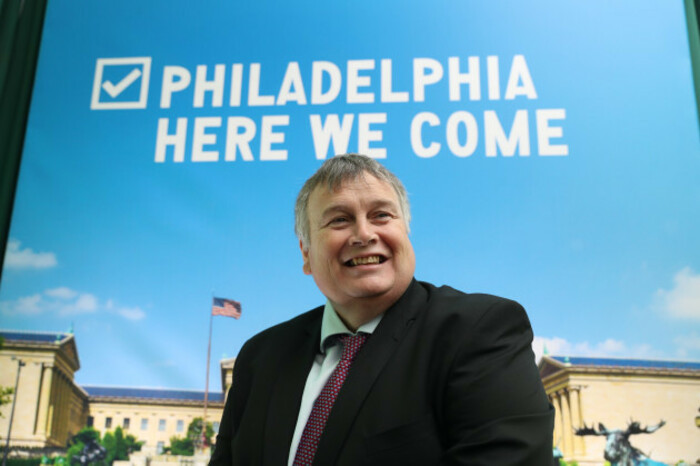 Source: Jason Clarke
According to presentation slides seen by Fora, Rutter outlined how Aer Lingus has become a more "global" company since it became part of the IAG group in 2015.
He noted that a number of the airline's services "have been switched to global leadership", with its sales, marketing and guest experience units now being led by its North American offices.
Rutter then went on to explain that the airline would close its guest relations department in Dublin and open a new centre in America because the existing unit "is not what good looks like".
He said Dublin staff had failed to "engage with basic and universal protocols around attendance, leave, work patters for which industrial agreements exist". He said the unit had also delivered "comparatively poor levels of efficiency and case-closure rates".
Sign up to our newsletter to receive a regular digest of Fora's top articles delivered to your inbox.