Two Irish brothers want to banish the classroom from accountants' training
As part of our weekly Startup Spotlight series, we profile LearnSignal.
PHILIP MEAGHER LOST a lot of weekends while he was studying to become a qualified accountant a few years ago.
"You go into a classroom for eight hours on a Saturday or Sunday just to do revision," he tells Fora.
"The June bank holiday weekend is very precious to me now because that was always the weekend before exams."
Meagher first became familiar with the Association of Chartered Certified Accountants (ACCA) certificate in the mid-90s when he working in education marketing. Back then, it was costly and a major time commitment – and it still is today.
"The general gist of an ACCA student is that they're usually studying part-time and working full-time," Meagher says. "They go to classes in the evenings, places like Dublin Business School or Griffith College. They trudge along in the evening for three hours."
According to Meagher, it costs about €15,000 to complete the qualification because the failure rate is high, with about 60% of students having to repeat exams at some stage in their education.
Students have to pass up to 14 exams, complete an ethics module and gain three years of work experience.
They have up to 10 years to complete the qualification, but most take three to four years. While students can sit the exams online, they still have to attend a class to learn the course material.
"It really does seem outdated," Meagher says, "especially with something like the ACCA, because it's such a specific syllabus. There isn't much interpretation. It's just, 'You need to know these rules.'"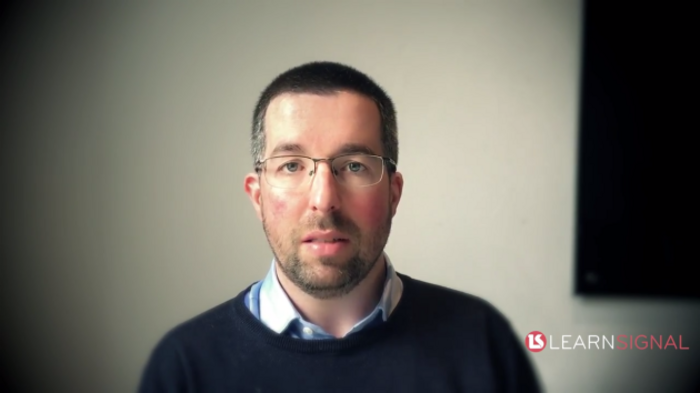 Source: LearnSignal
Videos
Four years ago, Meagher and brother Johnny set up LearnSignal, a subscription-based e-learning startup that digests those three-hour ACCA classes into a library of 20-minute videos.
"We worked out if you have a 40-minute commute in and out of work, you can whip out your phone and watch the videos and be home by half-six in the evening," he says. "You get a whole evening back."
The startup has partnered with 15 lecturers and animators to produce and update course material on a variety of different topics, from auditing to corporate finance.
"ACCA creates the specific syllabus," Meagher says. "We find a lecturer. They'll produce a script and voice-over and a basic PowerPoint presentation. They'll produce a set of notes and a set of multiple choice questions."
The content is then loaded onto LearnSignal's site where monthly subscribers can pick and choose the material they need to cover.
"Students will dip in and out of it," Meagher says. "Some might have already committed to a classroom but they missed a few lectures so they need to catch up so they use us for revision and support."
The platform was launched last year and was given the ACCA stamp of approval in December. It was upgraded to 'gold status' in April of this year, which means it has satisfied a number of quality assurances set out by the body.
East-focused
Roughly 5,000 students around the world have already used the service to complete parts of their qualification, with many using the beta version for free.
"You have to be live and you have to have students passing through the platform before you can get accredited," Meagher says.
Most of its users are UK-based, but students from Ireland, the Caribbean, US, Africa, Asia and Australia have signed up as well.
The ACCA qualification isn't as popular in Europe as it is in the Middle East and Asia, which is where Meagher sees the biggest opportunity.
While some brick-and-mortar business schools offer e-learning material, Meagher says most of them "pay lip service to the online environment" by simply recording classroom lectures.
"People say online is an alternative. I don't think it's an alternative," he says. "I think it's much better. It really is a better way to learn for this type of environment because it's so structured. It's so clearly set out what the student needs to do."
But Meagher says LearnSignal's biggest advantage over existing ACCA training providers is its pricing model.
"They price (online) to match their classroom prices because they don't want to cannibalise their classroom," he says. "They'll be paying the classroom provider €700, €800 for one class. We charge €34.99 per month for access to everything."
Since it was founded, Learn Signal has raised €2 million from private investors and Enterprise Ireland. That money has largely been used to market the service.
According to its most recent accounts, LearnSignal reported a loss of just over €27,000 in the financial year ended 31 July 2015, pushing accumulated losses to over €364,000.
Meagher says the business won't be profitable any time soon because it is still firmly in "growth mode".
"The ultimate goal is to make the classroom redundant for professional qualifications," he says. "It's not a subtle aim. In five, 10 years time people are going to say, 'You went to a classroom for that?'"
This article is part of a weekly series featuring Ireland's most promising startups. If you would like to see your company featured email news@fora.ie.
read more on