A $1 million legal battle has dragged Dublin's 3D4Medical further into the red
The case was decided in favour of the Blackrock-based firm, according to fresh accounts.
DUBLIN MEDTECH FIRM 3D4Medical spent over $1 million to defend a legal case last year, dragging the company's financials further into the red.
The Blackrock-based company, set up in 2004, develops 3D tools for medicine students and health and fitness education products aimed at the consumer market.
According to accounts filed with the Companies Registration Office, the firm spent over $1.1 million in legal fees last year to defend a case brought by an unnamed US organisation.
A note in the directors' report said that the case was fully resolved last November in favour of the Dublin firm.
3D4Medical chief operating officer Robert Cairnduff told Fora that the legal battle stemmed from a "patent disagreement" and it lasted roughly nine months.
The Irish firm's founder and chief executive John Moore previously told the Irish Times that another legal case almost put 3D4Medical out of business.
Cairnduff said this case was "much more straightforward" and had little-to-no effect on the business.
"We have had the same growth of 35-40% year on year for the past three years. As the leader in the digital human anatomy market we have come to expect legal challenges by competitors and to deal with them more efficiently."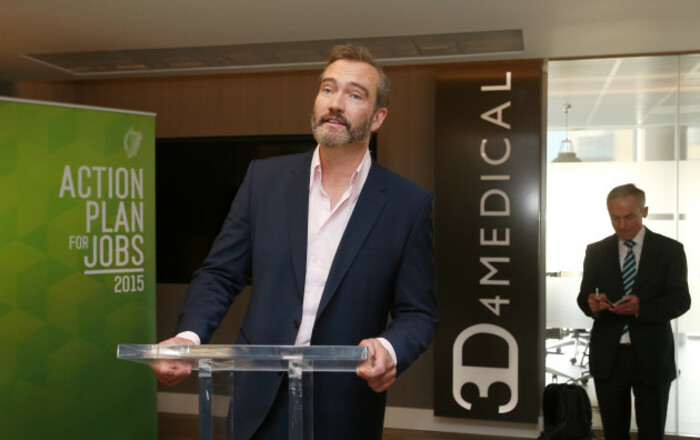 Source: Sam Boal/RollingNews.ie
The firm's overall exceptional expenses for the 12-month period totalled $1.5 million, of which $388,000 were related to restructuring costs at the business. The remainder related to the legal dispute.
The number of staff on the company's booked decreased from 91 to 75, not including directors, by the end of 2017. The firm paid an average wage of $58,138.
Cash pile
3D4Medical, which also has operations in Poland, Russia and San Diego, saw revenue increase by $371,000 to pass the $5 million mark last year. Despite the spike in sales, the firm recorded a loss of $4.3 million for the period. 
The directors said that the firm has continued to invest in its academic and clinical products and in 2017 "accelerated pace from previous years".
They expect the firm to deliver a pre-tax profit this year after the company reached break-even point for the final six months of 2017.
Three years ago, 3D4Medical banked $16.4 million in investment from Irish life sciences firm Malin. The deal secured Malin, which has invested over €350 million in a range of medical businesses, a 38% stake in the Blackrock firm. 
Last year, 3D4Medical founder Moore told the Sunday Business Post that the company has considered going public in the first half of 2018 in a bid to raise cash.
Sign up to our newsletter to receive a regular digest of Fora's top articles delivered to your inbox.