3D4Medical's John Moore on why the time was right to sell his 'baby'
Inside publishing giant Elsevier's $50 million deal for the Dublin company.
AFTER A YEAR of strong growth, John Moore looked at 3D4Medical and decided that to reach the next level, it was the right time to sell. 
Yesterday the co-founder and chief executive of the company announced his new dance partner, as the 15-year-old tech company announced its acquisition by Dutch academic publisher Elsevier. 
Dublin-based 3D4Medical builds 3D software models for visualising medical and health information and has been used by academics and businesses alike.
Industry sources valued the deal at around $50 million, which will see the founders pocket a hefty payday while shareholder Malin, the state-backed investment fund, will get €17 million from its 38% stake.
"If you look at the way the company has grown, we shot (up) in the last year," Moore told Fora.
He said that the company has grown largely organically since its founding in 2004 but after this recent growth spurt, it needed more avenues for distribution.
"We're in 300 universities. Elsevier, if you look at the universities and colleges combined, I think it's over 10,000. We have two sales reps and they've got a couple thousand," Moore said. "To go to the next level we needed to work with Elsevier."
Moore said 3D4Medical's subscriptions have grown from 15,000 in 2018 to over 80,000 now.
"The actual technology has got much better. I think we've become more established and I think word of mouth (helped)," Moore said, explaining the significant boost in subscriptions over the last year.
Between 2017 and 2018, the company greatly narrowed its losses while gradually increasing revenue.
In 2018 it booked revenue of €5.9 million, up from €5 million the previous year, and cut its pre-tax losses from €4.3 million to just over €560,000.
Overcoming resistance
"When we first started, we were trying to take what were flat books and bring them into a 3D visual environment," Moore added.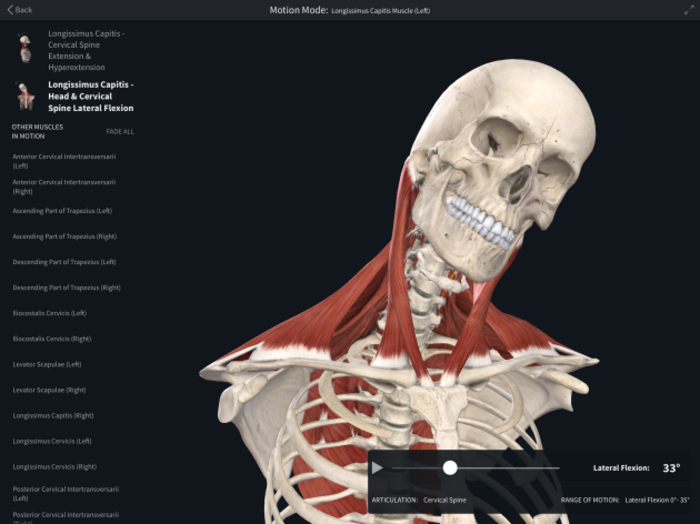 Source: 3D4Medical
"When you think about it, (3D) is the best way to see or visualise anatomy, but we had resistance from the professors or the people that make decisions at universities because they've been using books for 200 years."
Instead, he explained, the company chose to "infiltrate from the bottom up", targeting students who would use the product and in turn, show it to their professors.
The resistance the company felt in its early days has broken down as attitudes have changed.
"There's a whole new breed of people coming through, like the Z generation and millennials that have grown up looking at YouTube. They don't necessarily like learning by books only."
Moore said he intends to continue running the business under Elsevier. It employs 75 people.
"Everyone's job is safe and they also want to grow it and bring in more people," he said.
"This is my baby from the very beginning, I'm committed to making sure that 3D4Medical grows and I'm going to stay here as long as it takes with Elsevier in whatever capacity they need me."
Jan Herzhoff, the managing director of health education at Elsevier, said that 3D4Medical fits into its strategy for acquiring new and cutting-edge expertise that will fuel growth in new academic areas.
"(3D4Medical) has excelled in three areas that are important to us. One is the incredible level of detail of the models, the high quality. The other thing is the great user experience. The third is the transformation of the business model to subscription. It's a perfect fit," Herzoff said.
"We plan to do simple things like using our scale globally but then really looking at some exciting product opportunities, localisation of the product and looking at other languages. We're looking at how we can enhance our existing platforms and capabilities."
Get our Daily Briefing with the morning's most important headlines for innovative Irish businesses.