Multimillion-pound discounter The Works accuses Irish rivals of stifling its growth
The retailer, which is little-known here, claims to sell more books than WH Smith.
MULTIMILLION-POUND DISCOUNT RETAIL chain The Works plans to open 50 new stores in Ireland over the next decade – but its CEO has voiced concerns about competitors trying to block its growth on the island.
Speaking to Fora on the fringes of Retail Excellence Ireland's annual 'retail retreat', The Works boss Kevin Keaney said competitors have tried to stifle the chain's expansion in shopping centres by urging landlords to enforce restrictions on the products it sells.
"It's about them feeling threatened by us and saying, 'We only want you to sell 10% books or 10% stationary'. I've opened 140 stores in the UK the last three years. I haven't had that anywhere but Ireland," he said.
"I think it does a disservice to Irish retailing. I think Irish retailing is better than that. We absolutely want to embrace any competition we've got."
Keaney wouldn't disclose which retailers have asked landlords to impose restrictions on The Works, which sells a range of discount books, art supplies and toys.
He hinted that if the chain faces blockages in Irish shopping centres, it may look to divert its investment elsewhere.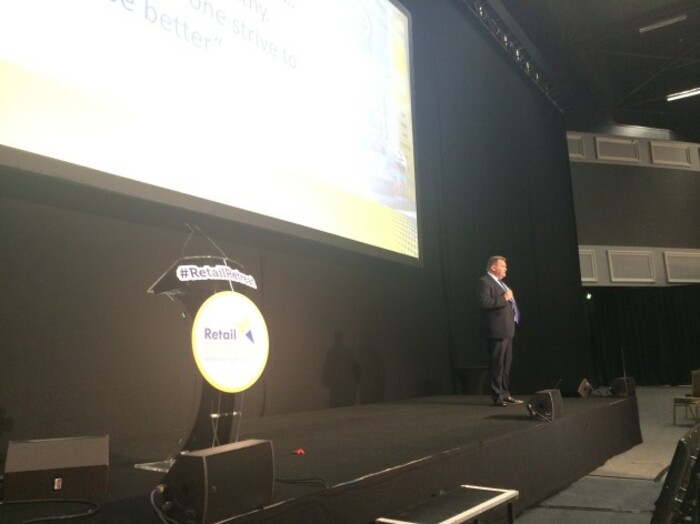 Source: Conor McMahon
"If I'm going to open 50 stores here, as much as I want to open in Ireland, ultimately we'll follow the numbers," he said.
The Works will open its 450th store worldwide in two weeks at the Pavillions Shopping Centre in Swords, Co Dublin.
The outfit currently employs around 150 people at its 23 outlets on the island of Ireland, eight of which are located in the Republic.
As well as aiming to open dozens of new stores here over the coming years, The Works is also planing to use Ireland as a test bed for a euro-version of its online store, which Kevin Keaney said is a fast-growing segment of the business but one that currently only accounts for 10% of sales.
Keaney was speaking at Retail Excellence Ireland's annual 'retail retreat' in Citywest, Dublin.
He described the company as a bit of a "phoenix rising from the flames" having come out of administration a decade ago.
Often the butt of jokes, Keaney acknowledged that The Works – which spends nothing on marketing or PR – has low consumer recognition in Ireland, although that's improving in the UK.
Keaney said the outfit is "retail's best kept secret" and said the chain sells more books than British giant WH Smith, shifting 30 million of them last year.
According to its most recent set of accounts, The Works Stores Ltd recorded a £166 million turnover last year, up from £154 million. It delivered an operating profit of more than £6 million, down from £9 million the year before.
Sign up to our newsletter to receive a regular digest of Fora's top articles delivered to your inbox.