Jobs platform Rezoomo has raised €550,000 as it gears up for a UK launch
The Cork startup's 'talent attraction hub' helps employers engage with candidates.
CORK-BASED RECRUITMENT PLATFORM Rezoomo has bagged €550,000 in funding as it prepares to launch in the UK.
Rezoomo develops a 'talent attraction hub' for employers to create and manage their recruitment processes with tools like digital CVs and video and audio features for applications.
The investment comes from Enterprise Ireland and a number of private investors that haven't been named.
The company has around 87 actively paying customers, who pay an annual subscription fee, that are using the software to manage all of their recruitment, with around 700 companies registered in total.
Chief executive Cathal Doorley said he is aiming for €1 million in annual revenue in the next year.
While headquartered in Cork with eight staff and one employee in Belfast, Rezoomo bases its tech development in Romania.
The development team of three was born from Rezoomo's relationship with Cork-based web development firm Granite Digital, which is a shareholder in the startup. Rezoomo's developers work from Granite's office in Romania.
Doorley said the total staff numbers will grow from 12 to between 17 and 20 in the next year when it will also be seeking further investment.
"We'll be going for another big round of funding next year to expand into the US."
Talent attraction
The company was launched in 2016 by Doorley and co-founder Seamus Clinch.
Doorley said the platform is built around three main pillars for employers: attract, engage and manage.
"The system allows them to manage their employer brand and manage all of their recruitment from posting to hire," he said.
"The whole attract piece allows companies to build and promote their employer brand as a core part of the whole recruitment strategy."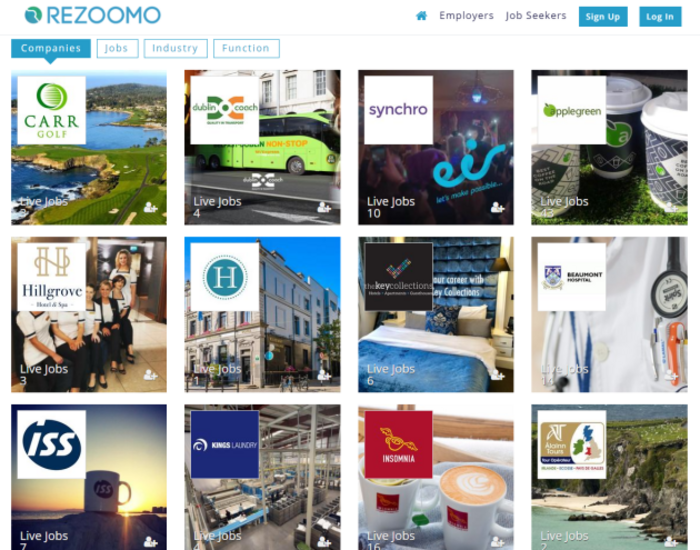 He added that new updates that will be issued in the coming weeks will improve existing features and add new ones to help companies better engage with candidates while also creating a pipeline of people for future roles down the line.
"That's about attracting jobseekers to apply for your job and interact with your company profile," he said.
"It allows them to engage through video and audio. We've got a full digital CV builder in the platform that jobseekers have access to that allows them to transform their paper CV into their own digital CV."
On the employee-side, they're given a view of the company's brand to help them decide if this is a place that they want to work.
Get our NEW Daily Briefing with the morning's most important headlines for innovative Irish businesses.