'When I bought my partner out of the business, I took a deep breath. It was now all on me'
This entrepreneur talks about how a job in a computer repair shop led him into his own business.
WHEN I STARTED out in this business around 20 years ago, I didn't know one end of a computer from the other.
But I was still taken on as a manager of a retailer that was selling second-hand computers and helping companies dispose of old machines. In the end, that's what my own business grew out of.
Like a lot of people who set up their own business, I got the idea from working with my parents – my dad specifically.
Working for him gave me the grounding and understanding of what running a business is about and how, to a certain degree, it takes over the whole family.
He never had a massive company. It was a small-town retail business selling school uniforms, menswear and things like that.
I could have gone into that business and worked for him, but from an early age I was always trying to find a way to work for myself. That's what led me to set up my own firm, Asset Management Ireland (AMI), to handle the disposal of old IT equipment.
When myself and my co-founder John Gillespie started out, I was still juggling work between the computer repair shop and the new business for a while. You need something to pay the bills. But in 2003, I took the leap to focus solely on AMI.
Source: Donal McCann
Reflecting
It has been hard work to grow it to where it is now. We're wiping over 2,000 computers a month and are involved with a lot of data centre disposal as well.
It's not that I sit back and think that the business has done really well or really badly, but I think it has been a good achievement to do what my dad did before me and be my own boss.
We're not a large multinational by any means, but it's a solid business that employs 40 people, and it's nice to be able to say, "Now we turn over every month what we used to make in a year."
It's a point of pride for myself that we haven't needed outside investment or had to borrow to do what we wanted. It has all been slow and steady.
You don't want to focus on things that haven't gone right, but sometimes I wonder what might have been if we had gotten some big contracts we missed out on over the years. But you can't worry about that, you need to focus on the next opportunity.
One of the main things I regret is that when we started DiskShred – the IT equipment shredding part of the business – we didn't push it hard enough.
We invested in the technology but didn't invest in sales and marketing of it at the time. I think if we had done that earlier, it would have grown quicker.
We were one of the first to market with the shredding business, but we got very busy and didn't have the time to focus on what we had invested in.
I've learned from those experiences. I know now that I need to focus on an idea – you can't do it by half measure. Either go all in with it or don't do it at all.
Lessons learned
I'm sure I've made plenty of mistakes, but they aren't something I focus on. And if I do make a mistake, I just try to move on to the next challenge.
But when I look back at it, although it's great we have grown steadily, I've been cautious in some areas where I shouldn't have been.
I think if I was doing it all again, I would have been more focused on opportunities to grow further afield than just in Ireland.
That's still what I'm trying to do, but we also see a lot of opportunities to expand here as well.
Even though I've been at this more than a decade now, I'm still learning. Especially about finances.
How to manage the bills was one of things my dad always reinforced. He would say, "Always pay all your suppliers on time. And pay early if you can."
It naturally gives off the right impression of your business. You want that reputation of someone who pays on time, not someone who needs to be chased for an invoice.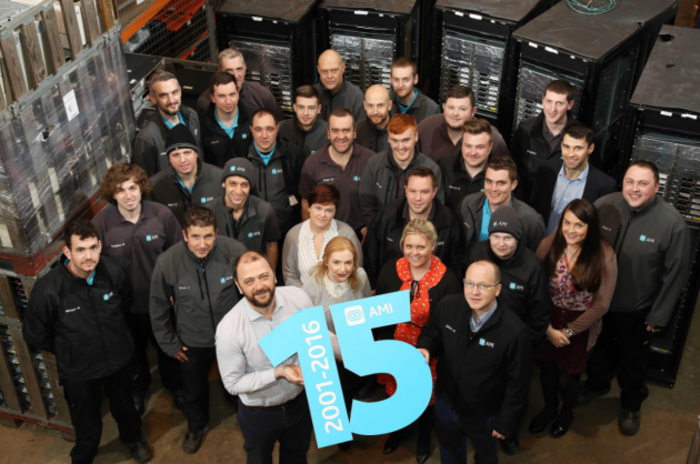 Source: Darren Kidd/Press Eye
Buy out
My co-founder, John, is slightly older than myself, so a few years ago it came up to the point where he was planning his retirement. I thought it made sense for me to buy him out of the business, which turned out to be a very strange experience to go through.
I worked with John for 15 years, and I remember his final day in the business as clear as day. He left and I went and sat at my desk and took a deep breath to come to terms with the fact that I was now responsible for everything.
I was always taking responsibility for the business, but at the same time I always had John there to speak to. I could run ideas past him whenever I wanted and now it was just me.
I definitely felt a bit more pressure on my shoulders now. But I suppose I've been lucky that we've been very busy, so sometimes you don't get a chance to think about that pressure. You're always just focused on the next job.
I've also had two children since John stepped away from the company, which has changed my approach to the business. Up until now, the business was my baby. But now there are more important things.
So I'm working on getting out of this habit of trying to do everything myself. And to do that, you have to bring the right people into the business and put your faith in them so you never end up being a jack of all trades.
My focus now is to make sure I get enough time to spend with my kids. So even though the business is my responsibility, my main goal is to have the work done so I can keep my weekends free.
Philip McMichael is the managing director of AMI. This article was written in conversation with Killian Woods as part of a series on business mistakes and what can be learned from them.
If you want to share your opinion, advice or story, email opinion@fora.ie.
read more on