Here's why you should use younger recruits to coach senior staff
'Reverse mentoring' schemes send a clear message that learning is a life-long thing.
ORGANISATIONS ARE INCREASINGLY turning to younger members of the workforce to mentor their older and more senior colleagues.
In the last decade or so, the traditional image of the mentor has been radically turned on its head.
In the corporate world, many organisations are encouraging 'reverse mentoring', where senior-level executives are coached by millennials and young recruits.
This is part of a growing movement to create a more diverse workforce and a more inclusive employment model.
Hays spoke to a number of business leaders to share their thoughts on the trend.
Lloyd's of London CEO Inga Beale says reverse mentoring is a response to the climate we are now living in.
Beale meets regularly with a 19-year-old mentor from the insurance firm's apprentice scheme and says it is about creating a workforce that reflects the world around us.
"We need to be reminded of what's happening in the world and how the new generation thinks and behaves and wants different things," she says.
Millennials are considered less risk averse than previous generations, which means they are likely to have a more entrepreneurial mindset and see things that older generations might miss.
Create a more inclusive culture
Many leaders argue that reverse mentoring is about learning from the people around you and fostering a more open and inclusive culture.
For example, Diane Herbert, the former HR director of Channel 4 and director of consultancy Mindshift, says that reverse mentoring "sends a really clear message that learning and developing is a life-long process and not related to one's age or the amount of years' experience a person has".
It signals that a company values ideas and perspectives, regardless of where they come from.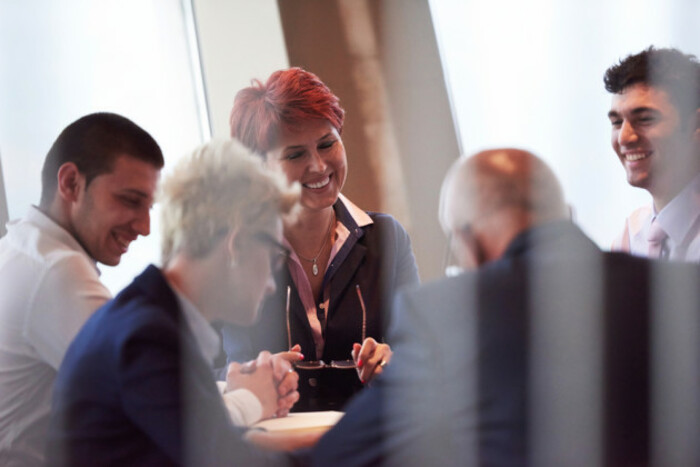 Source: Shutterstock/dotshock
Donna Miller, European HR director at Enterprise Rent-A-Car, says the company's reverse mentoring programme developed almost by accident from a top-down initiative that began about six years ago.
"This involved our mostly baby boomer, top-level leaders mentoring primarily millennial junior to middle manager females," she says.
"When we started the programme, we used it as a high-potential programme with a specific objective of identifying junior to mid-level women for next-level promotion opportunities."
Today, all women are eligible to apply for the programme.
Miller says that senior directors quickly realised "the value of spending time with younger team members who were at the operational coalface and brought insights from different life experiences as well as different ways of working".
The scheme was so successful that it was extended across the business to all regional general managers and the executive head office team.
Overcoming cultural barriers
There are also challenges to these programmes in some cultures where age is revered. Reverse mentoring might pose some sensitive issues around seniority.
In such cases, the programmes may have to be tweaked or adjusted accordingly.
It's recommended that meetings take place in a safe, neutral space for both participants, where their hierarchical roles are easier to overcome.
"Generations are fluid," Miller says. "Mentoring and reverse mentoring between age groups is an effective way to increase understanding and thereby collaboration and teamwork."
She notes that at Enterprise Rent-A-Car, while there may have been some concerns that the more senior-level, longstanding staff may have taken umbrage at being mentored by someone who wasn't yet born when they were applying for a mortgage, some of the oldest employees have benefited most.
"Many of our older employees have been with the business for a long time and started working in a branch many years previously, while our younger, generally millennial employees are now closest to our customers at the branch," Miller says.
"Their experiences and insights are invaluable in informing the business strategy, and this is an enormous benefit of having reverse mentoring."
Alistair Cox is the CEO of Hays.
Get our NEW daily digest of the morning's most important headlines for innovative Irish businesses.