The tale of the coffee date where Ray Nolan predicted how and when Storyful would be sold
The man who made a fortune from selling Hostelworld had an eerily accurate prognosis.
HAVE YOU HEARD about the time Ray Nolan predicted who would buy Mark Little's Storyful – and when it would happen?
When former RTÉ journalist Little was starting out with plans for the 'social news agency', the pair went for a coffee – where Little made his pitch for why Nolan should back the fledgling startup.
He must have said something right, because Nolan, who made about €100 million from the sale of his bookings site Hostelworld, went on to become one of the lead investors in Storyful.
Speaking at HBAN's angel investor conference yesterday, Little revealed what the tech entrepreneur told him at that early meeting – and the extent to which Nolan's predictions came true.
"He sat down and he said, 'Listen, I looked at your business, here's the way it's going to go ahead. You're going to sell in four years, this is your share, this is my share, this is the price and this is person who can buy you'," Little said.
"He gave three people who might buy it, one of whom did buy the company, four years on."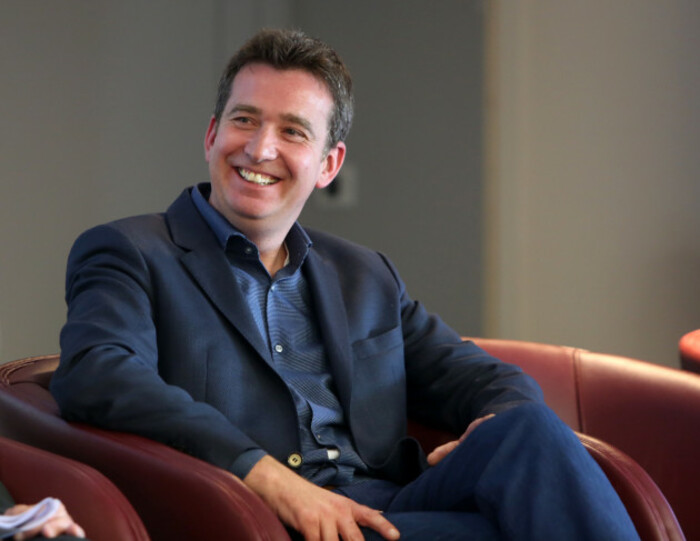 Source: Sam boal/Photocall Ireland
After that initial coffee with Little, Nolan pumped money into Storyful several times and netted himself a handy return when the company was bought by Rupert Murdoch's News Corp in late 2013 for €18 million.
When sale day came along, Little said Nolan was adamant that celebrations were in order – insisting that all of Storyful's executive team disappear for lunch.
However, when they returned to the office, Little returned to find his new boss – a certain octogenarian Australian media mogul – and his cohort waiting.
"We had a very long lunch with Ray and we came back into the office and a laptop was set up in the meeting room. All the people from News Corp that had just bought the company were going mad because they couldn't find us.
"There was a man in a white shirt on the laptop, who was Rupert Murdoch. Ray was beside me and I turned to him, and we didn't say a word. We didn't need to because he had been with me from that coffee shop, and he had said this is what would happen.
"And there the two of us were, with Rupert Murdoch and the laptop … bit pissed."
Shock return
In the lead-up to the announcement of the News Corp takeover, Little and Nolan were privy to the big return they could expect, but not all Storyful's early investors were aware of the impending payday.
"From my early days, one of my investors was Bernie Farrell. He walked into our office and it was very quick, it was an hour meeting. He gave me €30,000, and I was absolutely elated," Little said.
"Bernie was great, but he is very light touch. In fact he had to go off and do a job that took him away from Ireland. He came back three and a half years later and met (HBAN head) John Phelan for a coffee and said, 'You know that €30,000 I gave your man, I suppose that's down the toilet, isn't it?'
"We were actually four days away from selling the company, so John said, 'Hang on for a couple of days. You might get a good result.'"
Little added that repaying the faith early investors had placed in him was the best moment of his startup career.
"The day (Farrell) got the envelope … I won't say the exact number but it was about seven times his original €30,000. I haven't had such pleasure, I have to say, in business as that moment.
"It was one of those great moments you don't get in another job or corporation, to have someone take a risk on you and you come back at the end."
Sign up to our newsletter to receive a regular digest of Fora's top articles delivered to your inbox.