PepTalk is taking a data-driven approach to improving employee engagement
As part of our weekly Startup Spotlight series, we profile the Dublin company.
A DUBLIN FOOTBALLER turned entrepreneur, James Brogan has seen first-hand how sports methodology can be applied to the business world.
Away from the pitch, where he played under manager Pat Gilroy, Brogan, along with cousin and fellow player Bernard, set up a communications firm called Legacy in 2012.
Brogan, a qualified solicitor, quickly took note of how attitudes towards well-being were becoming more prominent in the workplace. It became the impetus for a new venture called PepTalk.
"About three years ago, through some of the conversations we were having with corporates, there was an increasing interest in this whole area of performance and well-being and the links between both," Brogan says.
It was emerging as a way to improve worker productivity and retention and has seeped into the corporate world from the sports field, according to Brogan.
"We just see it beginning to waterfall down into corporates," he says. 
"To deliver this at scale, we have to actually go away and create a piece of technology," he adds.
The original idea for PepTalk began as a series of workshops for companies but has since evolved into a software platform for employers to improve engagement with their staff.
"We believe that the whole area of well-being probably needs to be a bit more engaging," he says.
"The brand that we position is very much around getting people up engaged with this whole area and then drive a message of sustainable well-being behind that."
Employee engagement
There are two sides to the PepTalk platform, for the employee and employer.
First is a mobile app with gamified courses and tasks for the employees. On the other side is a data analytics dashboard for managers to monitor employee morale and productivity.
"(The) dashboard allows organisations to understand fundamentally the performance of the programme and how they tend to view success – it's usually around productivity, how engaged staff are with working in the organisation."
PepTalk takes a bespoke approach to its clients. Brogan says that there's a tendency among companies to deploy some kind of programme with staff that is used for a few weeks or months and eventually forgotten about.
The startup works with a company to design and deploy a 12-month programme, at a minimum.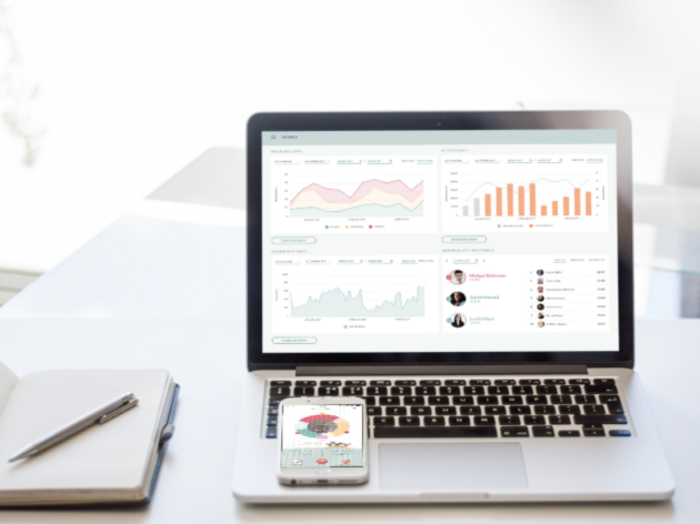 Source: PepTalk
"We design the programmes based around all areas of well-being and the more traditional (areas), nutrition and fitness, right up to the mindset focus that's becoming more and more prevalent," he says.
Gamification is a major aspect of how PepTalk works and keeps users engaged with content. This could be micro-courses, short bite-size videos or more extensive content for learning.
"People will get points for interacting in different ways within the app, whether that's sharing their journey with some photographs, whether it's consuming some content," Brogan explains.
"They'll come out of that with some learning that they can implement into their daily life and they're also getting some points that are contributing towards their own personal well-being as well."
Business model
PepTalk is a subscription-based service that's paid for by the employers. The platform has 20 paying customers to date in Ireland, the UK and Europe with the costs of subscriptions depending on the size of the operation.
Brogan says the startup is targeting revenues of more than €700,000 this year.
For employers, Brogan says that the return on investment is found heavily in data insights.
[embed id="embed_2"]
He insists that the data doesn't provide personal information to employers but rather insights into trends among the employee base.
"Trends are very powerful. They're able to see the overall levels of well-being in the organisation, the mood of the organisation, how engaged people are in the programme."
It is data that can inform policies and business case decisions around retention and attraction, he adds.
"We're looking to obviously move the dial," he says.
Employees' expectations on the workplace, and what they get out of it, have changed considerably in recent years – it's not just about pay packets and benefits anymore.
"They are looking to see what are you doing for me as a human being, what well-being programmes are you running."
The startup has raised €750,000 from Enterprise Ireland and angel investors and is aiming to close a series A round of between €1 million and €3 million in the next year.
"Our vision over the next 12 months is very much on international expansion," he says.
The company has also opened an office in London.
"We'll be targeting a number of English-speaking countries within the EMEA region and hopefully post-that we would be looking at other markets such as the US.
"We're pretty happy with our growth trajectory at the moment but we obviously have very ambitious targets."
Get our Daily Briefing with the morning's most important headlines for innovative Irish businesses.