'After being refused social welfare I started laughing. I was in the gutter. The only way was up'
As part of our weekly How My Business Works series, we profile the business behind the One4all gift voucher.
WHEN HE WAS refused social welfare, Michael Dawson started laughing. He didn't know what else to do.
By his own account, Dawson had made and lost a small fortune by the time he was down to his last few pennies after an effort to break into the lottery business in the US.
The 57-year-old Dublin native was a long way removed from the circles of Irish political power, where he had risen to prominence first as Fianna Fáil's national organiser and then serving briefly as a senator in the Seanad after the 1989 election by the appointment of controversial former taoiseach Charles Haughey.
Later, he made a lot of money organising viewings of Ireland's Italia 90 matches on a large screen in the RDS, only to lose much of it on an attempt to bring drive-in movies to Ireland.
At this point, Dawson was married with three young children and then spent years in the US trying to sell a series of musical-based lottery cards that he had developed for large lottery companies, with little luck.
"The kids wouldn't have been aware of it, but it was a terrible strain for Pauline, my wife at the time," he tells Fora. "(When I got back to Ireland) I went into the social welfare office and was told that as a director of a company I wasn't entitled to a penny.
"I left the office and I went down the street and I broke my sides laughing, because I said I was in the gutter now, the only way was up. I just had to stay positive."
Dawson and his wife then turned their house into a bed and breakfast while he worked on a new concept, an easy-to-use and widely available gift voucher.
"I was tossing eggs on the pan and talking to retailers on the phone," he says.
"I asked retailers, 'If I sold the vouchers across hundreds of locations, would they pay me?' and they said they would, so I brought the idea to An Post as a distribution partner," he says. "They were very excited to turn over the first million – and this year we will be turning over €232 million across three countries."
Dawson's wife passed away two years ago at the age of 54 following a battle with cancer, and now the Dublin native is focused on managing his home life with his three adult sons while still growing his business, the Gift Voucher Shop.
What do you do and how long have you done it for?
The Gift Voucher Shop is the company behind the One4all token. The voucher is sold across the country and can be redeemed in thousands of Irish retailers.
Set up by Dawson in 2001, the company paired up with An Post so that the vouch could be sold in its outlets throughout the country. After finding its feet in Ireland, the company then decided to sell its vouchers in Malta as a test to see if the concept would work abroad.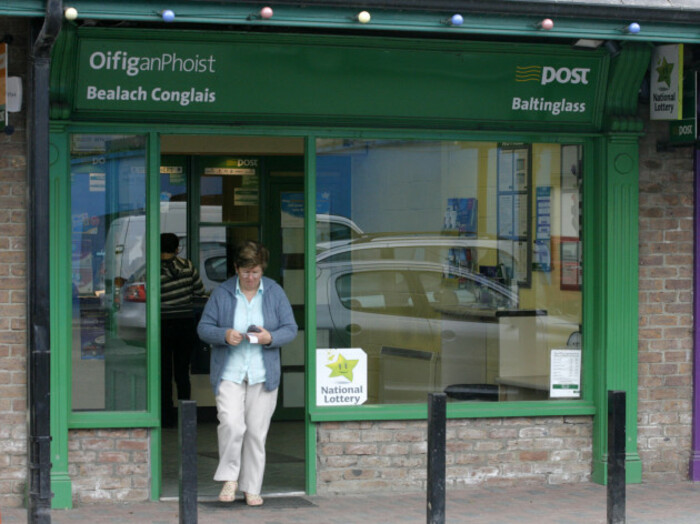 Source: Mark Stedman/RollingNews.ie
After One4all proved to be popular in Malta, Dawson decided to move into the UK, but quickly found that breaking the British market was going to be more difficult than he thought.
"Our marketing projections were completely wrong", he says. "In Ireland, if you have €1 million to spend you can effectively own the Irish market across television and radio. We spent €3 million launching in the UK, and it was like snow falling in the Sahara, it melted before it hit the ground and there was zero impact."
Making money in the UK ended up taking much longer than Dawson originally thought, however he says that the firm is now on track. After spending about a decade in the market, One4all finally became profitable in the UK in the last two years.
The Gift Voucher Shop and An Post have also worked more closely over the last few years, with the postal service taking a majority stake in the company towards the end of 2009.
What are your costs and how do you make money?
The Gift Voucher Shop makes its money from the One4all card. The company does not make money immediately when the voucher is sold in a shop; instead, it only takes in cash when the voucher is spent.
"When you spend €50 on a voucher in a shop it goes into a trust account to which we have no access. The €50 goes entirely to the retailer if it is spent, and after that we send the retailer an invoice for our commission," Dawson says.
The company charges retailers about 8% of the voucher. Dawson says that the lure for retailers is that, as well as helping to draw in customers, people who use the vouchers often spend more.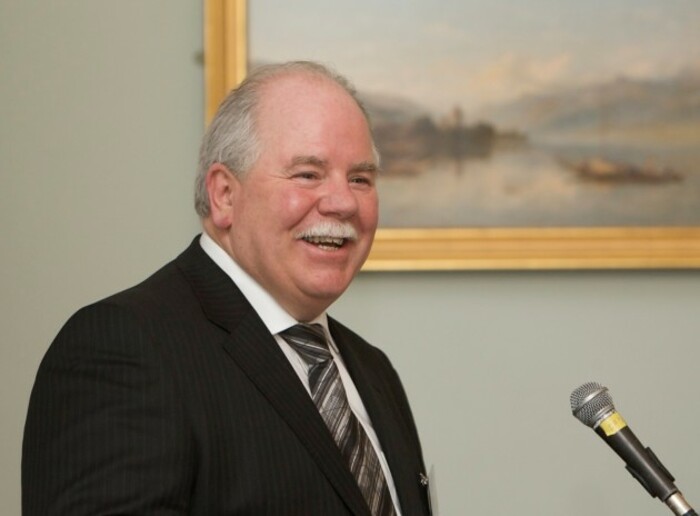 "If you have a €50 card, you will likely spend €100 or €150," he says. If shoppers don't redeem their vouchers after 18 months, the company begins to charge the customer €1.45 per month.
"If it just sits there then no one benefits, but we go out of our way to come up with offers and promotions and tell people to spend the voucher," he says.
Staff take up a lot of the company's outgoings. Dawson says that the firm employs about 75 people at its Swords base, but that figure could double around Christmas and the New Year.
As the vast bulk of its vouchers are sold in-store rather than online, the company also spends a lot distributing its vouchers to thousands of retailers in Ireland and the UK and on marketing.
What is your market?
While the company's home market is Ireland and the firm initially found it difficult to get off the ground in the UK, the far side of the Irish sea is where the Gift Voucher Shop is now making the bulk of its sales.
"They are on sale in about 12,500 locations in the UK and 5,500 in Ireland," Dawson says. "Almost 60% of our sales are in the UK (and) it has the potential to grow to multiple times its size, it has the potential to be eight times the size of Ireland."
The markets operate separately, with UK vouchers only be redeemable in the UK and likewise with Irish tokens. The cards can be spent in thousands of major stores across the country, such as Arnotts and Debenhams.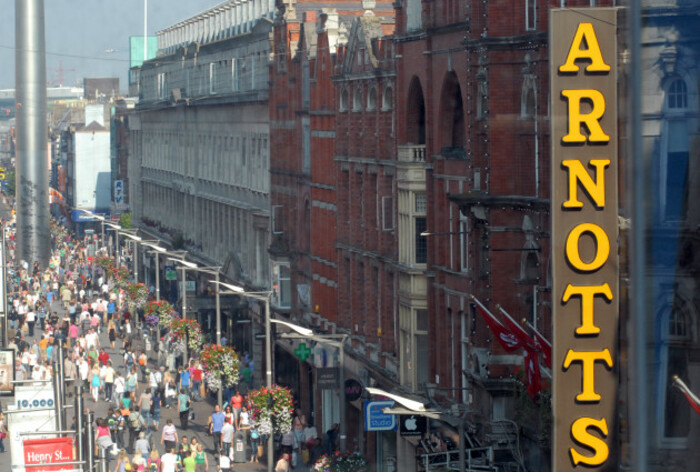 Source: Sasko Lazarov/RollingNews.ie
Dawson says online sales are "growing all the time", although he admits that they are still "lower than expected" at about 7% of the total. He adds that the firm is looking at developing ways to use the vouchers through smartphones.
What is the competition?
Although the One4all brand is well established in Ireland, some new gift cards have recently been launched to try to move in on the company's turf.
Last year Retail Excellence Ireland launched a voucher backed by several of its members, the FromMe2You card, which is accepted by 7,000 outlets across the country. Notably, retailers pay less for the use of its card, in the region of 4%-7%.
However, Dawson says that the company is well able to compete with any of its low-cost rivals.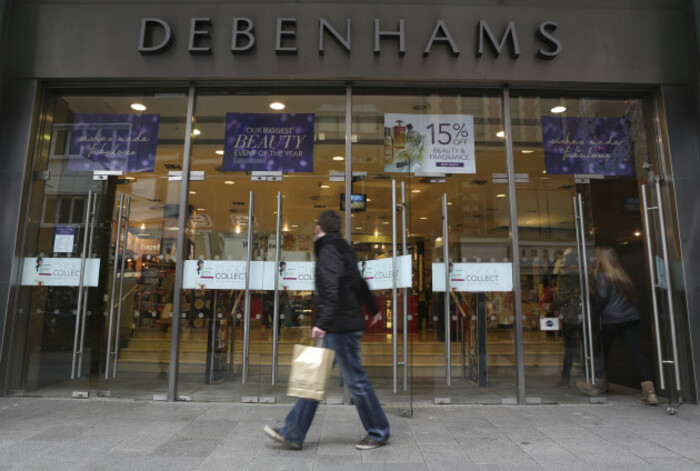 Source: Sam Boal/RollingNews.ie
"In Ireland our reputation precedes us, people know us for customer service and convenience, we are the voucher of choice," he says, adding that the firm also has established relationships with a huge number of retailers and corporate customers.
There are also several major multinational companies in the gift card space in the UK, such as US multinational Black Hawk, which has developed several different brands.
What is your vision?
Dawson is aiming big. An Post doesn't individually break down revenue for its subsidiary operations, but Gvs Gift Voucher Shop made a €3.7 million profit last year, up from €2.2 million in 2014, on turnover of €11.3 million, up from €9.6 million.
Dawson says that this represents just a part of the company's Irish sales, and says the entire Gift Voucher Shop business had sales of about €230 million last year, which he says he is aiming to push up to €400 million in the next five years.
"The use of technology is our big project at the moment, and we just got a licence in the UK that we can transport across Europe so we will be looking at new markets in the coming year," he says.
Rumours swirled last year that the Gift Voucher Shop has been approached by people interested in buying the company and that a deal might be in the works.
Dawson is coy when the question of a sale is put to him.
"An Post has said that it is not in their plans to sell the business. They have a new chief executive who will have a major look at An Post's operations and look at whether it is in their plans to keep us long-term. Nothing will happen immediately," he says.
Dawson still has a large personal stake in the business, but when asked if he would consider selling it he says: "The company will start paying dividends in the near future which it hadn't been doing until now, so I would be very content with that.
"I could see being bought out at some point in the future and investing in a new business. I'm patient enough to wait until the right moment."
Nor is Dawson keen to take a step back from the company while he has "such a considerable investment" in its operations.
"In the last 10 years I have been better (at balancing business and family time) and I took whatever time was needed when my wife was sick. Priorities change and now my three lads are in university they don't demand as much of my attention, often they don't want to see me at all."
This article is part of our weekly series examining the nuts and bolts of businesses. If you would like to see your company featured please email news@fora.ie.
read more on