Tourism Ireland says 'the craic' alone isn't enough to win back British tourists
Niall Gibbons said there needs to be more of a focus on outdoor activities for visitors.
TOURISM IRELAND'S BOSS has said "the craic" isn't enough to recover the eroding British visitors market.
Speaking today at the annual Irish Hotels Federation conference, Niall Gibbons – who heads up the State-backed agency – said Ireland must hone in on outdoor activities to entice visitors from Great Britain, which is the country's biggest tourism market.
The number of British visitors coming here has been steadily falling since the June 2016 Brexit referendum, dropping 6% last year to 4.7 million visits.
As a result, tourism officials have focused more on opening up 'emerging' markets like India and China and winning more business from North America and mainland Europe.
They're also looking to squeeze more money out of visitors – including the declining British market, which generated €1.5 billion in 2017. Tourism Ireland and other stakeholders are hoping to deliver the same result this year.
In order to achieve that, tourism bigwigs are looking beyond traditional boozy holidays and hoping to win more business in the activities market.
"What we're learning from our customers in Britain is that the things that Ireland is great at – partying, meeting the locals, having the craic – is terrific and we're internationally renowned for that. But that's not a primary motivator for a holiday," Gibbons told the hoteliers conference.
"What people are looking for is to be active in nature in order to spend time with friends and loved ones, and they're looking to get away from it all."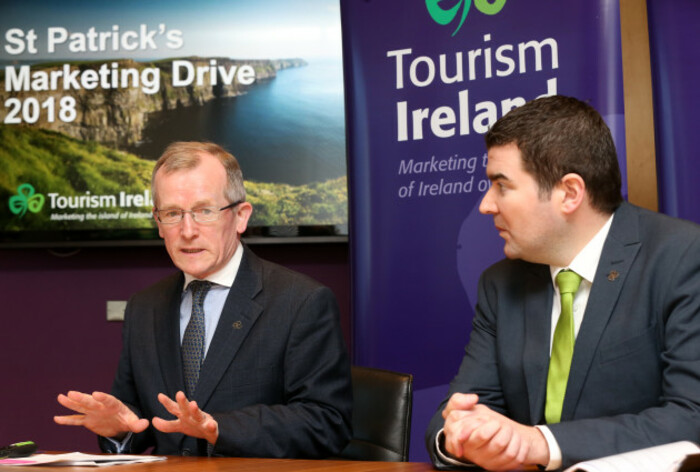 Source: Sam Boal/Rollingnews.ie
However, Tourism Ireland is having to deal with the changing market with a diminishing war chest, according to Gibbons.
The diminishing budget appears to have affected Ireland's marketing clout in Britain. Gibbons said in the UK, Ireland's 'share of voice' – a measurement of advertising revenue share – has declined dramatically in recent times.
"We've presented the tourism minister (Shane Ross) with the facts. Our share of voice used to be more than 40% in Britain. It's now down to single digits."
With less money to spend, Tourism Ireland is focussing more on honing the marketing message it puts out in the UK.
For example, the agency recently launched the 'Wonders of the Wild Atlantic Way' campaign, a €1.8 million marketing initiative that promotes "ease of access" to Ireland from Britain.
"We've over 100 different routes coming from the UK into Ireland – the connectivity has never been better," Gibbons said.
Outdoor activities
At the same panel, Fáilte Ireland's CEO, Paul Kelly, said outdoor activities will play an important part in extending the travel season and pushing more overseas visitors beyond the usual tourism hotspots – especially because they're not usually weather dependent.
"People that go walking, the weather doesn't really matter to them. They're used to going walking in mountains. At least nine million people visit a lake district in the UK every year. You get pretty wet there, " he said.
Kelly said outdoor activities would be particularly helpful for midlands counties, which are most exposed to the drop-off in British tourists.
"One of the things we're keen on developing is the Beara-Breifne Way, which is a diagonal walk across Ireland goes right through the midlands," he said, referring to the 500km route from Cork's Beara Peninsula to the Breifne area in counties Leitrim and Cavan.
"It will take time and money to bring that up to an international standard in terms of what walkers will expect when they get here … We think it's things like that will both extend the season and spread to the regions."
Sign up to our newsletter to receive a regular digest of Fora's top articles delivered to your inbox. 
read more on