Super Valu is still the top dog of Irish supermarkets, but Dunnes is starting to fight back...
The top three remain unchanged, but Dunnes is starting to make inroads on its rivals' lead.
THE LATEST FIGURES released regarding share of the grocery market in Ireland make happy reading for Super Valu.
In what has become a recurring trend over the course of the last year, the Irish chain has maintained its top dog status over rivals Tesco and Dunnes Stores, according to figures for the end of January 2016 released by industry experts Kantar Worldpanel.
However, the only change to be seen from the market-share figures for end December is a very slight gain on Dunnes' behalf (from 24% to 24.1%) with both Super Valu and Tesco slipping ever so slightly.
It's a game of tiny margins.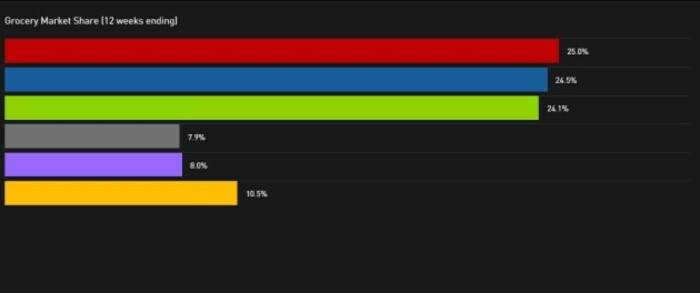 Overall, the jump in consumer confidence following the Christmas rush seems to have held steady, "with little indication that shoppers are tightening their belts after the festive period" according to Kantar Worldpanel's insight director Georgieann Harrington.
"Consumers have been spending more on their grocery shopping than this time last year," she says, while shopper spend has increased by 3.8% over the past 12 weeks, a slight improvement on the Christmas growth of 3.5%.
Market share
As things stood at end January Super Valu remained in first place per market share, capturing 25% of the grocery market, with sales growth of 4.4% keeping the chain ahead of the field, increasing its share from 24.8% last year, albeit dropping from the 25.1% share seen at the end of 2015.
Shoppers visited Super Valu nearly 21 times on average in the last month – more frequently than last year – spending an additional €27 there as a result.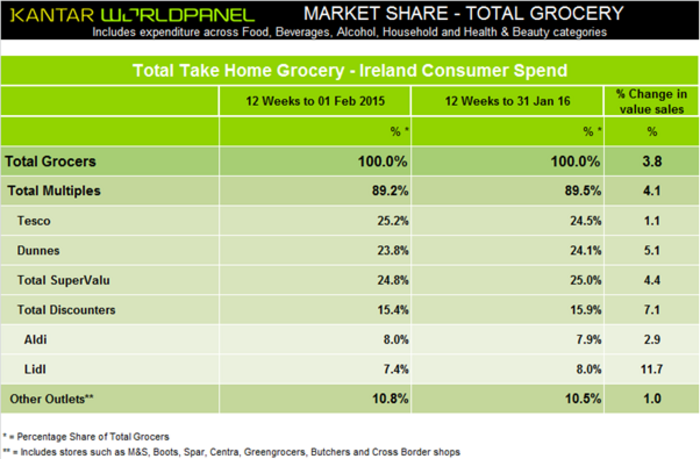 Click here to view a larger image
Tesco may still be in second place, however sales growth of 1.1% accounts for the retail giant's most positive performance in the Irish market since November 2012, suggesting that a corner may have been turned after a tough 2015.
Growth
Dunnes enjoyed the strongest rate of growth of the top-three supermarkets with sales up 5.1% compared with last year.  This it seems is due in no small part to customers spending more on their trips – Dunnes has successfully encouraged shoppers to spend an additional €1.70 on average every time they shop there.
Of the smaller supermarkets Lidl are the big winners, seeing double-digit growth in their sales figures for the fourth consecutive quarter.
"(Lidl) is successfully driving growth across the board, with a higher number of shoppers visiting its stores more often and spending a larger amount each time," says Harrington.
Otherwise, the mild loss of share being seen by Tesco and Super Valu has been gobbled up by other retailers within Ireland.
read more on