The number of jobs advertised has fallen for the first time in five years
That's according to a study by recruitment firm CPL.
THE NUMBER OF jobs advertised has fallen for the first time in five years, a new study has shown.
According to a report by recruitment firm CPL, there were more than 2,400 jobs advertised in four broad sectors from April to June 2017, nearly 100 less the same three-month period last year.
This is the first time that jobs listings have fallen year-on-year since CPL started compiling its 'resources employment market monitor' in 2012.
CPL's jobs index looks at the annual change in vacancies in four categories: IT and telecoms; science, engineering and supply chain; sales and marketing; and accountancy, finance, banking, legal and HR. It is primarily focused on jobs listed by foreign multinationals.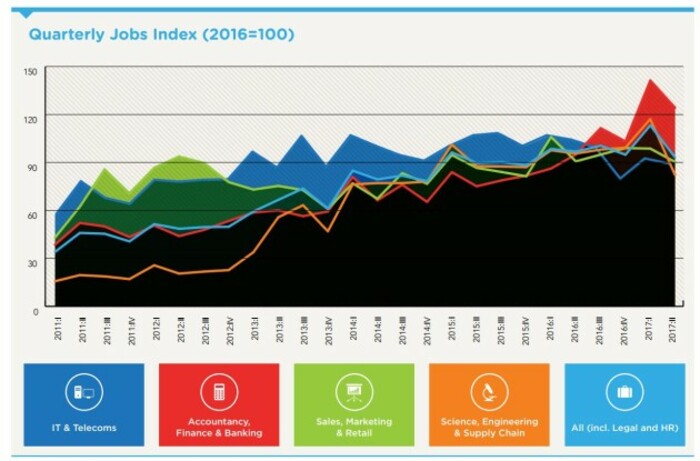 Click here to view a larger version.
Finance
The monitor found that the accounting, finance and banking sector performed the strongest, with listings up by about quarter on the 2016 average.
Meanwhile, all other sectors saw an annual decline in the number of jobs listed between April and June.
Science, engineering and chain supply saw the biggest drop, with the number of jobs listings decreasing by 15%.
Commenting on the report, economist Ronan Lyons said the year-on-year decline "may reflect the timing of Easter this year compared to last, but it is possible Brexit is also playing a role".
Meanwhile a separate jobseekers 'sentiment survey' by CPL found that two in three workers believe the UK's decision to exit the European Union will hinder their chances of getting a good job.
The survey of more than 1,670 jobseekers was taken in June.
Sign up to our newsletter to receive a regular digest of Fora's top articles delivered to your inbox.