A moment in the sun: Meet the Irish spacetech entrepreneurs boldly growing
As investment in spacetech increases, the Irish tech sector has something to phone home about.
UPDATES FROM THE European Space Agency might not often be high on the agenda for Irish business, but around 4am on Monday a launchpad in Cape Canaveral, Florida, will be the centre of the universe for a couple of Irish companies. 
After a few postponements, the ESA and NASA are due to launch the Solar Orbiter mission, which will travel thousands of kilometres to observe our sun's behaviour. For Dublin companies Enbio and Captec the mission is the culmination of a massive job of work. 
That both contributed to the project is perhaps a signal that Ireland's space industry is set for launch, albeit from a low base according to John O'Donoghue, CEO and founder of Enbio.
"When we started out back in 2009, I wouldn't have been aware that there was a space sector in Ireland other than, say universities," O'Donoghue told Fora. 
"Since then I've learned that the space industry is growing year on year and way quicker than any other sector in the Irish economy because it started from such a small base."
Enbio won the contract to provide a "sunscreen for satellites" for the Solar Orbiter – to protect it from the 500 degrees Celsius it will come up against on its mission – as well as the -180 degrees when facing away from the sun. 
O'Donoghue's business is one of the many Irish companies which got into space tech but started out in something else, having originally made synthetic enamel coatings for dental and orthopaedic implants. 
There was more to be done with technology by applying other materials to the surface of metals. At the time ESA was in the market for a material that could withstand the extreme temperatures and conditions of space travel.
"Until we came along they didn't have an answer," O'Donoghue told Fora. 
Captec, which has been involved with the project since 2013 and provides independent verification for the on-board software that will control the spacecraft when it's in flight. 
"There's no Irish market for the technology that we're developing. It's all export," Jon Kennedy, the company's chief executive, told Fora.
Captec has been involved in Ireland's space industry since the early days in the mid-1980s. It writes navigation software and independently verifies that the software will work from other providers. 
A lot of space technology is associated with defence, so Kennedy reckons this might be why it was historically not a priority in Ireland. 
"The space sector is very challenging in terms of its requirements. It's a good testbed for new product development, for things that could be reused in other sectors," he said. 
Just last year, the government launched the National Space Strategy for Enterprise, up to 2025.
In 2017, UCD students became involved in Ireland's first satellite, the EIRSAT1, in a project funded by ESA, Science Foundation Ireland and Enterprise Ireland, among others. The year before that, ESA and Enterprise Ireland set up the ESA business innovation centre, which is growing ahead of schedule. 
We may not have a long tradition of space exploration in this country, but the growing commercialisation of the space industry – known as "new space" or "space 4.0″ – is providing ample opportunities for innovative companies to get involved in the global growth.   
Space 4.0
Ireland is particularly well placed to take advantage of growing commercialisation, according to Danny Gleason, the chief commercial officer at space tech company Réaltra and chair of the Irish Space Industry Group. 
"Ireland has a talent base and industrial capability which is well-matched in some areas to benefit from delivering those technologies and services to the space sector."
From an Irish space sector and government strategy point of view, "because it was always at quite a low level compared to other European participants in the ESA, it was always very targeted at commercialisation," he said. 
The view was, he added, that if the government was to invest taxpayers' money it would need to get a return on the investment for the economy. 
"That meant that the Irish government during the downturn increased investment in Irish space. It's one of the few projects that got more money than the previous year because it was providing a positive return."
That early focus on commercialisation is now paying off, as the market moves towards a more industrialised model for space technology and business. 
Réaltra is the two-year-old aerospace division of Realtime Technologies, an electronics manufacturer specialising in space, aerospace, medical equipment and the automotive industry.  
"We've been building space products for approximately 12 years now, which gives us heritage in this area," White said. 
"(Ireland is) new to the space industry, we bring a lot of capability from the technology industry," he said.
The industry in Europe is more developed in countries such as Italy, France, Germany, the Netherlands and up until recently the UK, which all have greater capabilities for the likes of propulsion and launchers – unlike Ireland. 
"Small countries like Ireland are starting to contribute now because the space industry is changing, particularly in the use of technologies that are available off the shelf," as opposed to components which are designed specifically for space-use.
This brings down major costs, which because of heavy research and innovation across tech is something it seems Ireland is good at. 
"Satellites are getting smaller and smaller. The size of propulsion units is going to decrease as well. Ireland can really gain a foothold in that industry as a consequence of the changes necessary."
Source: Shutterstock/Everett Historical
A new dynamic
The space market globally is changing dramatically, according to industry experts, and it's growing by about 3% per year. 
"What we're seeing is a fundamental change in how that market is structured. In the past, it was all driven by governmental, institutional programmes. What we're seeing lately is that it's more and more driven by private enterprise," Tony McDonald, the ESA programme manager for Enterprise Ireland, said.  
"What that brings to the market is a new dynamic that wasn't there before," he added. 
"We haven't had a traditional space sector in Ireland, but what we do have are very innovative technology companies," he added. Many of these are spin-out companies from the likes of Enterprise Ireland and Universities. 
Though Ireland isn't likely to be involved in launchers or propulsion any time soon, we do have a growing network of businesses developing technology that is highly sought after by larger, overseas companies. 
Companies in sectors such as photonics, electronics, materials, structures and medical are taking technologies from other sectors into the space sector, having them qualified for space use, and then taking them out once again for other industries like automotive, aerospace or biomedical, for example. 
"Other member states are showing great interest in the model, and that's the thrust of our strategy," Conor Sheehan, manager of the ESA Business Incubation Centre, added. 
"We're not trying to create a space sector per se. We see space application as one market vertical, we base most of what we do on spinning technologies into space, getting them space-qualified, adding value, and then bringing them back down to earth," Sheehan said. 
"We're not a huge market for satellites in Ireland, so as a country, our main focus is the global market – exports in particular. Our role is in developing a supply base here to service the growing global space economy."
He predicts that more and more companies will begin to enter the space sector from other sectors, particularly as the time frames to launch spacecraft are getting shorter, and the components getting smaller.
"We need new technologies, lighter technologies, less energy-hungry technologies to go into smaller and smaller satellites. Our SME base is very well equipped."
"It's a very exciting sector that is growing fast and Ireland is a very quiet champion in the sector," Sheehan said. 
Currently, 70 companies in Ireland are engaged in ESA contracts. The target is to grow that to 100 by 2025.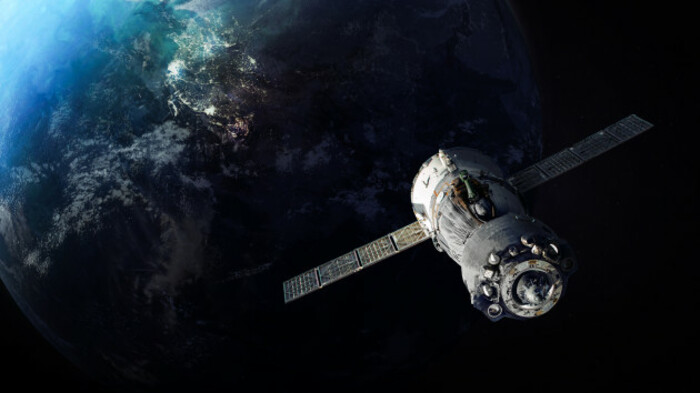 Source: Shutterstock/Dima Zel
Punching above our weight
"The most efficient way to communicate is through space and satellite," Enbio's O'Donoghue said. That's the internet, GPS and earth observation, which he added is "going to be huge, as we continue to encroach on our habitat".
With an increasing number of satellites in the works for major companies – and the huge role they're likely to play in environmental, migratory, pollution and pandemic monitoring, the industry is rife with opportunities for more specialised players. 
"Ireland is well poised to contribute. Telecommunications and software is a huge arena (here), so morphing it into space requirements is not a big deal," O'Donoghue said. 
"We in Ireland are in a particularly good place, as a small country, to punch above our weight in the general space arena in Europe and also beyond that." 
If we "focus on the things that we do well, we will play a very big role," he added. 
Get our Daily Briefing with the morning's most important headlines for innovative Irish businesses.