'Unlike the vulture funds, we're hoping to be here in 20 years'
As part of our weekly Startup Spotlight series we profile Initiative Ireland.
PADRAIG RUSHE SAYS co-founding a company with his father and namesake was "ideal".
"The one thing I've learned from startups is that it's key that you have people around you that you trust and who have integrity," Rushe tells Fora.
"Those are two things that come in abundance with my father."
With more than 50 years experience in the banking sector, the senior Padraig Rushe brings with him a wealth of knowledge – and caution – that has proved useful to Initiative Ireland, a company that specialises in low-risk property loans.
Founded in 2015 and headquartered at the NovaUCD centre, Initiative Ireland has pitched itself as a "syndicated property finance" service.
"Put simply, we provide secured residential property loans to property developers," the younger Rushe says. "We manage those loans from end to end. However, we're doing that on behalf of our private lending members."
The company is most interested in lending to experienced developers that have secured planning permission for small-scale projects in areas where there's a clear demand for residential housing.
The company expects to provide €60 million in construction loans to build around 250 houses over the next year and a half.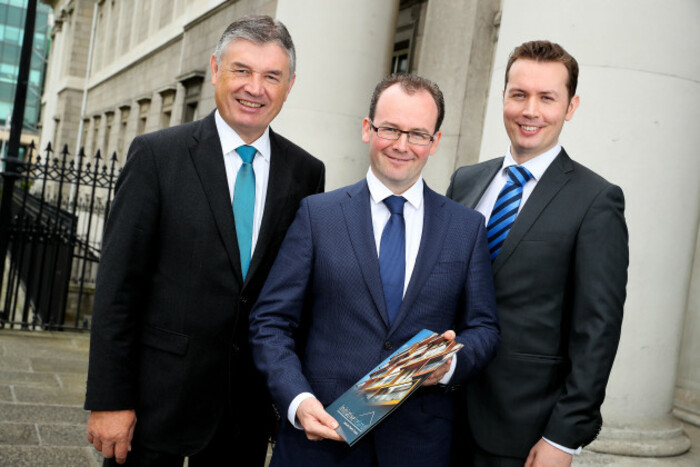 Source: Mark Maxwell/Maxwell Photography
Peer-to-peer model
The idea for the company stems from when Rushe was working in financial services and looking at emerging trends in neighbouring markets.
"I guess for years I've been looked to the UK and the US at peer-to-peer lending models and really seen the potential to address a lot of the systemic risks in terms of lending," Rushe says.
"I've often thought that there's something fundamentally wrong with maturity transformation where the banks take the consumers' deposits and effectively leverage them to lend.
"For years, the justification for why the banks then creamed the majority of the interest earned was that they were the ones taking the risk. I guess post-crash, it's fairly clear to everybody that the risks and the rewards weren't aligned."
Rushe says Initiative Ireland has in recent weeks met with 15 different developers looking to source funding for abandoned projects.
Source: Andrew Matthews/PA Wire/PA Images
"We're very clear with them in terms of what we can and can't do, and we've already turned down probably 10 projects," Rushe says.
"But about seven of those developers had another project that was absolutely perfect and which they previously had to abandon because of the cost of finance.
"Now they're realising that we appreciate low-risk projects that give capital security to our lenders."
If a development matches with Initiative Ireland's criteria, the company's internal credit committee reviews the development before due diligence is carried out.
When a loan is pre-approved, it's listed on Initiative Ireland for finance. The private lenders signed up to the service can opt in to provide part of the loan.
"We also have primary credit partners who basically guarantee the funding of any loans which we have pre-approved," Rushe says.
Interest
Around 100 individuals have so far signed up to provide finance through Initiative Ireland with a number of undisclosed institutional lenders on board as well.
Members are required to commit at least €10,000 per loan and are categorised into two tiers, with the ability to earn either 3.5% or 7.5% in annual interest, depending on their appetite for risk.
The lowest-risk lenders provide up to 40% of funding for a project while "tier two" lenders provide between 40% and 80% of the loan in exchange for a higher interest rate.
Borrowers are required to put forward at least 20% of the money and are charged an indicative monthly interest rate of between 0.65% and 0.79% depending on how much of funding they provide up-front.
For managing the loan, Initiative Ireland charges a 2% "arrangement fee" based upon the initial amount borrowed.
It also enjoys a markup, or net interest margin, of 2% on the blended interest rate its lenders receive with the two different tiers of risk. The figure is slightly below the net interest margins commonly claimed by major Irish banks.
"We know already for a fact in terms of our pipeline and the demand we've seen that we could afford to charge an extra 2% to 3% than we are charging," Rushe says.
"But we're not going to charge that, because unlike the vulture funds that are here for a couple of years, we're hope to be here in 20 years."
Funding
To date, Initiative Ireland has been bootstrapped by its founders. It has also secured private investment under the tax-free EIIS scheme and received money from state agency Enterprise Ireland as a high-potential startup.
Rushe wouldn't disclose how much funding Initiative Ireland has received, but company documents show that at least €288,000 has been put into the firm so far.
"Some of the institutions that are looking to lend with us are also very interested in investing," Rushe says. "I expect we might raise some additional finance later this year, but it's not something we're depending on."
When asked whether there are any competitors to Initiative Ireland, Rushe says, "We would see ourselves as fairly distinct.
"In terms of where we're trying to position ourselves, we're not trying to compete with the alternative lenders in Ireland."
He says the company accepts that mainstream financial providers will some day become more active in the peer-to-peer space, especially over the next two or three years.
"We aim to compete at that time as much as we do today," Rushe says.
Long-term plans
In terms of mid- to long-term plans, Initiative Ireland is looking to grow its workforce from five employees to over 50 by 2022.
"We're also looking at product diversification," Rushe says.
"Our real goal is to be the most honest, fair and inclusive (financial) product provider in Ireland. You'll note that doesn't specify property. We see property as a social need at the moment, as somewhere we can definitely add value to."
Source: Mark Maxwell/Maxwell Photography
Rushe is also hoping to see the peer-to-peer lending become regulated in Ireland in the near future because it will increase confidence in the market.
As for continuing to work alongside his father, Rushe says he expects his old man to keep him in line.
"You always run a risk in a startup that it's the CEO's job is to be very enthusiastic, very positive, charismatic in a lot of sense and people can get caught up in that," he says.
"I guess at the end of the day, any time he looks at me, he doesn't see a man in his mid-30s – he sees a little boy.
"There's no risk of him becoming a 'yes'-man any time soon. And that's a healthy culture."
This article is part of a weekly series featuring Ireland's most promising startups. If you would like to see your company featured email news@fora.ie.